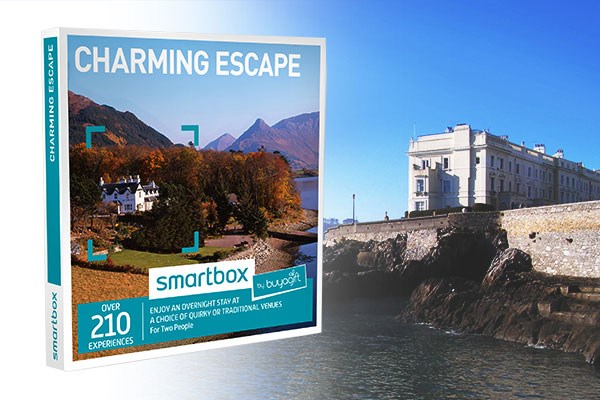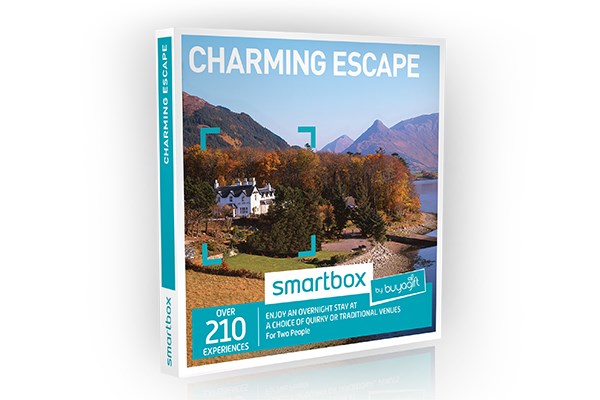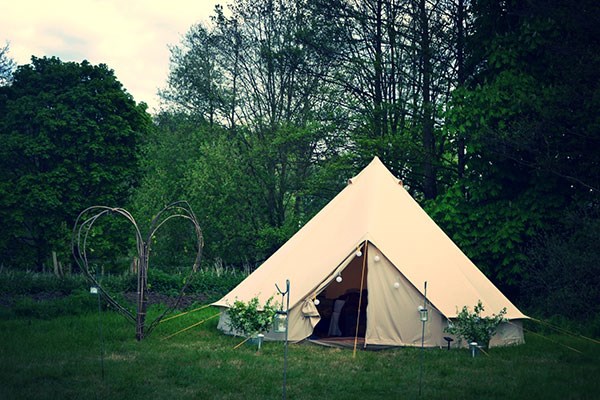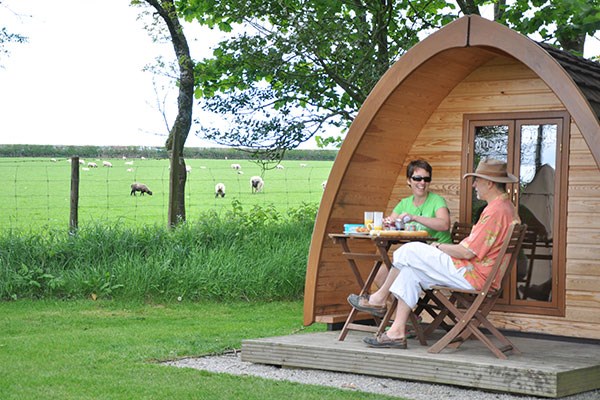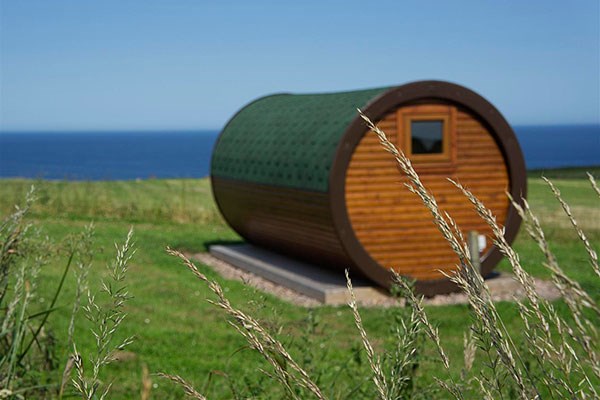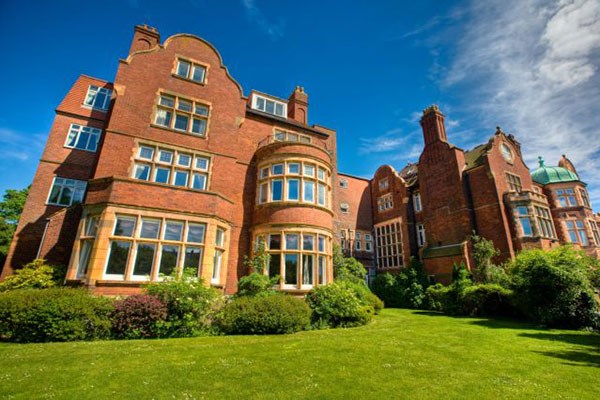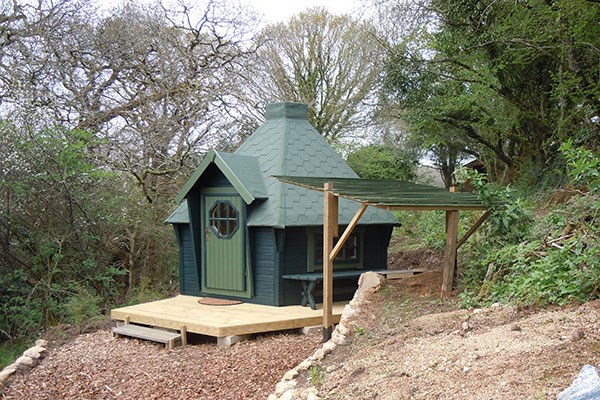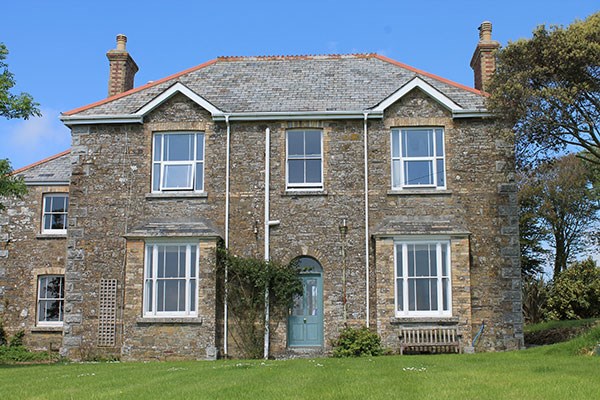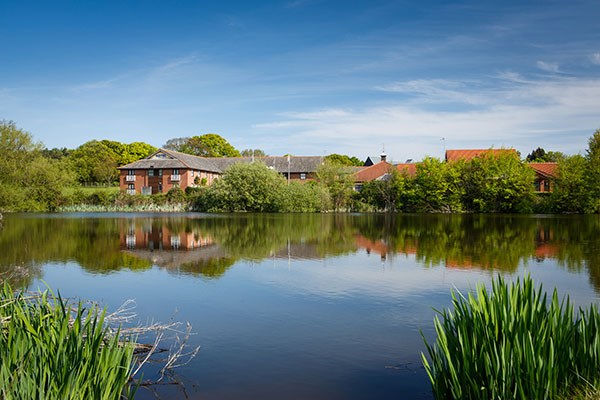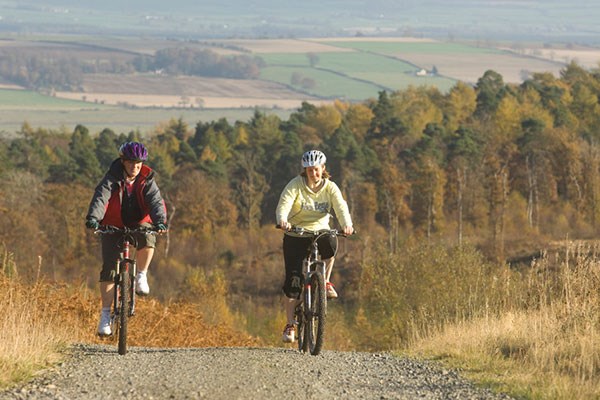 Charming Escape - Smartbox by Buyagift
Product code: 10941560
4.5 out of 5 (based on 339 reviews)
Write a review »
Over 210 One Night Experiences to Choose From

An Overnight Stay at Quirky or Traditional Venues

Valid for 24 Months
How it works
Hundreds of experiences in every Smartbox handpicked from Buyagift's fantastic range.
Includes a beautiful presentation box with a detailed booklet of the experiences included.
Give the gift of choice allowing the recipient to book their chosen experience.
Summary
If you are looking for a relaxing overnight escape to get away from it all, we've got something to suit everyone. Featuring a hand-picked selection of over 150 memorable minibreaks, from seaside retreats to rural escapes, you are sure to find something suitable. With fantastic breaks in the heart of the stunning English countryside as well as exciting city getaways, this is the ideal gift solution! At point of purchase you will have the option to choose either a gift box or an evoucher.


Fine Print
What's included?
This voucher includes a selection of over 150 quirky or traditional one-night stays for two people at a choice of venues across the UK
This voucher is valid for 24 months
Your voucher is exchangeable
Vouchers can be extended upon request
You will be able to select your chosen experience after purchasing
Exclusion dates may apply
What do I need to know?
All dates are subject to availability
Restrictions may apply and vary from experience to experience
Pre-booking is essential to avoid disappointment
Experiences available within this choice voucher
Filter Products:
One Night Camping Break at Langstone Manor

Devon - Tavistock

(9)

more info »

Overnight Break at Village Hotel Club Solihull

West Midlands - Shirley

(1)

more info »

Overnight Break at Village Hotel Club Chester St David's

Cheshire - Flintshire

(4)

more info »

Overnight Break at Village Hotel Club Manchester Ashton

Greater Manchester - Ashton-Under-Lyne

(3)

more info »

One Night Stay in a Gothic Glamping

North Yorkshire - York

(17)

more info »

Overnight Break at Village Hotel Club Liverpool

Merseyside - Liverpool

(2)

more info »

One Night Break at The Crown Inn Shropshire

Shropshire - Newcastle-on-Clun

(2)

more info »

One Night Break at Blackburn Foxfields Country Hotel

Lancashire - Clitheroe

(10)

more info »

One Night Break at Mercure Stafford South Penkridge Hotel

Staffordshire - Stafford

(3)

more info »

One Night Break at Himley House Hotel

Staffordshire - Himley

(0)

more info »

One Night Stay in a Camping Hut at Ruthern Valley

Cornwall - Bodmin

more info »

Overnight Break at Village Hotel Club Warrington

Lancashire - Warrington

(1)

more info »

One Night Break at Harrabeer Country House

Devon - Yelverton

more info »

Overnight Stay at Heywood House Hotel for Two

Merseyside - Liverpool

more info »

One Night Camping Break at Townsend Touring Park

Herefordshire - Leominster

(8)

more info »

Overnight Break at Village Hotel Club Manchester Bury

Greater Manchester - Bury

more info »

One Night Break at Carlton Park Hotel

South Yorkshire - Rotherham

(1)

more info »

One Night Break at Dairy Barns

Norfolk - Hickling

(21)

more info »

Overnight Break at Village Hotel Club Nottingham

Nottinghamshire - Nottingham

(2)

more info »

One Night Glamping Break at The Old Oaks Touring Park (Midweek)

Somerset - Glastonbury

(11)

more info »

Overnight Break at Village Hotel Club Hull

East Riding of Yorkshire - Hull

(3)

more info »

Overnight Break at Village Hotel Club Manchester Hyde

Greater Manchester - Hyde

more info »

Overnight Break at Village Hotel Club Aberdeen

Aberdeenshire - Aberdeen

more info »

One Night Stay in a Wigwam at Ruthern Valley

Cornwall - Bodmin

(5)

more info »

Overnight Break at Village Hotel Club Newcastle

Tyne & Wear - Newcastle upon Tyne

(3)

more info »

One Night Break at The Borderers Guesthouse

Powys - Brecon Beacons

(2)

more info »

One Night Break in a Wigwam or Ridge Pod at Gorsebank

Dumfries and Galloway - Dalbeattie

(4)

more info »

One Night Camping Break at Gorsebank

Dumfries and Galloway - Dalbeattie

(1)

more info »

One Night Camping Break at Woodovis Park

Devon - Tavistock

(3)

more info »

One Night Break at Buckatree Hall Hotel

Shropshire - Telford

(7)

more info »

Overnight Break at Village Hotel Club Cardiff

Cardiff - Coryton

(2)

more info »

Overnight Stay in a Timber Yurt at Rivendale Caravan Park

Derbyshire - Ashbourne

(13)

more info »

One Night Stay in a Camping Pod at The Old Rectory

Devon - Tavistock

(3)

more info »

One Night Stay in a Family Camping Pod at Rivendale Caravan Park

Derbyshire - Ashbourne

(8)

more info »

One Night Break in a Private Camping Cabin at Lake Dacre

East Riding of Yorkshire - Driffield

(33)

more info »

One Night Glamping Break at Daisy Banks

Powys - Montgomery

(11)

more info »

Overnight Break at Village Hotel Club Farnborough

Hampshire - Farnborough

(3)

more info »

Overnight Break at Village Hotel Club Leeds North

West Yorkshire - Leeds

(2)

more info »

Overnight Stay in a Coastal Carriage for Two

Aberdeenshire - Fraserburgh

more info »

One Night Break at The Farthings Country Hotel

Somerset - Taunton

(1)

more info »

Overnight Break at Village Hotel Club Coventry

West Midlands - Coventry

more info »

Deluxe Overnight Wigwam Break for Two at Waterfoot Park

Cumbria - Kendal

more info »

One Night Stay in Wendy's House at Welsummer Camping

Kent - Harrietsham

more info »

One Night Stay in a Bell Tent at Welsummer Camping

Kent - Harrietsham

more info »

One Night Unusual Escape at The Nitenite Hotel for Two

West Midlands - Birmingham

more info »

One Night Break at Trevanger Farm

Cornwall - Wadebridge

more info »

One Night Break at Welsummer Camping

Kent - Harrietsham

more info »

Overnight Stay at Ayuda House with Breakfast for Two

Cheshire - Bowdon

more info »

One Night Break at Ben More Lodge Hotel

Stirling - Crianlarich

(0)

more info »

One Night Break at May Garland Inn for Two

East Sussex - Heathfield

more info »

Overnight Stay with Breakfast for Two at Ye Olde Red Lion

East Riding of Yorkshire - Holme-on-Spalding-Moor

more info »

One Night Break at The Manifold Inn

Staffordshire - Buxton

(1)

more info »

One Night Break at The Queens Head Inn with Breakfast for Two

Cambridgeshire - Peterborough

more info »

One Night Superior Break at Glengorm Guest House

Scottish Highlands - Oban

more info »

Overnight Escape at The Granary Hotel with Breakfast for Two

Worcestershire - Kidderminster

more info »

One Night Break at Newton House Hotel

Derbyshire - Ashbourne

more info »

One Night Break at Tinkers Furze

Hampshire - Fleet

more info »

One Night Break for Two with Breakfast at The White Swan Hotel Middleham

North Yorkshire - Middleham

(1)

more info »

Overnight Stay at Shore View Hotel with Breakfast for Two

East Sussex - Eastbourne

(1)

more info »

One Night Stay at The Kings Arms with Breakfast for Two

Cumbria - Penrith

more info »

One Night Stay at the Hilton Royal Parade with Breakfast for Two

East Sussex - Eastbourne

(0)

more info »

One Night Break at the Bridge of Cally Hotel for Two

Perthshire - Blairgowrie

more info »

Overnight Stay at Barncroft Luxury Guest House with Breakfast for Two

West Midlands - Solihull

more info »

Overnight Escape at The Pinewood Hotel with Breakfast for Two

Buckinghamshire - Slough

(1)

more info »

Overnight Stay for Two at Holt Lodge Hotel

Cheshire - Wrexham

(1)

more info »

One Night Break at Dubrovnik Hotel

West Yorkshire - Bradford

more info »

Overnight Stay at The Rusty Anchor with Breakfast for Two

Devon - Plymouth

more info »

One Night Stay at The Fat Lamb with Breakfast for Two

Cumbria - Kirkby Stephen

more info »

One Night Bed and Breakfast Break for Two at Rob Roy Hotel

Stirling - Aberfoyle

more info »

Overnight Stay at Episode Hotel with Breakfast for Two

Warwickshire - Leamington Spa

(3)

more info »

One Night Break at Mercure Wolverhampton Hotel

West Midlands - Wolverhampton

more info »

One Night Stay at Charnwood Lodge Guest House for Two

Leicestershire - Loughborough

more info »

Overnight Stay at Chandler's Hotel with Breakfast for Two

Argyll - Isle of Bute

more info »

Overnight Stay at Loch Leven Hotel for Two

Argyll - Fort William

more info »

One Night Break at Dyfiview Bed and Breakfast

Powys - Machynlleth

more info »

Overnight Relaxing Escape at Best Western Ipswich Hotel for Two

Suffolk - IPSWICH

more info »

One Night Break at String of Horses Inn

Cumbria - Heads Nook

more info »

One Night Stay for Two at The Royal Lodge Herefordshire

Herefordshire - Ross-on-Wye

more info »

One Night Stay at The Collingwood Guest House for Two

Norfolk - Great Yarmouth

more info »

One Night Break with Breakfast at The White Hart Inn for Two

Derbyshire - Alfreton

(1)

more info »

Overnight Break at Village Hotel Club Birmingham Walsall

West Midlands - Walsall

more info »

Overnight Break at Village Hotel Club Maidstone

Kent - Maidstone

(2)

more info »

Overnight Break at Village Hotel Club Swindon

Wiltshire - Swindon

more info »

Overnight Break at Village Hotel Club Swansea

Glamorganshire - Swansea

more info »

One Night Glamping Break on the River Lee

Greater London - Enfield

(2)

more info »

One Night Glamping Break at Lee Valley Campsite, Sewardstone

Greater London - Enfield

(1)

more info »

Overnight Relaxing Break with Breakfast for Two at Blazing Donkey

Kent - Sandwich

more info »

One Night Stay in a Glamping Pod at Westwood Hideaway

Aberdeenshire - Fraserburgh

more info »

Overnight Stay in a Luxury Hobbit Hut for Two

Aberdeenshire - Fraserburgh

more info »

One Night Break at High Cottages Bed and Breakfast For Two

Norfolk - King's Lynn

more info »

One Night Stay at the Quiet Site

Cumbria - Penrith

(11)

more info »

One Night Break at the Best Western Rockingham Forest Hotel for Two

Northamptonshire - Corby

more info »

Overnight Break with Breakfast at The Park Hotel for Two

Argyll - Dunoon

more info »

One Night Break at Penyard House for Two

Herefordshire - Weston-under-Penyard

more info »

One Night Break for Two at the Cuil an Daraich Guest House

Perthshire - Pitlochry

more info »

One Night Break at The Westcliff Hotel

Essex - Westcliff on Sea

(1)

more info »

One Night Stay with Breakfast at Regency Park Hotel for Two

Berkshire - Thatcham

(4)

more info »

One Night Break at The Greyhound Inn with Breakfast for Two

Buckinghamshire - Gerrards Cross

more info »

Overnight Escape at Fox Country Inn for Two

Buckinghamshire - High Wycombe

more info »

One Night Escape for Two at the Britannia Study Hotel in Brighton

East Sussex - Brighton

more info »

One Night Break at The York House Hotel

East Sussex - Eastbourne

more info »

Overnight Escape for Two at Far End Guest House

East Sussex - Eastbourne

more info »

Deluxe One Night Break at the Kasbah Boutique Guest House and Bar for Two

Isle of Wight - Ryde

more info »

Overnight Stay at The Woodcock Inn for Two

West Sussex - Felbridge

more info »

One Night Stay with Breakfast at Trereife House for Two

Cornwall - Penzance

more info »

One Night Break at The Royal Oak Inn with Breakfast for Two

Cornwall - Lostwithiel

more info »

Overnight Stay with Breakfast at The Cedars B&B for Two

Cornwall - Redruth

more info »

One Night Break at Heron House

Devon - Bampton

more info »

One Night Break at The West Country Inn with Breakfast for Two

Devon - Bideford

more info »

One Night Break with Breakfast at the Fox and Hounds Country Hotel For Two

Devon - Chulmleigh

more info »

Overnight Stay with Breakfast for Two at Moorland Hotel

Devon - Plymouth

more info »

One Night Stay at The Hotel Balmoral For Two in Devon

Devon - Torquay

more info »

Overnight Break at Village Hotel Club Bournemouth

Dorset - Bournemouth

(5)

more info »

Overnight Break for Two with Breakfast at The Richmoor Hotel

Dorset - Weymouth

more info »

One Night Escape with Breakfast and Unlimited Golf For Two at Rodway Hill

Gloucestershire - Highnam

(2)

more info »

One Night Break with Breakfast for Two at the White Hart Inn in Gloucestershire

Gloucestershire - Winchcombe

(1)

more info »

One Night Break at The Place To Stay with Breakfast for Two

Somerset - Frome

more info »

One Night Stay with Breakfast at The Chiltern Hotel For Two

Bedfordshire - Luton

more info »

One Night Relaxing Escape with Breakfast at The Ocean Club Hotel For Two

Essex - Clacton-on-Sea

more info »

One Night Stay at Samuel Pepys Hotel for Two

Essex - Harwich

more info »

One Night Break for Two with Breakfast at the Camelia Hotel in Essex

Essex - Southend-on-sea

more info »

One Night Break at Ibis Stevenage Hotel

Hertfordshire - Stevenage

more info »

Overnight Stay at The Prince with Breakfast for Two

Norfolk - Great Yarmouth

(1)

more info »

One Night Stay with Breakfast at The Ryecroft Guest House For Two

Norfolk - Great Yarmouth

more info »

One Night Getaway with Breakfast for Two at Wortwell Hall Barn in Norfolk

Norfolk - Harleston

more info »

Overnight Stay with Breakfast for Two at Elm Farm Country House

Norfolk - Horsham

(1)

more info »

Overnight Relaxing Break at Riverside Cottage for Two

Suffolk - Ipswich

more info »

One Night Stay in a Traditional Yurt at Rivendale Caravan Park

Derbyshire - Ashbourne

more info »

One Night Stay with Breakfast at The Kegworth Hotel For Two

Leicestershire - Kegworth

more info »

One Night Stay with Breakfast at Stallingborough Grange Hotel for Two

Lincolnshire - Stallingborough

more info »

One Night Break with Breakfast for Two at The Stags Head

Northamptonshire - Maidwell

more info »

One Night Stay for Two at Moor Court Farm

Herefordshire - Ledbury

more info »

One Night Relaxing Escape with Breakfast at The Best Western George Hotel for Two

Staffordshire - Lichfield

(2)

more info »

One Night Break at Draycote Hotel

Warwickshire - Rugby

more info »

One Night Escape with Breakfast at The Gainsborough House Hotel for Two

Worcestershire - Kidderminster

more info »

Overnight Stay with Breakfast for Two at The Camberley

North Yorkshire - Harrogate

(4)

more info »

One Night Stay with Breakfast at Waterfront Lodge Hotel For Two

West Yorkshire - Brighouse

(1)

more info »

One Night Break at The Shap Wells Hotel

Cumbria - Penrith

more info »

One Night Break with Breakfast at Barbon Inn for Two

Cumbria - Kirkby Lonsdale

more info »

One Night Escape with Breakfast at the Nateby Inn for Two

Cumbria - Kirkby Stephen

more info »

One Night Relaxing Break at The Old Mill Inn

Cumbria - Maryport

more info »

One Night Stay with Breakfast at The Bailey Ground Hotel for Two

Cumbria - Seascale

more info »

One Night Break for Two with Breakfast at The Mortal Man Inn

Cumbria - Troutbeck

more info »

One Night Relaxing Stay with Breakfast at the Greenhill Hotel for Two

Cumbria - Wigton

more info »

One Night Stay at The Sutcliffe Hotel with Breakfast for Two

Lancashire - Blackpool

more info »

One Night Break at the New Valron Hotel with Breakfast for Two

Lancashire - Blackpool

more info »

Overnight Stay at The Shoreside Hotel with Breakfast for Two

Lancashire - Blackpool

more info »

One Night Break with Breakfast at the Best Western Oaks Hotel For Two

Lancashire - Burnley

more info »

One Night Break at The Bay Horse Hotel with Breakfast for Two

Lancashire - Carnforth

more info »

One Night Stay with Breakfast at The Whoop Hall Inn For Two

Lancashire - Kirkby Longsdale

more info »

One Night Break with Breakfast at the Best Western Park Hall Hotel For Two

Lancashire - Preston

more info »

One Night Break at Clifton Park Hotel with Breakfast for Two

Lancashire - St Annes on Sea

more info »

One Night Break at the Georgian Townhouse Hotel with Breakfast for Two

Merseyside - Liverpool

(3)

more info »

Overnight Stay at Cameron House with Breakfast for Two

Argyll - Oban

more info »

Overnight Stay at Tanglin Guest House with Breakfast for Two

Argyll - Oban

more info »

One Night Break at the Urr Valley Country House Hotel with Breakfast for Two

Dumfries and Galloway - Castle Douglas

more info »

One Night Break at George and Abbotsford Hotel for Two

Scottish Borders - Melrose

more info »

One Night Stay at the Buccleuch and Queensberry Arms Hotel with Breakfast for Two

Dumfries and Galloway - Thornhill

more info »

Overnight Stay at Hannah's Guest House with Breakfast for Two

Aberdeenshire - Aberdeen

more info »

One Night Stay with Breakfast at the Belhaven Hotel for Two

Strathclyde - Glasgow

(1)

more info »

One Night Break at Village Hotel Club Glasgow

Strathclyde - Glasgow

more info »

One Night Break at King Robert Hotel

Stirling - Bannockburn

more info »

One Night Break at The Horse and Hound Country Inn with Breakfast

Scottish Borders - Sark

more info »

One Night Stay for Two at The Guildhall Tavern Hotel

Clwyd - Denbigh

(1)

more info »

Overnight Break for Two at Afon Rhaiadr Country House

Gwynedd - Dolgellau

(1)

more info »

One Night Stay for Two at Invernente Bed and Breakfast

Stirling - Callander

more info »

One Night Getaway for Two at The Dabbling Duck

Norfolk - Great Massingham

more info »

One Night Stay at Abbotsford Lodge

Perthshire - Callander

more info »

One Night Break at The Red Townhouse

Cumbria - Penrith

more info »

One Night Break at The Abbeyfield

Devon - Torquay

(1)

more info »

Overnight Break at The Royal Hotel in Dockray for Two

Cumbria - Penrith

more info »

One Night Escape with Breakfast for Two at The Pack Horse

Devon - South Brent

more info »

One Night Break at Aubrey Park Hotel

Hertfordshire - Hemel Hempstead

more info »

Overnight Glamping Break with a Bottle of Wine or Bubbles at Daisy Banks

Powys - Montgomery

more info »

One Night Escape at The Gainsborough House Hotel for Two

Worcestershire - Kidderminster

more info »

One Night Break at the Kasbah Boutique Guest House and Bar for Two

Isle of Wight - Ryde

more info »

One Night Break at The Bay Horse Hotel for Two

Lancashire - Carnforth

(1)

more info »

One Night Break at the Nateby Inn for Two

Cumbria - Kirkby Stephen

more info »

One Night Escape with Breakfast at The Ocean Club Hotel For Two

Essex - Clacton-on-Sea

more info »

One Night Break at Glengorm Guest House

Scottish Highlands - Oban

more info »

One Night Break at Ye Olde Red Lion with Breakfast for Two

East Riding of Yorkshire - Holme-on-Spalding-Moor

more info »

One Night Stay with Breakfast at the Rob Roy Hotel for Two

Stirling - Aberfoyle

more info »

One Night Break at The Old Mill Inn

Cumbria - Maryport

more info »

One Night Getaway at the Tufton Arms Hotel for Two

Cumbria - Appleby-in-Westmorland

more info »

One Night Stay at The Sutcliffe Hotel in Blackpool

Lancashire - Blackpool

more info »

One Night Stay at The Royal Hotel Girvan with Breakfast for Two

Ayrshire - Girvan

more info »

Overnight Stay at Shore View Hotel for Two

East Sussex - Eastbourne

more info »

One Night Stay at Shap Wells Hotel for Two

Cumbria - Penrith

more info »

One Night Break in a Tipi at Hollybush Inn and Campsite

Powys - Hay on Wye

more info »

One Night Glamping at Stanley Villa Farm Camping

Lancashire - Preston

more info »

Overnight Glamping Break at Park Farm Camping

Norfolk - Dereham

more info »

One Night Glamping Break at River View Touring Park

Swansea - Swansea

more info »

One Night Glamping Break at Rosebud Meadow

Worcestershire - Welland

more info »

Overnight Glamping Break at Ayres Rock Campsite

Orkney - Sanday

more info »

Overnight Glamping Break in a Woodwam for Two at Nydie

Fife - Strathkinness

more info »

One Night Glamping Break at Worcester Glamping

Worcestershire - Lower Wick

more info »

Two Night Stay in Gypsy Caravan for Two at Drybeck Farm

Cumbria - Nr Carlisle

more info »
Charming Escape - Smartbox by Buyagift -

£69.99
Charming Escape - Smartbox by Buyagift -

£69.99