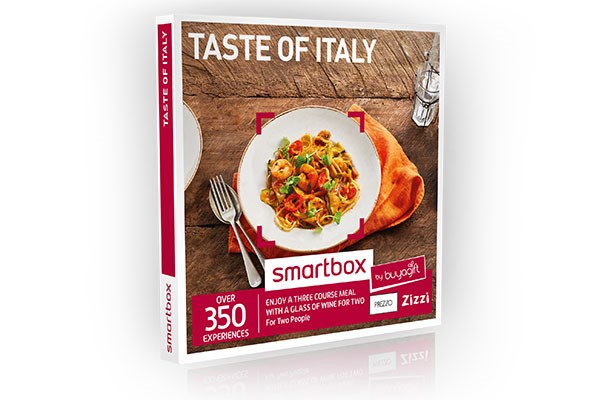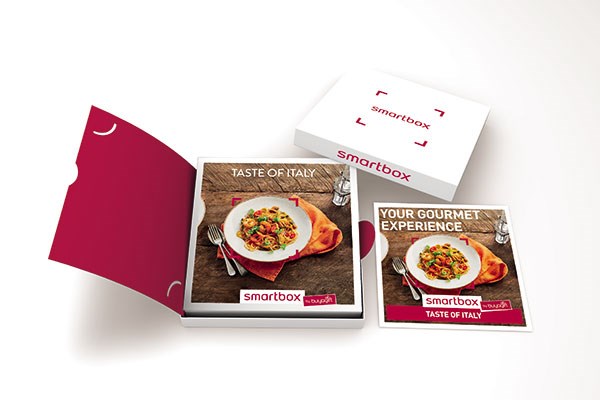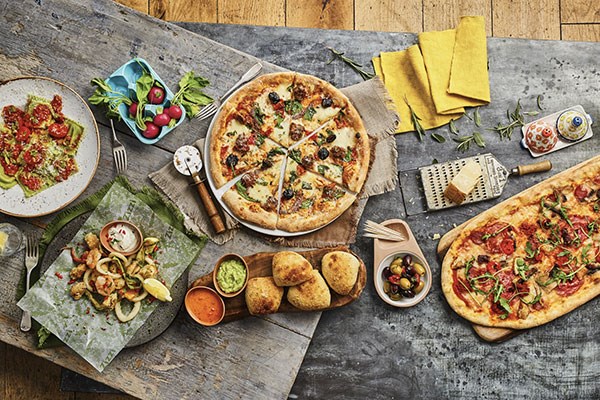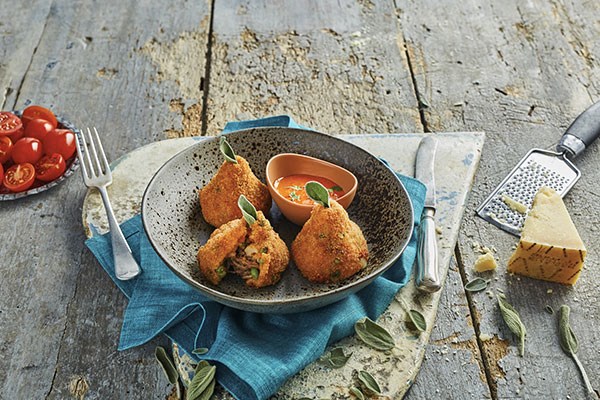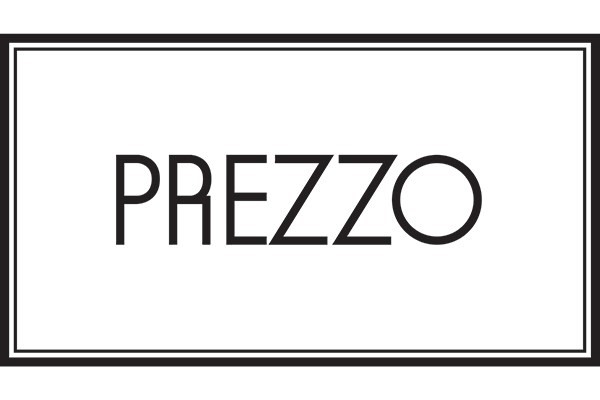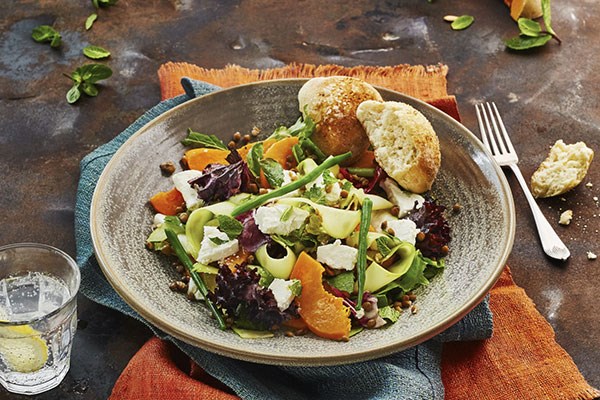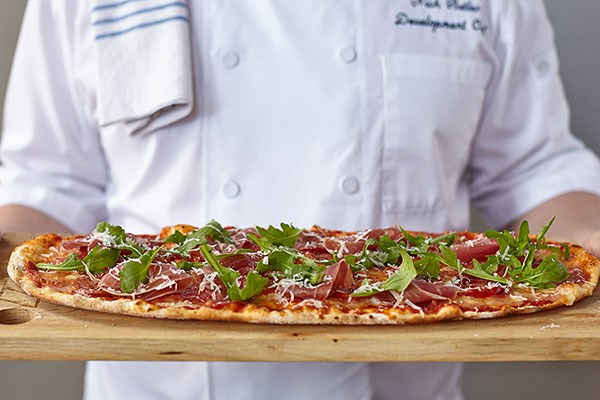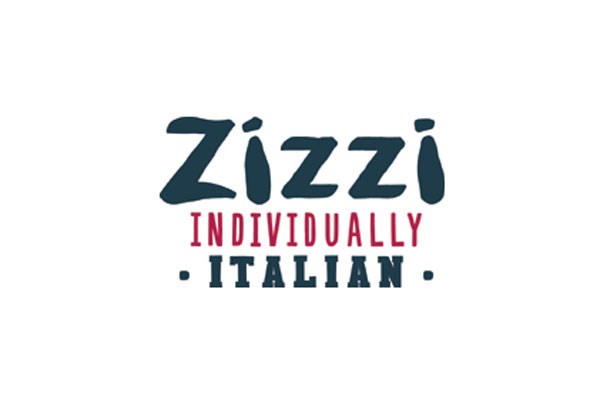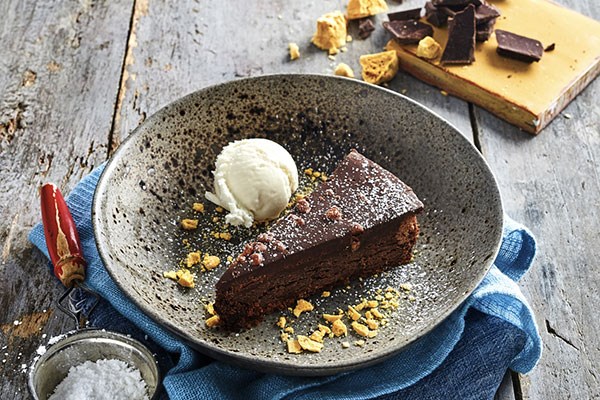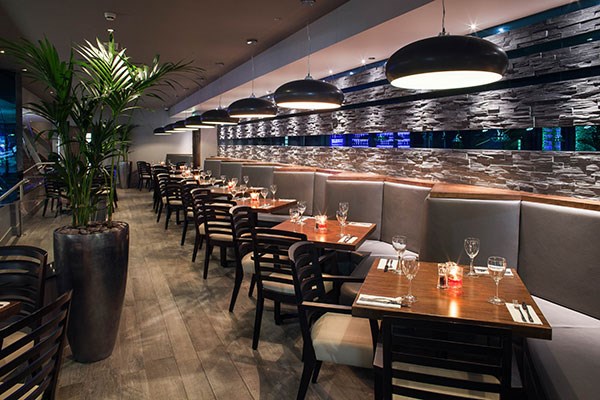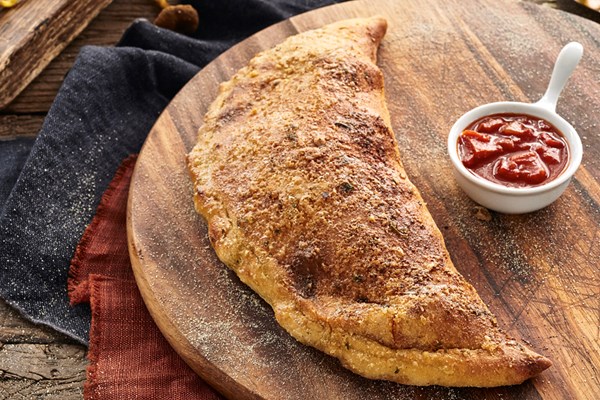 Taste of Italy - Smartbox by Buyagift
Product code: 10749545
4.5 out of 5 (based on 2831 reviews)
Write a review »
Over 350 Prezzo & Zizzi Restaurants to Choose From

A Three Course Meal With a Glass of Wine for Two

Valid for 24 Months
How it works
Hundreds of experiences in every Smartbox handpicked from Buyagift's fantastic range.
Includes a beautiful presentation box with a detailed booklet of the experiences included.
Give the gift of choice allowing the recipient to book their chosen experience.
Summary
This is a wonderful experience to share with a friend or loved one. You can choose the perfect UK location for you at either Prezzo or Zizzi. Prezzo boasts atmospheric hubs in some of the UK's most exuberant cities and each Zizzi restaurant is completely unique with décor inspired by its local surroundings. Both of these highly regarded restaurants work hard to provide customers with authentic Italian cuisine, so you can treat your taste buds to a true taste of Italy. You can fill up on creamy pastas, calzones bursting with flavour and spectacular pizzas that will make your mouth water.
Please click here to view the Zizzi sample menu.
Fine Print
What's included?
This voucher includes a three course meal with wine at a choice of Prezzo or Zizzi locations across the UK
Any restrictions?
This voucher is valid for 24 months for two people
Your voucher is exchangeable
You will be able to select your chosen experience after purchasing
Please note, you must take your voucher with you to your meal
Exclusion dates may apply
What do I need to know?
All dates are subject to availability
Restrictions may vary depending on the chosen experience
Pre-booking is essential to avoid disappointment
Experiences available within this choice voucher
Filter Products:
Three Course Meal and a Glass of Wine for Two at Zizzi, Tower Hill

Greater London - City of London

more info »

Three Course Meal and a Glass of Wine for Two at Zizzi, Bankside

Central London - Lambeth

(11)

more info »

Three Course Meal and a Glass of Wine for Two at Zizzi, Wigmore Street

Greater London - Westminster

(5)

more info »

Three Course Meal and a Glass of Wine for Two at Zizzi, Cutty Sark Gardens

Greater London - Greenwich

(2)

more info »

Three Course Meal and a Glass of Wine for Two at Zizzi, Chiswick

Greater London - Ealing

(2)

more info »

Three Course Meal with Wine for Two at Prezzo, Greenwich

Greater London - Greenwich

(15)

more info »

Three Course Meal and a Glass of Wine for Two at Zizzi, Bow Street

Greater London - Westminster

(4)

more info »

Three Course Meal and a Glass of Wine for Two at Zizzi, Earls Court Road

Greater London - Kensington & Chelsea

(1)

more info »

Three Course Meal with Wine for Two at Prezzo, Rugby

Northamptonshire - Rugby

(5)

more info »

Three Course Meal and a Glass of Wine for Two at Zizzi, Notting Hill Gate

Greater London - Hammersmith & Fulham

(3)

more info »

Three Course Meal and a Glass of Wine for Two at Zizzi, Wembley

Greater London - Brent

(2)

more info »

Three Course Meal and a Glass of Wine for Two at Zizzi, Westfield

Greater London - Ealing

(3)

more info »

Three Course Meal and a Glass of Wine for Two at Zizzi, Paddington Central

Greater London - Westminster

more info »

Three Course Meal with Wine for Two at Prezzo, Trafalgar Square

Greater London - Westminster

(55)

more info »

Three Course Meal with Wine for Two at Prezzo, Glasgow Fort

Lothian - Glasgow

(9)

more info »

Three Course Meal with Wine for Two at Prezzo, Haymarket

Greater London - Westminster

(24)

more info »

Three Course Meal with Wine for Two at Prezzo, Mayfair

Greater London - Westminster

(10)

more info »

Three Course Meal with Wine for Two at Prezzo Glasshouse Street

Greater London - Westminster

(25)

more info »

Three Course Meal with Wine for Two at Prezzo, Kensington

Greater London - Kensington & Chelsea

(17)

more info »

Three Course Meal with Wine for Two at Prezzo, Pinner

Greater London - Harrow

(10)

more info »

Three Course Meal with Wine for Two at Prezzo, Marble Arch

Greater London - Westminster

(7)

more info »

Three Course Meal with Wine for Two at Prezzo, New Oxford Street

Greater London - Westminster

(24)

more info »

Three Course Meal with Wine for Two at Prezzo, Euston

Greater London - Camden

(12)

more info »

Three Course Meal with Wine for Two at Prezzo, Enfield

Greater London - Enfield

(3)

more info »

Three Course Meal with Wine for Two at Prezzo, Wembley

Greater London - Brent

(5)

more info »

Three Course Meal with Wine for Two at Prezzo, St Martins Lane

Greater London - Westminster

(33)

more info »

Three Course Meal and a Glass of Wine for Two at Zizzi, Shrewsbury

Shropshire - Shrewsbury

(2)

more info »

Three Course Meal and a Glass of Wine for Two at Zizzi, Solihull

West Midlands - Solihull

(5)

more info »

Three Course Meal and a Glass of Wine for Two at Zizzi, Leicester Highcross

Leicestershire - Leicester

(5)

more info »

Three Course Meal and a Glass of Wine for Two at Zizzi, Stratford upon Avon

Warwickshire - Stratford upon Avon

(2)

more info »

Three Course Meal and a Glass of Wine for Two at Zizzi, Nottingham

Nottinghamshire - Nottingham

(8)

more info »

Three Course Meal and a Glass of Wine for Two at Zizzi, Leicester

Leicestershire - Leicester

more info »

Three Course Meal and a Glass of Wine for Two at Zizzi, Birmingham

West Midlands - Birmingham

(7)

more info »

Three Course Meal and a Glass of Wine for Two at Zizzi, Derby

Derbyshire - Derby

(3)

more info »

Three Course Meal and a Glass of Wine for Two at Zizzi, Hereford

Herefordshire - Hereford

(2)

more info »

Three Course Meal and a Glass of Wine for Two at Zizzi, Leamington Spa

Warwickshire - Leamington Spa

(8)

more info »

Three Course Meal and a Glass of Wine for Two at Zizzi, Telford

Shropshire - Telford

(4)

more info »

Three Course Meal and a Glass of Wine for Two at Zizzi, The Strand

Greater London - Westminster

(6)

more info »

Three Course Meal and a Glass of Wine for Two at Zizzi, Worcester

Worcestershire - Worcester

(11)

more info »

Three Course Meal with Wine for Two at Prezzo

West Midlands - Solihull

(35)

more info »

Three Course Meal with Wine for Two at Prezzo, Harborne

West Midlands - Birmingham

(17)

more info »

Three Course Meal with glass of Wine at Prezzo, Bromsgrove

Worcestershire - Bromsgrove

(20)

more info »

Three Course Meal with Wine for Two at Prezzo, Stamford

Lincolnshire - Stamford

(9)

more info »

Three Course Meal with Wine for Two at Prezzo, Northampton

Northamptonshire - Northampton

(17)

more info »

Three Course Meal with Wine for Two at Prezzo, Derby

Derbyshire - Derby

(19)

more info »

Three Course Meal with Wine for Two at Prezzo, Leicester

Leicestershire - Leicester

(21)

more info »

Three Course Meal with Wine for Two at Prezzo, West Bromwich

West Midlands - West Bromwich

(16)

more info »

Three Course Meal with Wine for Two at Prezzo, Stratford-upon-Avon

Warwickshire - Stratford-upon-Avon

(4)

more info »

Three Course Meal with Wine for Two at Prezzo, Nottingham - Low Pavement

Nottinghamshire - Nottingham

(18)

more info »

Three Course Meal with Wine for Two at Prezzo, Gainsborough

Lincolnshire - Gainsborough

(13)

more info »

Three Course Meal with Wine for Two at Prezzo, Swadlincote

Derbyshire - Swadlincote

(15)

more info »

Three Course Meal with glass of Wine at Prezzo, Boston

Lincolnshire - Boston

(7)

more info »

Three Course Meal with Wine for Two at Prezzo, Lincoln

Lincolnshire - Lincoln

(17)

more info »

Three Course Meal with Wine for Two at Prezzo, Nottingham

Nottinghamshire - Nottingham

(12)

more info »

Three Course Meal with Wine for Two at Prezzo, Kettering

Northamptonshire - Kettering

(19)

more info »

Three Course Meal with Glass of Wine for Two at Prezzo, Corby

Northamptonshire - George Street Corby

(6)

more info »

Three Course Meal and a Glass of Wine for Two at Zizzi, Leeds the Light

West Yorkshire - Leeds

(5)

more info »

Three Course Meal and a Glass of Wine for Two at Zizzi, Newcastle

Tyne & Wear - Newcastle

(11)

more info »

Three Course Meal and a Glass of Wine for Two at Zizzi, Sheffield

South Yorkshire - Sheffield

(6)

more info »

Three Course Meal and a Glass of Wine for Two at Zizzi, Harrogate

North Yorkshire - Harrogate

(1)

more info »

Three Course Meal and a Glass of Wine for Two at Zizzi, Manchester King Street

Greater Manchester - Manchester

(5)

more info »

Three Course Meal and a Glass of Wine for Two at Zizzi, Manchester Piccadilly

Greater Manchester - Manchester

(8)

more info »

Three Course Meal and a Glass of Wine for Two at Zizzi, Durham

County Durham - Durham

(1)

more info »

Three Course Meal and a Glass of Wine for Two at Zizzi, Cheshire Oaks

Cheshire - Ellesmere Port

(5)

more info »

Three Course Meal and a Glass of Wine for Two at Zizzi, Liverpool One

Merseyside - Liverpool

(12)

more info »

Three Course Meal and a Glass of Wine for Two at Zizzi, Manchester

Greater Manchester - Manchester

(5)

more info »

Three Course Meal with Wine for Two at Prezzo, Leeds The Light

West Yorkshire - Leeds

(35)

more info »

Three Course Meal with Wine for Two at Prezzo, Manchester Printworks

Greater Manchester - Manchester

(56)

more info »

Three Course Meal with Wine for Two at Prezzo, Sheffield

South Yorkshire - Sheffield

(22)

more info »

Three Course Meal with Wine for Two at Prezzo, York

North Yorkshire - York

(15)

more info »

Three Course Meal with Wine for Two at Prezzo

Cheshire - Broughton

(26)

more info »

Three Course Meal with Wine at Prezzo, Cramlington

Northumberland - Cramlington

(9)

more info »

Three Course Meal with Wine at Prezzo, Cheshire Oaks

Cheshire - Ellesmere Port

(22)

more info »

Three Course Meal with Wine for Two at Prezzo, Hull

East Riding of Yorkshire - Hull

(6)

more info »

Three Course Meal with Wine for Two at Prezzo, Victoria Place

Greater London - Westminster

(7)

more info »

Three Course Meal with Wine for Two at Prezzo, Leeds White Rose

West Yorkshire - Leeds

(26)

more info »

Three Course Meal with Wine for Two at Prezzo, Preston

Lancashire - Preston

(13)

more info »

Three Course Meal with Wine for Two at Prezzo

Tyne & Wear - Newcastle upon Tyne

(14)

more info »

Three Course Meal with Wine for Two at Prezzo, Southport

Merseyside - Southport

(19)

more info »

Three Course Meal with Glass of Wine for Two at Prezzo, Harrogate

North Yorkshire - Harrogate

(9)

more info »

Three Course Meal with a glass of Wine for Two at Prezzo, Belfast

County Antrim - Belfast

(11)

more info »

Three Course Meal and a Glass of Wine for Two at Zizzi, Edinburgh Quay

Midlothian - Edinburgh

(1)

more info »

Three Course Meal and a Glass of Wine for Two at Zizzi, Aberdeen

Aberdeenshire - Aberdeen

(26)

more info »

Three Course Meal and a Glass of Wine for Two at Zizzi, St Andrews

Fife - St Andrews

(2)

more info »

Three Course Meal and a Glass of Wine for Two at Zizzi, Inverness

Inverness-shire - Inverness

more info »

Three Course Meal with Wine for Two at Prezzo Edinburgh - North Bridge

Lothian - Edinburgh

(56)

more info »

Three Course Meal with Wine for Two at Prezzo, Glasgow St Vincent Place

Strathclyde - Glasgow

(30)

more info »

Three Course Meal with Wine for Two at Prezzo, Edinburgh

Lothian - Edinburgh

(4)

more info »

Three Course Meal with Wine for Two at Prezzo, Glasgow Silverburn

Strathclyde - Glasgow

(8)

more info »

Three Course Meal and a Glass of Wine for Two at Zizzi, Port Solent

Hampshire - Portsmouth

(4)

more info »

Three Course Meal and a Glass of Wine for Two at Zizzi, St Albans

Hertfordshire - St Albans

(1)

more info »

Three Course Meal and a Glass of Wine for Two at Zizzi, Haywards Heath

West Sussex - Haywards Heath

(1)

more info »

Three Course Meal and a Glass of Wine for Two at Zizzi, Chichester

West Sussex - Chichester

(2)

more info »

Three Course Meal and a Glass of Wine for Two at Zizzi, Watford

Hertfordshire - Watford

(2)

more info »

Three Course Meal and a Glass of Wine for Two at Zizzi, Sevenoaks

Kent - Sevenoaks

(2)

more info »

Three Course Meal and a Glass of Wine for Two at Zizzi, Welwyn Garden City

Hertfordshire - Welwyn Garden City

(1)

more info »

Three Course Meal and a Glass of Wine for Two at Zizzi, Cambridge

Cambridgeshire - Cambridge

more info »

Three Course Meal and a Glass of Wine for Two at Zizzi, Bournemouth

Hampshire - Bournemouth

(5)

more info »

Three Course Meal and a Glass of Wine for Two at Zizzi, Tunbridge Wells

Kent - Tunbridge Wells

more info »

Three Course Meal and a Glass of Wine for Two at Zizzi, Chelmsford

Essex - Chelmsford

(4)

more info »

Three Course Meal and a Glass of Wine for Two at Zizzi, Brighton

East Sussex - Brighton

(5)

more info »

Three Course Meal and a Glass of Wine for Two at Zizzi, Canterbury

Kent - Canterbury

(5)

more info »

Three Course Meal and a Glass of Wine for Two at Zizzi, Camberley

Surrey - Camberley

(3)

more info »

Three Course Meal and a Glass of Wine for Two at Zizzi, Colchester

Essex - Colchester

(2)

more info »

Three Course Meal and a Glass of Wine for Two at Zizzi, Croydon

Surrey - Croydon

(2)

more info »

Three Course Meal and a Glass of Wine for Two at Zizzi, Hampton Court

Surrey - Richmond Upon Thames

(1)

more info »

Three Course Meal and a Glass of Wine for Two at Zizzi, Basingstoke

Hampshire - Basingstoke

(5)

more info »

Three Course Meal and a Glass of Wine for Two at Zizzi, Portsmouth

Hampshire - Portsmouth

(7)

more info »

Three Course Meal and a Glass of Wine for Two at Zizzi, Maidstone

Kent - Maidstone

(3)

more info »

Three Course Meal and a Glass of Wine for Two at Zizzi, Eastbourne

East Sussex - Eastbourne

(2)

more info »

Three Course Meal and a Glass of Wine for Two at Zizzi, Bluewater

Kent - Greenhithe

(11)

more info »

Three Course Meal and a Glass of Wine for Two at Zizzi, Winchester

Hampshire - Winchester

(4)

more info »

Three Course Meal and a Glass of Wine for Two at Zizzi, Woking

Surrey - Woking

(1)

more info »

Three Course Meal with Wine for Two at Prezzo, Port Solent

Hampshire - Portsmouth

(26)

more info »

Three Course Meal with Wine for Two at Prezzo, Maidstone

Kent - Maidstone

(38)

more info »

Three Course Meal with Wine at Prezzo, Cambridge

Cambridgeshire - Cambridge

(7)

more info »

Three Course Meal with Wine at Prezzo, Clacton on Sea

Essex - Clacton-on-Sea

(8)

more info »

Three Course Meal with a glass of Wine at Prezzo, Aldershot

Hampshire - Aldershot

(9)

more info »

Three Course Meal with Wine for Two at Prezzo

Hertfordshire - Letchworth Garden City

(11)

more info »

Three Course Meal with Wine for Two at Prezzo

Kent - Bexley

(18)

more info »

Three Course Meal with Wine for Two at Prezzo, Felixstowe

Suffolk - Felixtowe

(8)

more info »

Three Course Meal with Wine for Two at Prezzo, Broadstairs

Kent - Broadstairs

(23)

more info »

Three Course Meal with Wine for Two at Prezzo, King's Lynn

Norfolk - King's Lynn

(9)

more info »

Three Course Meal with glass of Wine at Prezzo, Buckhurst Hill

Essex - Barking & Dagenham

(8)

more info »

Three Course Meal with Wine for Two at Prezzo, Whitstable

Kent - Whitstable

(11)

more info »

Three Course Meal and a Glass of Wine for Two at Zizzi, Charlotte Street

Greater London - Westminster

(2)

more info »

Three Course Meal with Wine for Two at Prezzo, Guildford

Surrey - Guildford

(13)

more info »

Three Course Meal with Wine for Two at Prezzo, Hitchin

Hertfordshire - Hitchin

(4)

more info »

Three Course Meal with Wine for Two at Prezzo, Marlow

Buckinghamshire - Marlow

(7)

more info »

Three Course Meal with Wine for Two at Prezzo, Uxbridge

Greater London - Hillingdon

(11)

more info »

Three Course Meal with Wine for Two at Prezzo, Woodbridge

Suffolk - Woodbridge

(6)

more info »

Three Course Meal with Wine for Two at Prezzo, Norwich Tombland

Norfolk - Norwich

(15)

more info »

Three Course Meal with Wine for Two at Prezzo, Norwich

Norfolk - Norwich

(16)

more info »

Three Course Meal with Wine at Prezzo, Crawley

West Sussex - Crawley

(11)

more info »

Three Course Meal with a glass of Wine at Prezzo, Banstead

Surrey - Sutton

(6)

more info »

Three Course Meal with Wine for Two at Prezzo, New Brighton

Merseyside - Wirral

(11)

more info »

Three Course Meal and a Glass of Wine for Two at Zizzi, Norwich

Norfolk - Norwich

(5)

more info »

Three Course Meal with Wine for Two at Prezzo, Farnham

Surrey - Farnham

(19)

more info »

Three Course Meal with Wine for Two at Prezzo, Maldon

Essex - Maldon

(10)

more info »

Three Course Meal with Wine for Two at Prezzo, Upminster

Essex - Barking & Dagenham

(8)

more info »

Three Course Meal with Wine at Prezzo, Cheam

Surrey - Sutton

(10)

more info »

Three Course Meal with glass of Wine for Two at Prezzo, Brighton

East Sussex - Brighton

(16)

more info »

Three Course Meal with a glass of Wine for Two at Prezzo, Aylesbury

Buckinghamshire - Aylesbury

(7)

more info »

Three Course Meal with Wine for Two at Prezzo, St Neots

Cambridgeshire - St Neots

(13)

more info »

Three Course Meal with glass of Wine at Prezzo, Brentwood

Essex - Brentwood

(4)

more info »

Three Course Meal with glass of Wine at Prezzo, Billericay

Essex - Billericay

(8)

more info »

Three Course Meal with Wine for Two at Prezzo, Rayleigh

Essex - Rayleigh

(6)

more info »

Three Course Meal with Wine for Two at Prezzo, Canterbury

Kent - Canterbury

(15)

more info »

Three Course Meal with Wine at Prezzo, Camberley

Surrey - Camberley

(4)

more info »

Three Course Meal with Wine for Two at Prezzo, Egham

Surrey - Egham

(8)

more info »

Three Course Meal and a Glass of Wine for Two at Zizzi, Canary Wharf

Greater London - Tower Hamlets

(5)

more info »

Three Course Meal with Wine for Two at Prezzo, Peterborough

Cambridgeshire - Peterborough

(15)

more info »

Three Course Meal with Wine for Two at Prezzo, Eastbourne

East Sussex - Eastbourne

(7)

more info »

Three Course Meal with Wine for Two at Prezzo, Southampton

Hampshire - Southampton

(10)

more info »

Three Course Meal with Wine for Two at Prezzo, Haverhill

Suffolk - Haverhill

(6)

more info »

Three Course Meal with glass of Wine at Prezzo, Bury St Edmunds

Suffolk - Bury St Edmunds

(19)

more info »

Three Course Meal with Wine for Two at Prezzo, Sudbury

Suffolk - Sudbury

(5)

more info »

Three Course Meal with Wine for Two at Prezzo, Milton Keynes

Buckinghamshire - Milton Keynes

(19)

more info »

Three Course Meal and glass of Wine for Two at Prezzo,Buckingham

Buckinghamshire - Buckingham

(5)

more info »

Three Course Meal with Wine for Two at Prezzo, Sevenoaks

Kent - Sevenoaks

(6)

more info »

Three Course Meal with Wine for Two at Prezzo, Harpenden

Hertfordshire - Harpenden

(7)

more info »

Three Course Meal with a glass of Wine at Prezzo, Arundel

West Sussex - Arundel

(7)

more info »

Three Course Meal with Wine for Two at Prezzo, Fleet

Hampshire - Fleet

(5)

more info »

Three Course Meal and a Glass of Wine for Two at Zizzi, York

North Yorkshire - York

(8)

more info »

Three Course Meal with Wine at Prezzo, Colchester

Essex - Colchester

(12)

more info »

Three Course Meal with Wine for Two at Prezzo, Hornchurch

Essex - Barking & Dagenham

(14)

more info »

Three Course Meal with Wine for Two at Prezzo, Tenterden

Kent - Tenterden

(11)

more info »

Three Course Meal with glass of Wine at Prezzo, Bishops Stortford

Hertfordshire - Bishops Stortford

(7)

more info »

Three Course Meal with Glass of Wine for Two at Prezzo, Milton Keynes Stadium

Buckinghamshire - Milton Keynes

(9)

more info »

Three Course Meal and a Glass of Wine for Two at Zizzi, Bristol Clifton Village

Avon - Bristol

more info »

Three Course Meal and a Glass of Wine for Two at Zizzi, Cheltenham

Gloucestershire - Cheltenham

(6)

more info »

Three Course Meal and a Glass of Wine for Two at Zizzi, Oxford

Oxfordshire - Oxford

(4)

more info »

Three Course Meal and a Glass of Wine for Two at Zizzi, Reading

Berkshire - Reading

(4)

more info »

Three Course Meal and a Glass of Wine for Two at Zizzi, Dorchester

Dorset - Dorchester

more info »

Three Course Meal and a Glass of Wine for Two at Zizzi, Exeter

Devon - Exeter

(3)

more info »

Three Course Meal and a Glass of Wine for Two at Zizzi, Windsor

Berkshire - Windsor

(2)

more info »

Three Course Meal and a Glass of Wine for Two at Zizzi, Wokingham

Berkshire - Wokingham

(2)

more info »

Three Course Meal with Wine for Two at Prezzo, Gloucester

Gloucestershire - Gloucester

(10)

more info »

Three Course Meal with Wine for Two at Prezzo, Oxford

Oxfordshire - Oxford

(9)

more info »

Three Course Meal with Wine for Two at Prezzo, Plymouth

Devon - Plymouth

(11)

more info »

Three Course Meal with Wine for Two at Prezzo, Reading

Berkshire - Reading

(8)

more info »

Three Course Meal with Wine for Two at Prezzo, Windsor

Berkshire - Windsor

(13)

more info »

Three Course Meal with Wine for Two at Prezzo, Weymouth

Dorset - Weymouth

(16)

more info »

Three Course Meal with Wine for Two at Prezzo, Torquay

Devon - Torquay

(15)

more info »

Three Course Meal with a glass of Wine at Prezzo, Bath

Somerset - Bath

(12)

more info »

Three Course Meal with glass of Wine at Prezzo, Bristol

Avon - Bristol

(12)

more info »

Three Course Meal with Wine for Two at Prezzo, Didcot

Oxfordshire - Didcot

(6)

more info »

Three Course Meal with Wine for Two at Prezzo, Salisbury

Wiltshire - Salisbury

(9)

more info »

Three Course Meal with glass of Wine for Two at Prezzo, Bicester

Oxfordshire - Bicester

(5)

more info »

Three Course Meal with Wine at Prezzo, Cheltenham

Gloucestershire - Cheltenham

(12)

more info »

Three Course Meal with Wine for Two at Prezzo, Taunton

Somerset - Taunton

(9)

more info »

Three Course Meal with Wine for Two at Prezzo, Exeter

Devon - Exeter

(12)

more info »

Three Course Meal with glass of Wine at Prezzo, Bournemouth

Dorset - Bournemouth

(20)

more info »

Three Course Meal and a Glass of Wine for Two at Zizzi, Cardiff

Glamorganshire - Cardiff

(5)

more info »

Three Course Meal and a Glass of Wine for Two at Zizzi, Newport

Gwenton - Newport

(4)

more info »

Three Course Meal with Wine at Prezzo, Cardiff St Mary Street

Glamorganshire - Cardiff

(17)

more info »

Three Course Meal and a Glass of Wine for Two at Zizzi, Victoria

Greater London - Westminster

(4)

more info »

Three Course Meal and a Glass of Wine for Two at Zizzi, St Katharine Docks

Greater London - Tower Hamlets

(4)

more info »

Three Course Meal and a Glass of Wine for Two at Zizzi, Paddington Street

Greater London - Westminster

more info »

Three Course Meal and a Glass of Wine for Two at Zizzi, Central St Giles

Greater London - Westminster

(6)

more info »

Three Course Meal and a Glass of Wine for Two at Zizzi, Finchley

Greater London - Barnet

(1)

more info »

Three Course Meal and a Glass of Wine for Two at Zizzi, Pinner

Greater London - Harrow

(4)

more info »

Three Course Meal and a Glass of Wine for Two at Zizzi, Guildford

Surrey - Guildford

(2)

more info »

Three Course Meal and a Glass of Wine for Two at Zizzi, South Woodford

Greater London - Redbridge

(2)

more info »

Three Course Meal and a Glass of Wine for Two at Zizzi, Finchley Road O2 Centre

Central London - Camden

more info »

Three Course Meal and a Glass of Wine for Two at Zizzi, One New Change

Greater London - St Paul's

(2)

more info »

Three Course Meal and a Glass of Wine for Two at Zizzi, Hitchin

Hertfordshire - Hitchin

(3)

more info »

Three Course Meal with Wine for Two at Prezzo, Harrow

Greater London - Harrow

(6)

more info »

Three Course Meal with Wine for Two at Prezzo, Mill Hill

Greater London - Barnet

(4)

more info »

Three Course Meal with Wine for Two at Prezzo, Cockfosters

Greater London - Barnet

(1)

more info »

Three Course Meal with a glass of Wine at Prezzo, Beckenham

Greater London - Bromley

(6)

more info »

Three Course Meal with Wine for Two at Prezzo, Eltham

Greater London - Bexley

(5)

more info »

Three Course Meal with Wine for Two at Prezzo, Wandsworth

Greater London - Wandsworth

(0)

more info »

Three Course Meal with Wine for Two at Prezzo, North Audley Street

Greater London - Westminster

(1)

more info »

Three Course Meal with Wine for Two at Prezzo, King's Cross

Greater London - Kings Cross

more info »

Three Course Meal and a Glass of Wine for Two at Zizzi, Harborne

West Midlands - Birmingham

(2)

more info »

Three Course Meal and a Glass of Wine for Two at Zizzi, Kenilworth

Warwickshire - Kenilworth

(3)

more info »

Three Course Meal and a Glass of Wine for Two at Zizzi, Lincoln

Lincolnshire - Lincoln

(4)

more info »

Three Course Meal and a Glass of Wine for Two at Zizzi, Derby Intu

Derbyshire - Derby

(4)

more info »

Three Course Meal and a Glass of Wine for Two at Zizzi, Birmingham Brindley Place

West Midlands - Birmingham

(4)

more info »

Three Course Meal and a Glass of Wine for Two at Zizzi, Market Harborough

Leicestershire - Market Harborough

(1)

more info »

Three Course Meal and a Glass of Wine for Two at Zizzi, Newark

Nottinghamshire - Newark-On-Trent

(1)

more info »

Three Course Meal with Wine for Two at Prezzo, Spalding

Lincolnshire - Spalding

(7)

more info »

Three Course Meal with Wine for Two at Prezzo, Leamington Spa

Warwickshire - Leamington Spa

(14)

more info »

Three Course Meal with Wine for Two at Prezzo, Hereford

Herefordshire - Hereford

(3)

more info »

Three Course Meal and a Glass of Wine for Two at Zizzi, Bradford

West Yorkshire - Bradford

(4)

more info »

Three Course Meal and a Glass of Wine for Two at Zizzi, Manchester Corn Exchange

Greater Manchester - Manchester

(2)

more info »

Three Course Meal and a Glass of Wine for Two at Zizzi, Leeds Birstall

West Yorkshire - Batley

(6)

more info »

Three Course Meal with Wine for Two at Prezzo

Lancashire - Lytham St Anne's

(18)

more info »

Three Course Meal with Wine for Two at Prezzo, Manchester

Greater Manchester - Manchester

(24)

more info »

Three Course Meal with Wine for Two at Prezzo, Formby

Merseyside - Formby

(7)

more info »

Three Course Meal with Wine for Two at Prezzo, York Vangarde Way

North Yorkshire - York

(1)

more info »

Three Course Meal with Wine for Two at Prezzo, Oswestry

Shropshire - Oswestry

(8)

more info »

Three Course Meal with Wine for Two at Prezzo, Ripon

North Yorkshire - Ripon

(6)

more info »

Three Course Meal with Wine for Two at Prezzo, Sheffield Ecclesall Road

South Yorkshire - Sheffield

(11)

more info »

Three Course Meal with glass of Wine for Two at Prezzo, Beverley

East Riding of Yorkshire - Beverley

(6)

more info »

Three Course Meal with Glass of Wine for Two at Prezzo, Deansgate

Greater Manchester - Manchester

(6)

more info »

Three Course Meal with Glass of Wine for Two at Prezzo, Aston-Under-Lyne

Greater Manchester - Ashton-Under-Lyne

(9)

more info »

Three Course Meal and a Glass of Wine for Two at Zizzi, Glasgow Royal Exchange

Lanarkshire - Glasgow

(4)

more info »

Three Course Meal and a Glass of Wine for Two at Zizzi, Glasgow Silverburn

Strathclyde - Glasgow

(3)

more info »

Three Course Meal and a Glass of Wine for Two at Zizzi, Glasgow West End

Lanarkshire - Glasgow

(1)

more info »

Three Course Meal and a Glass of Wine for Two at Zizzi, Edinburgh Roxburgh

Midlothian - Edinburgh

(4)

more info »

Three Course Meal and a Glass of Wine for Two at Zizzi, Edinburgh Queensferry

Midlothian - Edinburgh

(3)

more info »

Three Course Meal and a Glass of Wine for Two at Zizzi, Leith

Midlothian - Edinburgh

(1)

more info »

Three Course Meal with Wine for Two at Prezzo, Glasgow Braehead

Strathclyde - Glasgow

(4)

more info »

Three Course Meal with Wine for Two at Prezzo

Fife - St Andrews

(5)

more info »

Three Course Meal and a Glass of Wine for Two at Zizzi, Cambridge Bene't Street

Cambridgeshire - Cambridge

(7)

more info »

Three Course Meal and a Glass of Wine for Two at Zizzi, High Wycombe

Buckinghamshire - High Wycombe

(4)

more info »

Three Course Meal and a Glass of Wine for Two at Zizzi, Esher

Surrey - Esher

more info »

Three Course Meal and a Glass of Wine for Two at Zizzi, Twickenham

Middlesex - Hounslow

(3)

more info »

Three Course Meal and a Glass of Wine for Two at Zizzi, Beaconsfield

Buckinghamshire - Beaconsfield

more info »

Three Course Meal and a Glass of Wine for Two at Zizzi, Hornchurch

Essex - Barking & Dagenham

more info »

Three Course Meal and a Glass of Wine for Two at Zizzi, Surbiton

Surrey - Kingston Upon Thames

(1)

more info »

Three Course Meal and a Glass of Wine for Two at Zizzi, Romford

Essex - Havering

(1)

more info »

Three Course Meal and a Glass of Wine for Two at Zizzi, Farnham

Surrey - Farnham

(2)

more info »

Three Course Meal and a Glass of Wine for Two at Zizzi, Milton Keynes Theatre

Buckinghamshire - Milton Keynes

(4)

more info »

Three Course Meal and a Glass of Wine for Two at Zizzi, Bromley

Kent - Bromley

(1)

more info »

Three Course Meal and a Glass of Wine for Two at Zizzi, Sutton

Surrey - Sutton

(5)

more info »

Three Course Meal and a Glass of Wine for Two at Zizzi, Brentwood

Essex - Brentwood

(1)

more info »

Three Course Meal and a Glass of Wine for Two at Zizzi, Richmond

Surrey - Richmond Upon Thames

(1)

more info »

Three Course Meal and a Glass of Wine for Two at Zizzi, Banstead

Surrey - Sutton

(5)

more info »

Three Course Meal and a Glass of Wine for Two at Zizzi, Loughton

Essex - Barking & Dagenham

(1)

more info »

Three Course Meal and a Glass of Wine for Two at Zizzi, Bishops Stortford

Hertfordshire - Bishop's Stortford

(1)

more info »

Three Course Meal and a Glass of Wine for Two at Zizzi, Ipswich

Suffolk - Ipswich

(11)

more info »

Three Course Meal and a Glass of Wine for Two at Zizzi, Whitstable

Kent - Whitstable

more info »

Three Course Meal and a Glass of Wine for Two at Zizzi, Beckenham

Kent - Bromley

(3)

more info »

Three Course Meal and a Glass of Wine for Two at Zizzi, Milton Keynes The Hub

Buckinghamshire - Milton Keynes

(3)

more info »

Three Course Meal and a Glass of Wine for Two at Zizzi, Bexleyheath

Kent - Bexley

(1)

more info »

Three Course Meal and a Glass of Wine for Two at Zizzi, Uxbridge

Middlesex - Hillingdon

(2)

more info »

Three Course Meal and a Glass of Wine for Two at Zizzi, Brighton Marina

East Sussex - Brighton

(2)

more info »

Three Course Meal and a Glass of Wine for Two at Zizzi, Marlow

Buckinghamshire - Marlow

more info »

Three Course Meal and a Glass of Wine for Two at Zizzi, Chislehurst

Kent - Bromley

(1)

more info »

Three Course Meal with Wine for Two at Prezzo, Weybridge

Surrey - Weybridge

(6)

more info »

Three Course Meal with Wine for Two at Prezzo, Ely

Cambridgeshire - Ely

(11)

more info »

Three Course Meal with Wine for Two at Prezzo

Cambridgeshire - Wisbech

(12)

more info »

Three Course Meal with Wine for Two at Prezzo, Welwyn Garden City

Hertfordshire - Welwyn Garden City

(9)

more info »

Three Course Meal with Glass of Wine for Two at Prezzo, Amersham

Buckinghamshire - Amersham

(116)

more info »

Three Course Meal with Wine for Two at Prezzo, Tring

Hertfordshire - Tring

(4)

more info »

Three Course Meal with Wine for Two at Prezzo, Ringwood

Hampshire - Ringwood

(6)

more info »

Three Course Meal with Wine for Two at Prezzo, Witham

Essex - Witham

(0)

more info »

Three Course Meal with Wine for Two at Prezzo, Hailsham

East Sussex - Hailsham

(7)

more info »

Three Course Meal with Wine for Two at Prezzo, Kingston

Kent - Kingston Upon Thames

(2)

more info »

Three Course Meal with a glass of Wine at Prezzo, Beccles

Suffolk - Beccles

(5)

more info »

Three Course Meal with Wine for Two at Prezzo, St Albans

Hertfordshire - St. Albans

(9)

more info »

Three Course Meal with Wine for Two at Prezzo, Stanmore

Middlesex - Harrow

(4)

more info »

Three Course Meal with Wine for Two at Prezzo, East Grinstead

West Sussex - East Grinstead

(4)

more info »

Three Course Meal with Wine for Two at Prezzo, Lyndhurst

Hampshire - Lyndhurst

(5)

more info »

Three Course Meal with Wine for Two at Prezzo, Stevenage Leisure Park

Hertfordshire - Stevenage

(7)

more info »

Three Course Meal with Wine for Two at Prezzo, Newmarket

Suffolk - Newmarket

(8)

more info »

Three Course Meal with Wine for Two at Prezzo, Horsham

West Sussex - Horsham

(10)

more info »

Three Course Meal with Wine for Two at Prezzo, Tunbridge Wells

Kent - Tunbridge Wells

(5)

more info »

Three Course Meal with Wine for Two at Prezzo, South Woodford

Essex - Redbridge

(3)

more info »

Three Course Meal with a glass of Wine for Two at Prezzo, Barnet

Hertfordshire - Barnet

(1)

more info »

Three Course Meal with glass of Wine at Prezzo, Braintree

Essex - Braintree

(9)

more info »

Three Course Meal with Wine for Two at Prezzo, Chislehurst

Kent - Bromley

(7)

more info »

Three Course Meal and glass of Wine for Two, Beaconsfield Prezzo

Buckinghamshire - Beaconsfield

(6)

more info »

Three Course Meal with Wine at Prezzo, Chelmsford Baddow Road

Essex - Chelmsford

(2)

more info »

Three Course Meal with Wine for Two at Prezzo, Godalming

Surrey - Godalming

(5)

more info »

Three Course Meal with Wine for Two at Prezzo, Hertford

Hertfordshire - Hertford

(7)

more info »

Three Course Meal with Wine for Two at Prezzo, Lymington

Hampshire - Lymington

(1)

more info »

Three Course Meal with Wine for Two at Prezzo, Lewes

East Sussex - Lewes

(8)

more info »

Three Course Meal with Wine for Two at Prezzo, Winchester

Hampshire - Winchester

(10)

more info »

Three Course Meal with Wine for Two at Prezzo, Haywards Heath

West Sussex - Haywards Heath

(7)

more info »

Three Course Meal with Wine at Prezzo, Chichester

West Sussex - Chichester

(10)

more info »

Three Course Meal with Wine for Two at Prezzo, Redhill

Surrey - Redhill

(1)

more info »

Three Course Meal with Wine for Two at Prezzo, Northwood

Middlesex - Hillingdon

(3)

more info »

Three Course Meal with Wine for Two at Prezzo, Romsey

Hampshire - Romsey

(3)

more info »

Three Course Meal with Wine for Two at Prezzo, Shepperton

Surrey - Shepperton

(12)

more info »

Three Course Meal with Wine for Two at Prezzo, Hatfield

Hertfordshire - Hatfield

(4)

more info »

Three Course Meal with Wine for Two at Prezzo, Reigate

Surrey - Reigate

(4)

more info »

Three Course Meal with Wine for Two at Prezzo, Epping

Essex - Epping

(11)

more info »

Three Course Meal with Wine for Two at Prezzo, Leatherhead

Surrey - Leatherhead

(7)

more info »

Three Course Meal with Wine for Two at Prezzo, Stevenage

Hertfordshire - Stevenage

(2)

more info »

Three Course Meal with Wine for Two at Prezzo, Saffron Walden

Suffolk - Saffron Walden

(1)

more info »

Three Course Meal with Wine at Prezzo, Chingford

Greater London - Enfield

(9)

more info »

Three Course Meal with Wine for Two at Prezzo, Fareham

Surrey - Fareham

more info »

Three-Course Meal with Glass of Wine for Two at Prezzo, Stowmarket

Suffolk - Stowmarket

(3)

more info »

Three Course Meal with Wine for Two at Prezzo, Radlett

Hertfordshire - Radlett

(3)

more info »

Three-Course Meal with Glass of Wine for Two at Prezzo, Rickmansworth

Hertfordshire - Rickmansworth

(2)

more info »

Three Course Meal with Glass of Wine for Two at Prezzo, Milton Keynes

Buckinghamshire - Milton Keynes

more info »

Three Course Meal with a glass of Wine at Prezzo, Alton

Hampshire - Alton

(1)

more info »

Three Course Meal with a glass a glass Wine at Prezzo, Aldeburgh

Suffolk - Aldeburgh

(4)

more info »

Three Course Meal with Wine at Prezzo, Chelmsford

Essex - Chelmsford

(1)

more info »

Three Course Meal with Wine for Two at Prezzo, Woodford Green

Greater London - Waltham Forest

more info »

Three Course Meal with Wine for Two at Prezzo, Midhurst

West Sussex - Midhurst

more info »

Three Course Meal with Wine for Two at Prezzo, Halstead

Essex - Halstead

(2)

more info »

Three Course Meal and a Glass of Wine for Two at Zizzi, Falmouth

Cornwall - Falmouth

(2)

more info »

Three Course Meal and a Glass of Wine for Two at Zizzi, Taunton

Somerset - Taunton

(6)

more info »

Three Course Meal and a Glass of Wine for Two at Zizzi, Henley

Oxfordshire - Henley

more info »

Three Course Meal and a Glass of Wine for Two at Zizzi, Bristol Cabot Circus

Avon - Bristol

(1)

more info »

Three Course Meal and a Glass of Wine for Two at Zizzi, Gloucester Quays

Gloucestershire - Gloucester

(2)

more info »

Three Course Meal with Wine for Two at Prezzo, Falmouth

Cornwall - Falmouth

(4)

more info »

Three Course Meal with a glass of Wine at Prezzo, Barnstaple

Devon - Barnstaple

(3)

more info »

Three Course Meal with Wine for Two at Prezzo, Marlborough

Wiltshire - Marlborough

(15)

more info »

Three Course Meal with Wine for Two at Prezzo, Yeovil

Somerset - Yeovil

(3)

more info »

Three Course Meal with Wine for Two at Prezzo, Wimborne

Dorset - Wimborne

(10)

more info »

Three Course Meal with Wine for Two at Prezzo, Street

Somerset - Street

(5)

more info »

Three Course Meal with glass of Wine at Prezzo, Bridgwater

Somerset - Bridgwater

(4)

more info »

Three Course Meal with Wine for Two at Prezzo, Exmouth

Devon - Exmouth

(3)

more info »

Three Course Meal and a Glass of Wine for Two at Zizzi, Kingston

Surrey - Kingston Upon Thames

(3)

more info »

Three Course Meal with Wine for Two at Prezzo, Wokingham

Berkshire - Wokingham

(9)

more info »

Three Course Meal with Wine for Two at Prezzo, Newbury

Berkshire - Newbury

(9)

more info »

Three-Course Meal with Glass of Wine for Two at Prezzo, Swindon

Wiltshire - Swindon

(12)

more info »

Three Course Meal with Wine at Prezzo, Christchurch

Dorset - Christchurst

(6)

more info »

Three Course Meal with Wine at Prezzo, Cheltenham Brewery

Gloucestershire - Cheltenham

(4)

more info »

Three Course Meal with Wine for Two at Prezzo, Trowbridge

Wiltshire - Trowbridge

(8)

more info »

Three Course Meal with Wine for Two at Prezzo, Maidenhead

Berkshire - Maidenhead

(7)

more info »

Three Course Meal with Wine for Two at Prezzo, Dorchester

Dorset - Dorchester

(1)

more info »

Three Course Meal with glass of Wine at Prezzo, Blandford

Dorset - Blandford Forum

more info »

Three Course Meal with Wine for Two at Prezzo, Thame

Oxfordshire - Thame

(2)

more info »

Three Course Meal with Wine for Two at Prezzo, St Austell

Cornwall - St Austell

(4)

more info »

Three Course Meal and a Glass of Wine for Two at Zizzi, Cardiff Bay

Glamorganshire - Cardiff

(2)

more info »

Three Course Meal with Wine for Two at Prezzo

Carmarthenshire - Carmarthen

(3)

more info »

Three Course Meal and a Glass of Wine for Two at Zizzi, Glasgow Princes Square

Lanarkshire - Glasgow

(2)

more info »

Three Course Meal with Wine at Prezzo, Cardiff St David's

Glamorganshire - Cardiff

(8)

more info »

Three Course Meal with Glass of Wine for Two at Prezzo, Penarth

Glamorganshire - Penarth

(2)

more info »

Three Course Meal with Glass of Wine for Two at Prezzo, Ware

Hertfordshire - Ware

(3)

more info »

Three Course Meal with Glass of Wine for Two at Prezzo, Ipswich

Suffolk - Ipswich

(4)

more info »

Three Course Meal with Glass of Wine for Two at Prezzo, East Dereham

Norfolk - East Dereham

(2)

more info »

Three Course Meal with Glass of Wine for Two at Prezzo, Tewkesbury

Gloucestershire - Tewkesbury

more info »

Three Course Meal with Glass of Wine for Two at Prezzo, Blackpool

Lancashire - Blackpool

(4)

more info »

Three Course Meal with Glass of Wine for Two at Prezzo, Newport

Gwenton - Newport

(1)

more info »

Three Course Meal with Glass of Wine for Two at Prezzo, Staines

Surrey - Staines

(3)

more info »

Three Course Meal with Glass of Wine for Two at Prezzo, Yate

Gloucestershire - Yate

(3)

more info »

Three Course Meal with Glass of Wine for Two at Prezzo, Redditch

Worcestershire - Redditch

(2)

more info »

Three Course Meal with Glass of Wine for Two at Prezzo, Wickford

Essex - Wickford

(1)

more info »

Three Course Meal with Glass of Wine for Two at Prezzo, Farnborough

Hampshire - Farnborough

more info »

Three Course Meal with Glass of Wine for Two at Prezzo, Bridgnorth

Shropshire - Bridgnorth

more info »

Three Course Meal with Glass of Wine for Two at Prezzo, Abergavenny

Monmouthshire - Abergavenny

(1)

more info »

Three Course Meal with Glass of Wine for Two at Prezzo, Warrington

Cheshire - Warrington

(3)

more info »

Three Course Meal with Glass of Wine for Two at Prezzo, Hinkley

Leicestershire - Hinckley

(5)

more info »

Three Course Meal with Glass of Wine for Two at Prezzo, Clondalkin

Dublin - Clondalkin

more info »

Three Course Meal with Glass of Wine for Two at Prezzo, Ruislip

Middlesex - Harrow

more info »

Three Course Meal with Glass of Wine for Two at Prezzo, Bolton

Lancashire - Bolton

(1)

more info »

Three Course Meal with Glass of Wine for Two at Prezzo, Grantham

Lincolnshire - Grantham

more info »

Three Course Meal with Glass of Wine for Two at Prezzo, Darlington

County Durham - Darlington

(7)

more info »

Three Course Meal with Glass of Wine for Two at Prezzo, Carlisle

Cumbria - Carlisle

(2)

more info »
Taste of Italy - Smartbox by Buyagift -

£29.99
Taste of Italy - Smartbox by Buyagift -

£29.99