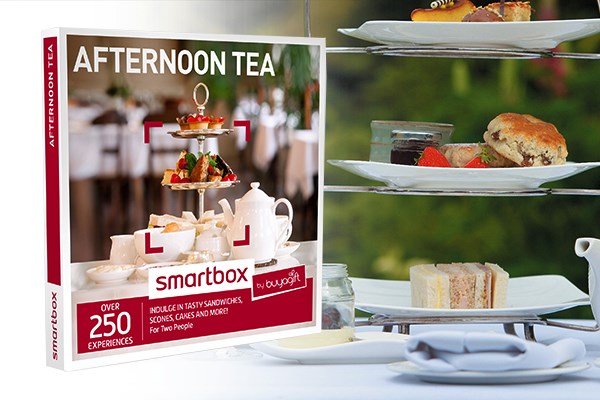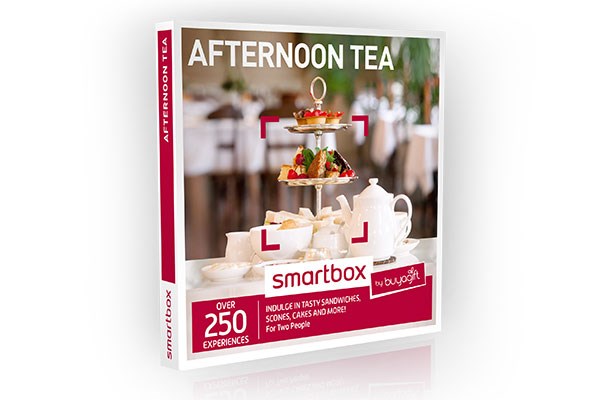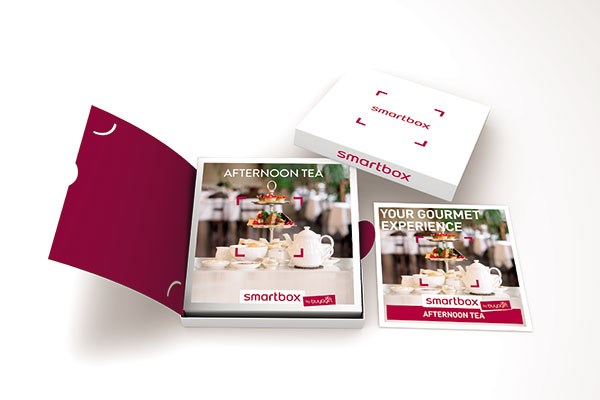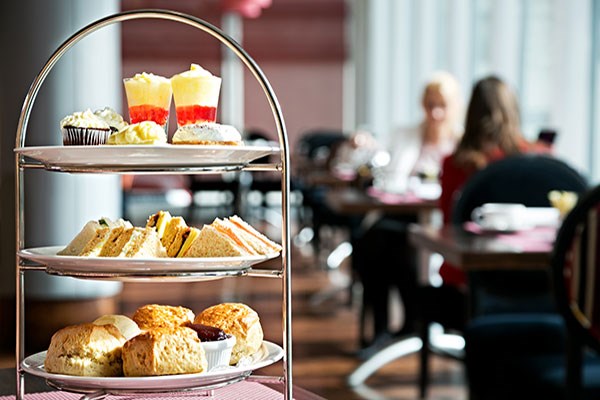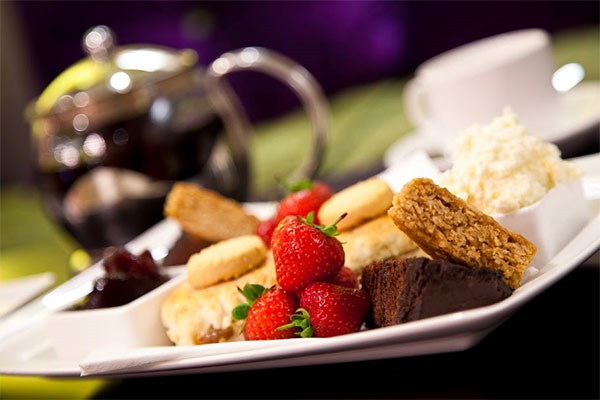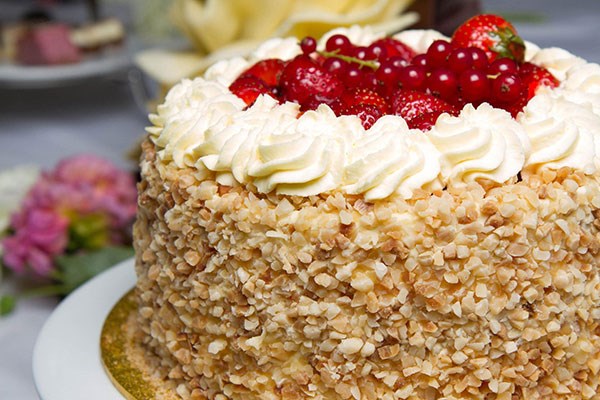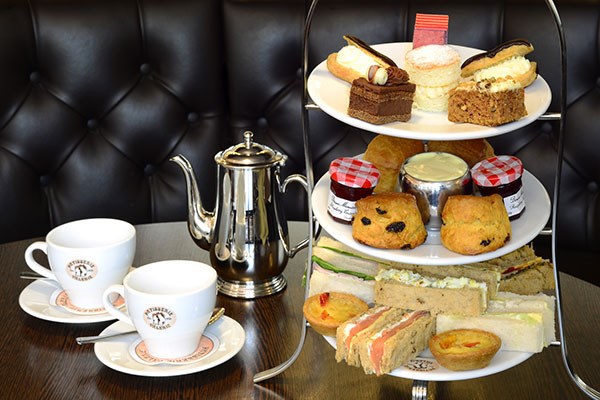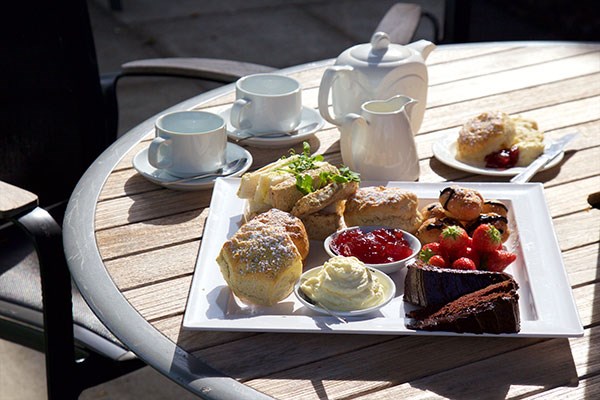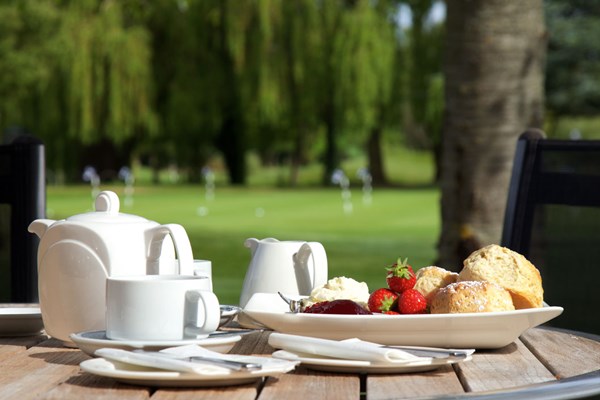 Afternoon Tea - Smartbox by Buyagift
Product code: 10746810
4.5 out of 5 (based on 4990 reviews)
Write a review »
Over 250 Experiences for Two People to Choose From

Indulge in Tasty Sandwiches, Scones, Cakes & More

Valid for 24 Months
How it works
Hundreds of experiences in every Smartbox handpicked from Buyagift's fantastic range.
Includes a beautiful presentation box with a detailed booklet of the experiences included.
Give the gift of choice allowing the recipient to book their chosen experience.
Summary
This wonderful afternoon tea treat is the perfect way to celebrate traditional British culture whilst spending some quality time with a loved one. With many wonderful UK locations available you'll be spoilt for choice. You can relax in the cosy comfort of a quaint tearoom with all the hustle and bustle of the city a few feet away, or embrace rural grandeur and enjoy an indulgent afternoon in a country manor house. Your taste buds will be more than satisfied after a decadent selection of finger sandwiches, homemade scones and delicious cakes.
Fine Print
What's included?
Afternoon tea for two at your choice of participating venues
Any restrictions?
Your voucher is valid for 24 months for two people
Pre-booking is essential
Exact menus and availability will vary depending on venue
Locations may be added or removed from this flexible voucher without notice
What do I need to know?
All dates are subject to availability
Please advise your chosen venue of any dietary requirements when booking
Experiences available within this choice voucher
Filter Products:
Afternoon Tea for Two at The Old Vicarage Hotel

Somerset - Bridgwater

more info »

Afternoon Tea for Two at Bower House

Cumbria - Eskdale

more info »

Afternoon Tea for Two at Hallmark Hotel Birmingham Strathallan

West Midlands - Birmingham

(1)

more info »

Afternoon Tea for Two at Woolley Grange

Wiltshire - Bradford-On-Avon

(10)

more info »

Afternoon Tea for Two at Hallmark Hotel Derby Midland

Derbyshire - Derby

(1)

more info »

Afternoon Tea for Two at The Green House Hotel

Dorset - Bournemouth

more info »

Afternoon Tea for Two at Coombe Abbey

Warwickshire - Coventry

(597)

more info »

Afternoon Tea for Two at Hallmark Hotel Bournemouth Eastcliff

Dorset - Bournemouth

more info »

Afternoon Tea for Two at The Angel Inn

West Sussex - Midhurst

more info »

Afternoon Tea for Two at Bagden Hall Hotel

West Yorkshire - Denby Dale

more info »

Traditional Afternoon Tea for Two at The Grange Hotel

Suffolk - Bury St. Edmunds

more info »

Afternoon Tea for Two at Langtry Manor Hotel

Dorset - Bournemouth

(52)

more info »

Afternoon Tea for Two at The Pheasant Inn

Cumbria - Kirkby Lonsdale

more info »

Afternoon Tea for Two at Hallmark Hotel Bournemouth West Cliff

Dorset - Bournemouth

more info »

Afternoon Tea for Two at Patisserie Valerie with Cake Gift Box, Ipswich

Suffolk - Ipswich

more info »

Deluxe Afternoon Tea for Two at Langshott Manor

Surrey - Nr. Gatwick

(131)

more info »

Afternoon Tea for Two at Park Broom Lodge

Cumbria - Carlisle

more info »

Tour of Brighton Royal Pavilion with Cream Tea for Two

East Sussex - Brighton

(73)

more info »

Afternoon Tea for Two at Hallmark Hotel Gloucester

Gloucestershire - Gloucester

more info »

Sparkling Cocktail Afternoon Tea for Two at Hilton London Canary Wharf

Greater London - Tower Hamlets

(89)

more info »

Afternoon Tea for Two at Cricket St Thomas Hotel

Somerset - Chard

(25)

more info »

Afternoon Tea for Two at Hallmark Hotel in Carlisle

Cumbria - Carlisle

more info »

Traditional Afternoon Tea at the Beechwood Hotel for Two

Norfolk - North Walsham

(5)

more info »

Afternoon Tea for Two at Hallmark Hotel in Cambridge

Cambridgeshire - Cambridge

(0)

more info »

Afternoon Tea for Two at Hallmark Hotel in Croydon

Greater London - Croydon

more info »

Luxury Afternoon Tea at Mary's Rest Tea Room

Gloucestershire - Bourton-on-the-Water

(2)

more info »

Afternoon Tea for Two at Rowhill Grange

Kent - Dartford

(180)

more info »

Afternoon Tea for Two at Hallmark Hotel in Derby Mickleover Court

Derbyshire - Mickleover

more info »

Afternoon Tea for Two at Hallmark Hotel Stourport Manor

Worcestershire - Stourport on Severn

(2)

more info »

Afternoon Tea for Two at The Temple Cafe

Essex - Southend-on-Sea

more info »

Traditional Afternoon Tea for Two at The Roxburghe

Lothian - Edinburgh

(15)

more info »

Afternoon Tea for Two at Mercure Peebles Barony House Hotel

Midlothian - Eddleston by Peebles

more info »

Afternoon Tea for Two at Episode Hotel

Warwickshire - Leamington Spa

(128)

more info »

Afternoon Tea for Two at King Robert Hotel

Stirling - Bannockburn

more info »

Afternoon Tea for Two at Hallmark Hotel Glasgow

Strathclyde - Glasgow

more info »

Afternoon Tea for Two at The Slaughters Country Inn

Gloucestershire - Lower Slaughter

(17)

more info »

Traditional Afternoon Tea for Two at the Cedar Court Hotel Huddersfield

West Yorkshire - Huddersfield

more info »

Afternoon Tea for Two at Nidd Hall Hotel

North Yorkshire - Harrogate

(37)

more info »

Afternoon Tea for Two at Patisserie Valerie with Cake Gift Box, Cambridge

Cambridgeshire - Cambridge

(1)

more info »

Afternoon Tea for Two at Hallmark Hotel Hull

East Riding of Yorkshire - Hull

(1)

more info »

Afternoon Tea for Two at Brook Honiley Court Hotel

Warwickshire - Nr Warwick

more info »

Afternoon Tea for Two at The White Swan Hotel

Northumberland - Alnwick

more info »

Afternoon Tea for Two at Hallmark Hotel Chigwell

Essex - Waltham Forest

(0)

more info »

Afternoon Tea for Two at The Ickworth

Suffolk - Bury St Edmunds

(107)

more info »

Afternoon Tea for Two at Hallmark Hotel Irvine

Renfrewshire - Ayrshire

more info »

Afternoon Tea for Two at The Bridge Hotel

Surrey - Chertsey

more info »

Afternoon Tea for Two at Briery Wood Country House Hotel

Cumbria - Windermere

more info »

Afternoon Tea for Two at Thoresby Hall

Nottinghamshire - Newark

(228)

more info »

Luxury Afternoon Tea for Two at Healey Dell Tea Rooms

Lancashire - Rochdale

(1)

more info »

Afternoon Tea for Two at The Dabbling Duck

Norfolk - Great Massingham

more info »

Afternoon Tea for Two at Sinah Warren Hotel

Hampshire - Hayling Island

(18)

more info »

Afternoon Tea for Two at Littlecote House Hotel

Berkshire - Hungerford

(30)

more info »

Afternoon Tea for Two at Hallmark Hotel Manchester Airport

Cheshire - WILMSLOW

more info »

Deluxe Afternoon Tea for Two at Pinewood Hotel

Buckinghamshire - Slough

(7)

more info »

Afternoon Tea for Two at Bowood Hotel

Wiltshire - Derry Hill

(25)

more info »

Afternoon Tea for Two at New Park Manor

Hampshire - Brockenhurst

(32)

more info »

Afternoon Tea for Two at Urr Valley Country House Hotel

Dumfries and Galloway - Castle Douglas

more info »

Afternoon Tea for Two at The Westcliff Hotel

Essex - Westcliff on Sea

more info »

Afternoon Tea for Two at Three Horseshoes Country Inn and Spa

Staffordshire - Leek

(1)

more info »

Harrods Tea and Scones Experience for Two

Greater London - Westminster

(14)

more info »

Afternoon Tea for Two at Patisserie Valerie with Cake Gift Box, Cardiff

Glamorganshire - Cardiff

more info »

Afternoon Tea for Two at Fishmore Hall

Shropshire - Ludlow

(49)

more info »

Afternoon Tea for Two at Patisserie Valerie with Cake Gift Box, Nottingham Royal Exchange

Nottinghamshire - Nottingham

more info »

Afternoon Tea for Two at Hallmark Hotel Bournemouth Carlton

Dorset - Bournemouth

more info »

Afternoon Tea for Two at Killin House

Stirling - Killin

more info »

Afternoon Tea for Two at Patisserie Valerie with Cake Gift Box, Southend on Sea

Essex - Southend on Sea

(1)

more info »

Deluxe Afternoon Tea for Two at Ambassadors Bloomsbury

Greater London - Westminster

(67)

more info »

Afternoon Tea for Two at Patisserie Valerie with Cake Gift Box, Bristol

Avon - Bristol

more info »

Afternoon Tea for Two at Lifton Hall Hotel

Devon - Lifton

more info »

Afternoon Tea for Two at Orestone Manor

Devon - Maidencombe

more info »

Afternoon Tea for Two at The Melody Restaurant

Greater London - Hammersmith & Fulham

more info »

Afternoon Tea for Two at The Royal Oak Inn

Cornwall - Lostwithiel

more info »

Afternoon Tea for Two at The Red Lion Hotel

Essex - Colchester

(6)

more info »

Afternoon Tea for Two at The Mill Hotel

Suffolk - Sudbury

(239)

more info »

Afternoon Tea for Two at Patisserie Valerie with Cake Gift Box, Ealing

Greater London - Ealing

more info »

Afternoon Tea for Two at Cotswold House Hotel

Gloucestershire - Chipping Campden

(16)

more info »

Afternoon Tea for Two at Patisserie Valerie with Cake Gift Box, Canterbury

Kent - Canterbury

(1)

more info »

Afternoon Tea for Two at Charingworth Manor

Gloucestershire - Chipping Campden

more info »

Afternoon Tea for Two at The Old Swan Hotel

North Yorkshire - Harrogate

more info »

Afternoon Tea for Two at Patisserie Valerie with Cake Gift Box, Reading

Berkshire - Reading

more info »

Afternoon Tea for Two at Holme Lacy House Hotel

Herefordshire - Holme Lacy

(15)

more info »

Afternoon Tea for Two at Riverside Cottage

Suffolk - Ipswich

(18)

more info »

Afternoon Tea for Two at Brook Kingston Lodge

Surrey - Kingston Upon Thames

(19)

more info »

Afternoon Tea for Two at Lake Country House

Powys - Wells

(6)

more info »

Traditional Afternoon Tea for Two at Penmaenuchaf Hall

Gwynedd - Dolgellau

(15)

more info »

Traditional Afternoon Tea for Two at Whittlebury Hall

Northamptonshire - Whittlebury

(189)

more info »

Afternoon Tea for Two at Ballathie House Hotel

Tayside - Perthshire

(15)

more info »

Afternoon Tea for Two at Regency Park Hotel

Berkshire - Thatcham

(7)

more info »

Deluxe Afternoon Tea for Two at Best Western Tiverton Hotel

Devon - Tiverton

(8)

more info »

Afternoon Tea For Two at Mercure Letchworth Hall

Hertfordshire - Letchworth Garden City

(41)

more info »

Afternoon Tea for Two at Classic Lodges Hotel in Slough

Buckinghamshire - Slough

more info »

Afternoon Tea for Two at Esseborne Manor

Hampshire - Andover

more info »

Afternoon Tea for Two at Patisserie Valerie with Cake Gift Box, Bath

Avon - Bath

(2)

more info »

Afternoon Tea for Two at Trimstone Manor Country House

Devon - Ilfracombe

more info »

Afternoon Tea for Two at London Elizabeth Hotel

Greater London - Westminster

more info »

Afternoon Tea for Two at The Manor at Weston on The Green Country House Hotel

Oxfordshire - Oxford

more info »

Afternoon Tea for Two at Newton House Hotel

Derbyshire - Ashbourne

more info »

Afternoon Tea for Two at the Royal Beacon Hotel

Devon - Exmouth

more info »

Afternoon Tea for Two at Patisserie Valerie with Cake Gift Box, Wimbledon

Greater London - Merton

more info »

Champagne Afternoon Tea for Two at The Beech Hill Hotel

Cumbria - Windermere

more info »

Afternoon Tea for Two at Madhatter's Tearoom

Nottinghamshire - Kimberley

more info »

Afternoon Tea for Two at The Keys Restaurant

West Yorkshire - Huddersfield

more info »

Afternoon Tea for Two at Park Grand, Lancaster Gate

Greater London - Westminster

(1)

more info »

Afternoon Tea for Two at Brook Meadow Hotel

Cheshire - Childer Thornton

more info »

Afternoon Tea for Two at Patisserie Valerie with Cake Gift Box, Belfast

County Antrim - Belfast

more info »

Afternoon Tea for Two at Jacqueline's Tea Room

Essex - Colchester

more info »

Afternoon Tea for for two at Hilton Garden Inn

Fife - Aberdeen

more info »

Afternoon Tea for Two at Mad as a Hatter

West Midlands - Birmingham

more info »

Afternoon Tea for Two at Hallmark Hotel, The Queen

Cheshire - Chester

more info »

Champagne Afternoon Tea for Two at Tudor Farmhouse Hotel

Gloucestershire - Royal Forest of Dean

(1)

more info »

Afternoon Tea for Two at Patisserie Valerie with Cake Gift Box, Chippenham

Wiltshire - Chippenham

more info »

Traditional Afternoon Tea for Two at the Hilton London Islington

Greater London - Hackney

(1)

more info »

Sparkling Afternoon Tea for Two in Islington

Greater London - Hackney

more info »

Afternoon Tea for Two at Falcondale Hotel

Dyfed - Ceredigion

more info »

Afternoon Tea for Two at Patisserie Valerie with Cake Gift Box, Glasgow Royal Exchange

Lanarkshire - Glasgow

more info »

Afternoon Tea for Two at Frasers Restaurant

Kent - Egerton Nr Ashford

(1)

more info »

Afternoon Tea for Two at The Lugger Inn

Cornwall - Penzance

more info »

Afternoon Tea for Two at Hallmark Hotel Warrington

Lancashire - Warrington

more info »

Afternoon Tea for Two at Best Western Grosvenor Hotel

Warwickshire - Stratford upon Avon

more info »

Afternoon Tea with Vineyard Tour for Two at Carr Taylor Wines

East Sussex - Hastings

(1)

more info »

Afternoon Tea for Two at Lion Rock Tea Rooms

Somerset - Cheddar

more info »

Afternoon Tea for Two at Sheldrakes Restaurant

Merseyside - Wirral

more info »

Afternoon Tea for Two at Croft Tea Rooms

Kent - Bromley

more info »

Afternoon Tea for Two at The Colonnade Hotel

Greater London - Camden

more info »

Afternoon Tea for Two at The Empress Hotel

Isle of Man - Douglas

more info »

Afternoon Tea for Two at Stanneylands Hotel

Cheshire - Wilmslow

more info »

Afternoon Tea for Two at Jameson's Tea Room

West Yorkshire - Leeds

more info »

Afternoon Tea for Two at Sofia's Italian

West Midlands - Walsall

more info »

Afternoon Tea with Wine for Two at Wroxeter Roman Vineyard

Shropshire - Shrewsbury

more info »

Afternoon Tea for Two at Orchard House Hotel

Devon - Lynmouth

more info »

Afternoon Tea for Two at Jubilee Vintage Tea Room

East Riding of Yorkshire - Hessle

more info »

Afternoon Tea for Two at Lastingham Grange

North Yorkshire - Lastingham

more info »

Afternoon Tea for Two at Patisserie Valerie with Cake Gift Box, Glasgow Silverburn

Lanarkshire - Glasgow

more info »

Afternoon Tea for Two at The East Hotel

Buckinghamshire - Newport Pagnell

more info »

Afternoon Tea for Two at Patisserie Valerie with Cake Gift Box, Cheltenham

Gloucestershire - Cheltenham

more info »

Afternoon Tea for Two at The Plough and Harrow Hotel

West Midlands - Birmingham

more info »

Afternoon Tea for Two at Kandy Factory

Staffordshire - Burton Upon Trent

more info »

Afternoon Tea for Two at The Oldbarn Tearoom

Northamptonshire - Wadenhoe

more info »

Afternoon Tea for Two at Hallmark Hotel Llyndir Hall

Cheshire - Chester

more info »

Afternoon Tea for Two at Hallmark Hotel Preston Leyland

Lancashire - Leyland

(1)

more info »

Afternoon Tea for Two at Hallmark Hotel Liverpool South

Merseyside - Liverpool

more info »

Champagne Afternoon Tea at Best Western Royal Clifton Hotel for Two

Merseyside - Southport

more info »

Sparkling Afternoon Tea for Two at Jameson's Tea Room Sheffield

South Yorkshire - Sheffield

more info »

Afternoon Tea for Two at Horton Grange

Tyne & Wear - Newcastle upon Tyne

more info »

Afternoon Tea for Two at Burnham Beeches

Buckinghamshire - Burnham

more info »

Afternoon Tea for Two at St Agnes Hotel

Cornwall - St Agnes

more info »

Afternoon Tea for Two at Hilton Southampton

Hampshire - Southampton

more info »

Afternoon Tea for Two at The Queens Head Inn

Cambridgeshire - Peterborough

more info »

Afternoon Tea for Two at Cafe Nucleus

Kent - Chatham

more info »

Afternoon Tea for Two at Patisserie Valerie with Cake Gift Box, Aberdeen

Aberdeenshire - Aberdeen

(8)

more info »

Afternoon Tea for Two at Little Cottage Tea Room

East Sussex - Glynde

more info »

Afternoon Tea for Two at Sandringham Hotel

Cardiff - Cardiff

more info »

Afternoon Tea for Two at Holdsworth House Hotel

West Yorkshire - Halifax

more info »

Afternoon Tea for Two at Badgers Mount Hotel

Leicestershire - Elmsthorpe

more info »

Afternoon Tea For Two at Lazy Lounge

West Yorkshire - Leeds

more info »

Afternoon Tea for Two at Lakeside Cafe

South Yorkshire - Wakefield

more info »

Afternoon Tea for Two at Very Fairy Land

Greater London - Hammersmith & Fulham

more info »

Afternoon Tea for Two at Patisserie Valerie with Cake Gift Box, Bournemouth

Dorset - Bournemouth

(1)

more info »

Afternoon Tea for Two at Patisserie Valerie with Cake Gift Box, Charing Cross

Central London - Westminster

more info »

Afternoon Tea for Two at Patisserie Valerie with Cake Gift Box, Cheshire Oaks

Cheshire - Ellesmere Port

more info »

Afternoon Tea for Two at Patisserie Valerie with Cake Gift Box, Chester

Merseyside - Chester

more info »

Afternoon Tea for Two at Patisserie Valerie with Cake Gift Box, Bradford

West Yorkshire - Bradford

(1)

more info »

Afternoon Tea for Two at Hilton Bath City

Somerset - Bath

more info »

Afternoon Tea for Two at Patisserie Valerie with Cake Gift Box, Chichester

West Sussex - Chichester

(3)

more info »

Afternoon Tea for Two at Hallmark Inn Manchester South

Lancashire - Manchester

more info »

Afternoon Tea for Two at Patisserie Valerie with Cake Gift Box, Clapham

Central London - Lambeth

more info »

Afternoon Tea for Two at Patisserie Valerie with Cake Gift Box, Covent Garden

Central London - Camden

more info »

Afternoon Tea for Two at Patisserie Valerie with Cake Gift Box, Durham

County Durham - Prince Bishops SC

more info »

Afternoon Tea for Two at Patisserie Valerie with Cake Gift Box, Eastbourne

East Sussex - Eastbourne

(2)

more info »

Afternoon Tea for Two at The Spotted Duck

East Riding of Yorkshire - Hull

more info »

Afternoon Tea for Two at Patisserie Valerie with Cake Gift Box, Edgware Road

Central London - Westminster

more info »

Afternoon Tea for Two at Patisserie Valerie with Cake Gift Box, Edinburgh George IV Bridge

Lothian - Edinburgh

(1)

more info »

Afternoon Tea for Two at Patisserie Valerie with Cake Gift Box, Exeter

Devon - Exeter

(1)

more info »

Afternoon Tea for Two at Patisserie Valerie with Cake Gift Box, Torrington Place

Central London - Westminster

more info »

Afternoon Tea for Two at Patisserie Valerie with Cake Gift Box, Fulham

Central London - Hammersmith Fulham

more info »

Afternoon Tea for Two at Patisserie Valerie with Cake Gift Box, Glasgow Fort

Lanarkshire - Glasgow

more info »

Afternoon Tea for Two at Patisserie Valerie with Cake Gift Box, Henley On Thames

Oxfordshire - Henley On Thames

(2)

more info »

Afternoon Tea for Two at Patisserie Valerie with Cake Gift Box, Sicilian Avenue

Central London - Westminster

more info »

Afternoon Tea for Two at Patisserie Valerie with Cake Gift Box, Hove

East Sussex - Hove

more info »

Afternoon Tea for Two at Patisserie Valerie with Cake Gift Box, Resorts World Birmingham

West Midlands - Birmingham

(2)

more info »

Afternoon Tea for Two at Patisserie Valerie with Cake Gift Box, Kensington

Central London - Kensington Chelsea

more info »

Afternoon Tea for Two at Patisserie Valerie with Cake Gift Box, Kingston Upon Thames

Greater London - Kingston Upon Thames

more info »

Afternoon Tea for Two at Patisserie Valerie with Cake Gift Box, Knightsbridge

Central London - Kensington Chelsea

more info »

Afternoon Tea for Two at Patisserie Valerie with Cake Gift Box, Leeds St Pauls

West Yorkshire - Leeds

more info »

Afternoon Tea for Two at Patisserie Valerie with Cake Gift Box, Leicester

Leicestershire - Leicester

(1)

more info »

Afternoon Tea for Two at Patisserie Valerie with Cake Gift Box, Lincoln

Lincolnshire - Lincoln

(2)

more info »

Sparkling Afternoon Tea for Two at Marco Pierre White, Islington

Greater London - Hackney

more info »

Afternoon Tea for Two at Patisserie Valerie with Cake Gift Box, Liverpool

Merseyside - Liverpool

(4)

more info »

Afternoon Tea for Two at Patisserie Valerie with Cake Gift Box, Brunswick Centre

Central London - Westminster

more info »

Afternoon Tea for Two at Patisserie Valerie with Cake Gift Box, Maidstone

Kent - Maidstone

more info »

Afternoon Tea for Two at Patisserie Valerie with Cake Gift Box, Manchester

Cheshire - Manchester

more info »

Afternoon Tea for Two at Patisserie Valerie with Cake Gift Box, Marble Arch

Central London - Westminster

more info »

Afternoon Tea for Two at Patisserie Valerie with Cake Gift Box, Newcastle

Tyne & Wear - Newcastle Upon Tyne

more info »

Afternoon Tea for Two at Patisserie Valerie with Cake Gift Box, Norwich

Norfolk - Norwich

(1)

more info »

Afternoon Tea for Two at Patisserie Valerie with Cake Gift Box, Peterborough

Buckinghamshire - Peterborough

more info »

Afternoon Tea for Two at Patisserie Valerie with Cake Gift Box, Piccadilly

Central London - Westminster

more info »

Afternoon Tea for Two at Patisserie Valerie with Cake Gift Box, Portsmouth

Hampshire - Portsmouth

(1)

more info »

Afternoon Tea for Two at Patisserie Valerie with Cake Gift Box, Preston

Lancashire - Preston

(1)

more info »

Afternoon Tea for Two at Blackwell Grange Hotel

County Durham - Darlington

more info »

Afternoon Tea for Two at Patisserie Valerie with Cake Gift Box, Richmond Upon Thames

Greater London - Richmond Upon Thames

more info »

Afternoon Tea for Two at Patisserie Valerie with Cake Gift Box, Sheffield

South Yorkshire - Sheffield

(1)

more info »

Afternoon Tea for Two at Patisserie Valerie with Cake Gift Box, Shrewsbury

Shropshire - Shrewsbury

more info »

Afternoon Tea for Two at Patisserie Valerie with Cake Gift Box, Soho

Central London - Westminster

more info »

Afternoon Tea for Two at Patisserie Valerie with Cake Gift Box, Edinburgh Fort Kinnaird

East Lothian - Edinburgh

more info »

Afternoon Tea for Two at Patisserie Valerie with Cake Gift Box, Spitalfields

Central London - Tower Hamlets

more info »

Afternoon Tea for Two at Patisserie Valerie with Cake Gift Box, Tunbridge Wells

Kent - Royal Tunbridge Wells

more info »

Afternoon Tea for Two at Patisserie Valerie with Cake Gift Box, Victoria

Central London - Westminster

more info »

Afternoon Tea for Two at Patisserie Valerie with Cake Gift Box, Windsor

Berkshire - Windsor

(1)

more info »

Afternoon Tea for Two at Ravelston House

Midlothian - Edinburgh

more info »

Afternoon Tea with Wine Tasting for Two at Kerry Vale Vineyard

Shropshire - Church Stoke

more info »

Afternoon Tea for Two at Patisserie Valerie with Cake Gift Box, Woking

Surrey - Woking

more info »

Fusion Afternoon Tea for Two at Solo Kitchen and Bar

Belfast - Belfast

more info »

Afternoon Tea for Two at Patisserie Valerie with Cake Gift Box, Worcester

Worcestershire - Worcester

more info »

Afternoon Tea for Two at Patisserie Valerie with Cake Gift Box, York

North Yorkshire - York

(1)

more info »

Afternoon Tea for Two at The Toffee Nosed Cake Company

West Midlands - Wolverhampton

more info »

Afternoon Tea for Two at Flambards Hotel and Tea Room

Ceredigion - Cardigan

more info »

Afternoon Tea for Two at The Fox and Hounds Country Hotel

Devon - Chulmleigh

more info »

Afternoon Tea for Two at The Waiting Room

Greater London - Barnet

more info »

Afternoon Tea for Two at Cae Mor Hotel

Conwy - Llandudno

more info »

Afternoon Tea for Two at Hengist Restaurant

Kent - Aylesford

more info »

Afternoon Tea for Two at Cafe Cross The Mersey

Merseyside - Wirral

more info »

Afternoon Tea for Two at Patisserie Valerie with Cake Gift Box, Queensway

Central London - Westminster

more info »

Afternoon Tea for Two at The Rose and Crown

Somerset - Bath

more info »

Afternoon Tea for Two at Mantovani 1946

Greater London - Westminster

more info »

Afternoon Tea for Two at Oak Café

Tyne & Wear - Newcastle

more info »

Afternoon Tea for Two at Cedars Park Cafe

Hertfordshire - Enfield

more info »

Afternoon Tea with Bubbles for Two at Aston Tavern

West Midlands - Birmingham

more info »

Afternoon Tea with Glass of Bubbles for Two at The Tavern Bar and Restaurant

Cheshire - Widnes

more info »

Bishopstrow House Afternoon Tea for Two

Wiltshire - Warminster

(1)

more info »

Full Afternoon Tea for Two at The Grove Arms

Dorset - Ludwell

more info »

Afternoon Tea for Two at The Wesley

Greater London - Camden

more info »

Afternoon Tea for Two at The Metropole

Powys - Llandrindod Wells

more info »

Afternoon Tea for Two at The Limes Hotel

Suffolk - Ipswich

more info »

Afternoon Tea for Two at Missenden Abbey

Buckinghamshire - Great Missenden

more info »

Afternoon Tea for Two with Sparkling Wine at Hilton Croydon Hotel

Greater London - Croydon

more info »

Afternoon Tea for Two at Copthorne Tara Hotel

Greater London - Kensington & Chelsea

more info »

Afternoon Tea for Two at Gloucester Hotel London Kensington

Greater London - Kensington & Chelsea

more info »

Afternoon Tea for Two at Teapot Tea Shop

Berkshire - Cookham

more info »

Afternoon Tea for Two at Burnhouse Manor Hotel

Ayrshire - Beith

more info »

Afternoon Tea for Two at Crowwood Hotel

Lanarkshire - Glasgow

more info »

Afternoon Tea for Two at Lovelady Shield Country House Hotel

Cumbria - Alston

more info »

Afternoon Tea for Two at Tonia's Cafe

County Durham - Seaham

more info »

Afternoon Tea for Two at The Dales Country House Hotel

Norfolk - Upper Sheringham

more info »

Afternoon Tea for Two at Thorpeness Golf Club and Hotel

Suffolk - Aldeburgh

(1)

more info »

Sparkling Afternoon Tea Tea for Two at Milford Hall Hotel

Wiltshire - Salisbury

more info »

Afternoon Tea for Two at The Links Country Park Hotel and Golf Club

Norfolk - Cromer

more info »

Afternoon Tea for Two at The Seamarge Hotel

Norfolk - Overstrand

more info »

Afternoon Tea for Two at Bramley's Tea Rooms

Pembrokeshire - Tenby

more info »

Afternoon Tea for Two at The Dedham Centre Tea Room

Essex - Dedham

more info »

Afternoon Tea for Two at Haslington Hall

Cheshire - Crewe

more info »

Afternoon Tea for Two at The Yew Tree Manuden

Essex - Manuden

more info »

Afternoon Tea for Two at Copthorne Hotel London Gatwick

West Sussex - Gatwick

more info »

Afternoon Tea for Two at Royal Marine Hotel

Argyll - Dunoon

more info »

Afternoon Tea for Two at Patisserie Valerie with Cake Gift Box, Twickenham

Greater London - Hounslow

more info »

Deluxe Afternoon Tea for Two at the Best Western Grosvenor

Warwickshire - Stratford upon Avon

(17)

more info »

Afternoon Tea for Two at Patisserie Valerie with Cake Gift Box, Cambridge Fitzroy St

Cambridgeshire - Cambridge

more info »

Bellini Afternoon Tea for Two at Searcys Champagne Bars

Multiple Locations

more info »

Afternoon Tea for Two at Patisserie Valerie with Cake Gift Box, Edinburgh North Bridge

Lothian - Edinburgh

more info »

Afternoon Tea for Two at Patisserie Valerie with Cake Gift Box, Glasgow West Nile

Lanarkshire - Glasgow

more info »

Bellini Afternoon Tea for Two at Searcy's Champagne Bar in Westfield Stratford

Greater London - Stratford

(13)

more info »

Afternoon Tea for Two at Patisserie Valerie with Cake Gift Box, Bury St Edmunds

Suffolk - Bury St Edmunds

more info »

Marco Pierre White Cocktail Afternoon Tea for Two

Greater London - Hackney

(5)

more info »

Afternoon Tea for Two at Patisserie Valerie with Cake Gift Box, Edinburgh Rose Street

Lothian - Edinburgh

more info »

Afternoon Tea for Two at Patisserie Valerie with Cake Gift Box, Salisbury

West Midlands - Birmingham

more info »

Afternoon Tea for Two at The Crafty Teacup Café

Somerset - Burnham-On-Sea

more info »

Afternoon Tea for Two at Patisserie Valerie with Cake Gift Box, York Coppergate

North Yorkshire - York

more info »

Afternoon Tea for Two at Patisserie Valerie with Cake Gift Box, Oxford

Oxfordshire - Oxford

more info »

Afternoon Tea for Two at Patisserie Valerie with Cake Gift Box, Cribbs

Avon - Bristol

(2)

more info »

Afternoon Tea for Two at Patisserie Valerie with Cake Gift Box, Derby

Derbyshire - Derby

more info »

Afternoon Tea for Two at Patisserie Valerie with Cake Gift Box, Leeds - Albion St

West Yorkshire - Leeds

(3)

more info »

Afternoon Tea for Two at Patisserie Valerie with Cake Gift Box, Gloucester

Gloucestershire - Gloucester

more info »

Afternoon Tea for Two at Patisserie Valerie with Cake Gift Box, High Wycombe

Buckinghamshire - High Wycombe

more info »

Afternoon Tea for Two at Classic Lodges Hotels UK Wide

Multiple Locations

(105)

more info »

Bellini Afternoon Tea for Two at Searcys Champagne Bar in Westfield Shepherds Bush

Greater London - Ealing

(20)

more info »

Bellini Afternoon Tea for Two at Searcys 1847 in One New Change

Greater London - London

(10)

more info »

Traditional Afternoon Tea for Two at the Hilton London Islington

Greater London - Hackney

(15)

more info »

Afternoon Tea for Two at Raglan House

Herefordshire - Ross on Wye

more info »

Afternoon Tea for Two at Patisserie Valerie with Cake Gift Box, Sutton

Greater London - Sutton

more info »

Afternoon Tea with Brewing Experience for Two at Himalayas

Cheshire - Stockport

more info »

Afternoon Tea for Two at Cwmllechwedd Fawr

Powys - Llandrindod Wells

more info »

Traditional Tea for two at Cringletie House

Scottish Borders - Peebles

(12)

more info »

Afternoon Tea for Two at Wheal Tor Hotel

Cornwall - Liskeard

more info »

Afternoon Tea for Two at Saltmarshe Hall

East Riding of Yorkshire - Howden

more info »

Afternoon Tea for Two at Foxfields Country Hotel

Lancashire - Clitheroe

more info »

Afternoon Tea for Two at Patisserie Valerie with Cake Gift Box, Bristol - Clifton

Avon - Bristol

more info »

Afternoon Tea for Two at Patisserie Valerie with Cake Gift Box, Holland Park Avenue

Central London - Hammersmith Fulham

more info »

Afternoon Tea for Two at Patisserie Valerie with Cake Gift Box, Long Acre

Central London - Westminster

more info »

Afternoon Tea for Two at Patisserie Valerie with Cake Gift Box, Marshall Street

Central London - Westminster

more info »

Afternoon Tea for Two at Tremarne Hotel

Cornwall - Mevagissey

more info »

Afternoon Tea for Two at Patisserie Valerie with Cake Gift Box, Colchester

Essex - Colchester

(0)

more info »

Afternoon Tea for Two at Patisserie Valerie with Cake Gift Box, Swindon

Wiltshire - Swindon

more info »

Afternoon Tea for Two at Patisserie Valerie with Cake Gift Box, Hammersmith

Central London - Hammersmith Fulham

more info »

Afternoon Tea for Two at Patisserie Valerie with Cake Gift Box, Marylebone High Street

Central London - Westminster

more info »

Afternoon Tea for Two at Patisserie Valerie with Cake Gift Box, York

North Yorkshire - York

more info »

Afternoon Tea for Two at Jack's Restaurant

Surrey - Kingston Upon Thames

more info »

Afternoon Tea for Two at Carlton Park Hotel

South Yorkshire - Rotherham

more info »

Afternoon Tea for Two at The George Hotel Piercebridge

County Durham - Darlington

more info »

Afternoon Tea for Two at Ashmount Country House

West Yorkshire - Haworth

more info »

Afternoon Tea for Two at Colwick Hall Hotel

Nottinghamshire - Nottingham

more info »

Afternoon Tea for Two at Balmer Lawn Hotel

Hampshire - Brockenhurst

more info »

Sparkling Afternoon Tea for Two at Comfort Inn Ramsgate

Kent - Ramsgate

more info »

Afternoon Tea for Two at Stoke Rochford Hall

Lincolnshire - Grantham

(96)

more info »

Afternoon Tea for Two at Moonfleet Manor

Dorset - Weymouth

(13)

more info »

Afternoon Tea for Two at Brook Mollington Bannastre Hotel

Cheshire - Chester

more info »

Afternoon Tea for Two at Brook Whipper Inn Hotel

Rutland - Oakham

(14)

more info »

Afternoon Tea for Two at Marston Farm Hotel

Warwickshire - Sutton Coldfield

more info »
Afternoon Tea - Smartbox by Buyagift -

£34.99
Afternoon Tea - Smartbox by Buyagift -

£34.99