Summary

Fine Print

View on map
Brands Hatch is famous for its track, but with this off-road driving day, your skills will be tested far greater than in any supercar! The course at Brands Hatch is specially designed to be incredibly challenging, but don't fear, you will not be set loose on this track without being first trained in the art of off road driving. You will be given a brief induction to the safety procedures and technical skills you will need for your experience before heading out the "nursery slopes" for some intense off road training. You'll be driving the powerful Land Rover Defender as your instructor shows you the ropes as you take on the dips and gradients. Once you have the hang of things, and your instructor things you are ready, it's time to take on the mighty main course, which is full of steep sideways drops, waist high ponds and hills for you to test yourself to the max. Perfect for those petrol heads with a real sense of adventure!
What's included?
A full safety briefing and induction from you dedicated instructor
A practice session, under supervision, on the specially designed practice slopes
A challenging off road driving experience
Two grade D race day tickets to Brands Hatch
Any restrictions?
Your voucher is valid for ten months for one person
This experience is available on any day of the week. Please call the supplier direct to book
You must be at least 1.57m/5'2", and no more than 2.06m/6'9", to participate
You cannot weigh more than 127kg/20 stone to partake in this experience
You must have held a full UK driving licence for at least a year, and will need to present the original (no photocopies) on arrival
What do I need to know?
Personal accident insurance and cancellation cover is included in this package
The format and the vehicles used for this experience are subject to change without notice
All dates subject to availability
Extended 4x4 Driving Experience at Brands Hatch -

£125
Customer Reviews
8 out of 8 (100%) reviewers would recommend this product to a friend.
Read all reviews »
Fab gift
07 May 2016
Jade
Location: Kent Age: 18-24 Bought For Mum Occasion: Birthday
My mum got me this gift for my birthday just 2 years late haha x I was very nervous. At first I hated the experience. Didn't want to do it but half way through I eased into it. It's harder than it looks. I would recommend this to anyone who loves car and off roading.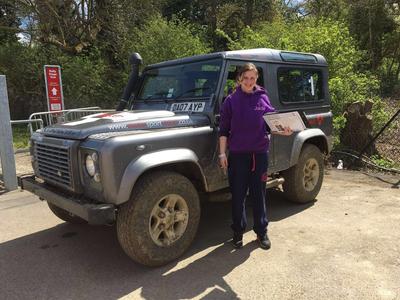 What would you improve for next time? Nothing
Would you recommend this product to a friend? Yes
Good experience
01 May 2016
Paul
Location: Surrey Age: 45-54 Bought For Partner Occasion: Christmas
Love the defender... An amazing car. Challenging circuit, really put the car through its paces. Good experience all round. Brands Hatch is an excellent venue.
Would you recommend this product to a friend? Yes
Great gift
13 April 2016
Dangerous Brian
Location: South london Age: 55-64 Bought For Partner Occasion: Christmas
Second time doing this. Have a Landover Discovery my self you drive the Defender at Brans it's a great course &can see what a Landover can do unbelievable
What would you improve for next time? It's all good
Would you recommend this product to a friend? Yes
very good
14 June 2015
mowerman
Location: haslemere surrey Age: Over 65 Bought For Relative Occasion: Birthday
good venue, lots of other things going on ,instructor was very good .great fun time
Would you recommend this product to a friend? Yes
four by four with four
28 September 2014
Spike
Location: Maidstone, kent Age: 45-54 Bought For Sister Occasion: Christmas
Had a great all round experience, along with my girlfriend and mother who were able to come in the car with me. The instructor was good balance of calm and measured whilst keeping it light hearted and fun - and thats why we're there! The course was great too and speaking as 4x4 first timer some of the slopes seemed unfeasible but its a great testament to that classic british of roaders.
What would you improve for next time? The experience on the day was great, I think the pre experience info is a bit lacking. In my case I couldn't simply book online, instead I had to ring a number 0845 number which is not covered in my phone minutes, I would have hoped to have received an email with good info about the day (such as whether guests can view it and also that they could ride n the car for £10 extra). I also think it would be good if there was allocated parking next to the event (which would be more than possible, on the day I went there was a busy race meet at Brands Hatch and I was initially told that I would have to park about 10 minutes away however I'd brought my 80 year old mother who can't walk long distances so they did kindly allow me to drive down to the location. but it seems to me that it really wouldn't be a problem to arrange that for all participants.
Would you recommend this product to a friend? Yes
Wow - what a time I had.
26 March 2014
Tixielix
Location: Kent Age: Over 65 Bought For Daughter Occasion: Christmas
This experience was a present from my husband & daughter. I found it amazing & exciting & at times terrifying, but in a nice way. The instructor was very good, and patient with me - would recommend it for anyone, & I was a much mature driver!! Am thinking of giving it as a gift to my son in law!
Would you recommend this product to a friend? Yes
4x4
28 September 2013
BIG BIRD
Location: SIDCUP Age: Over 65 Bought For Wife Occasion: Christmas
A very enjoyable time with a excellent co driver never been of roading before enjoyed it very much indeed very good tuition from my co driver spend my day chauffeuring varios celebrity's around very good to get back down to earth and attack the land in a safer way only wish that it had been a lot more mud and water around but enjoyed it and would recommend it to fa.ily and friends I think more people should try it instead of just rushing around on normal roads and learn how to control a vehicle in bad conditions as the conditions of any road could turn bad around the next corner and then maybe you could handle that moment better HAPPY AND SAFE DRIVING ONE AND ALL
Would you recommend this product to a friend? Yes
Really good experience!
04 June 2011
Flinty
Location: Cheshire Age: 45-54 Bought For Wife Occasion: Birthday
Really good day. Got on in prompt time. Lots of other things going on. Very good day out!
Would you recommend this product to a friend? Yes
This review is from Mud Master 4x4 Driving Experience for One. Please note that although some details (e.g. location or duration) contained within this review may vary, it's still a great indicator of what you can expect.
Extended 4x4 Driving Experience at Brands Hatch -

£125