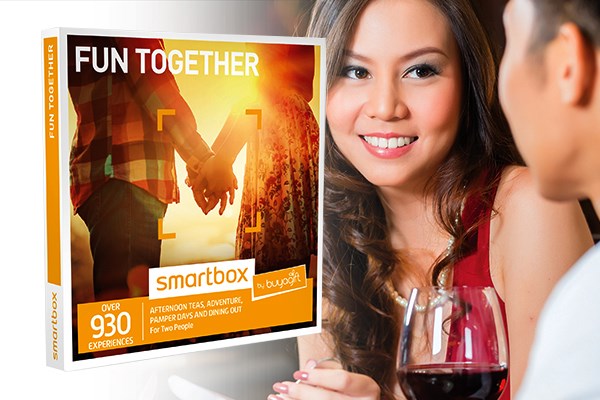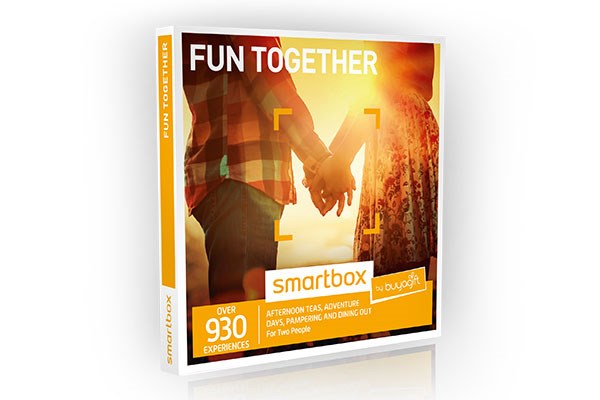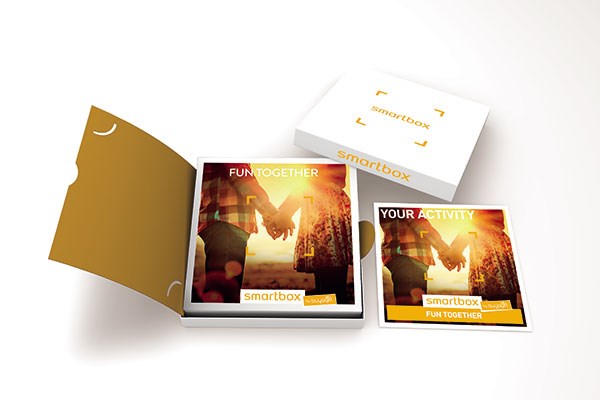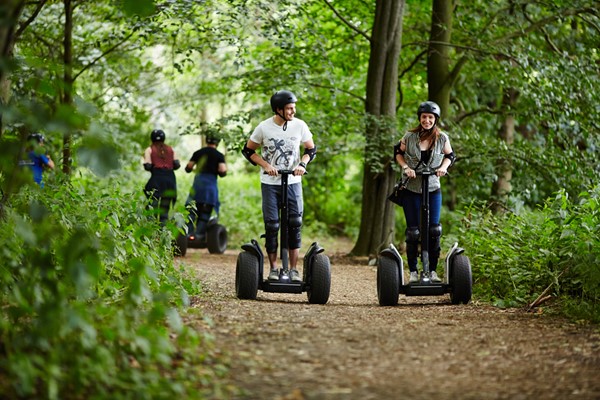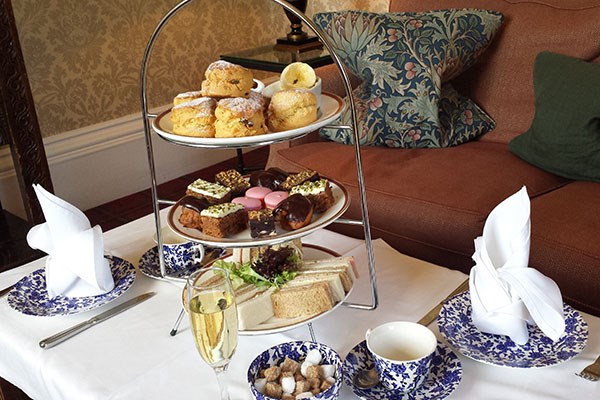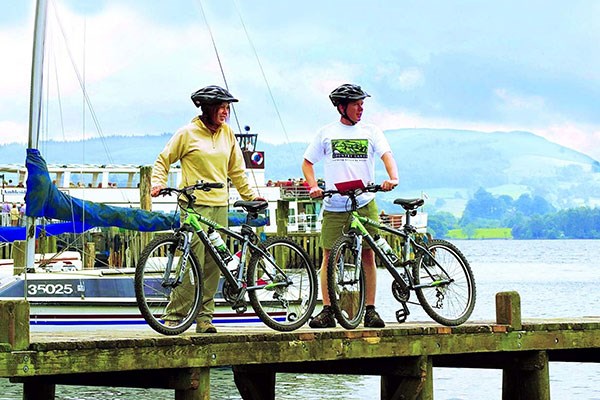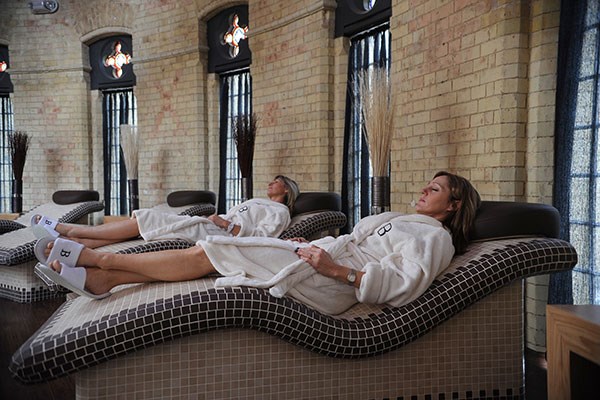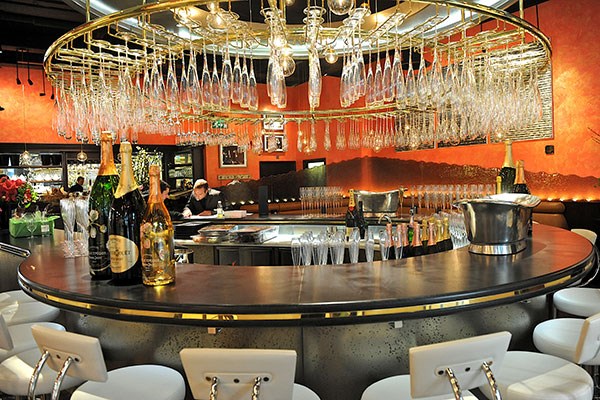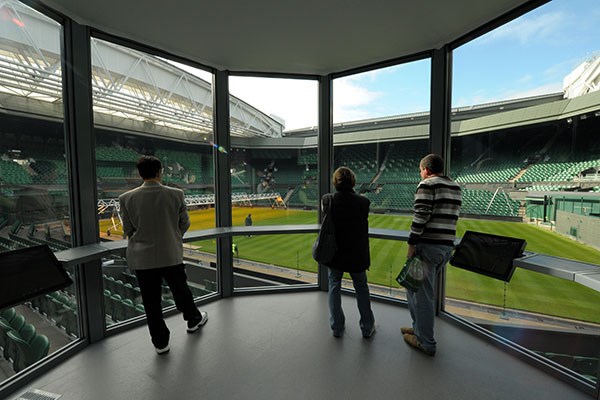 Fun Together - Smartbox by Buyagift
Product code: 11947084
4.5 out of 5 (based on 6851 reviews)
Write a review »
Over 930 Experiences - Perfect Gift for Couples

Afternoon Teas, Adventure Days, Pampering & Dining

Valid for 24 Months
How it works
Hundreds of experiences in every Smartbox handpicked from Buyagift's fantastic range.
Includes a beautiful presentation box with a detailed booklet of the experiences included.
Give the gift of choice allowing the recipient to book their chosen experience.
Summary
What are you waiting for? The adventure you and your loved one have been dreaming about is right here. With a huge range of experiences, locations all over the UK, and respected and trusted brands such as Bannatyne, Prezzo, and Zizzi there is no doubt that you'll find exactly what you want! You could lie back and unwind with pampering treatments and spa days, feel your heart pounding as you speed around the Segway track, relish the tantalising treats of an afternoon tea or indulge in a three course meal accompanied by wine. You could even do something really different and enjoy the spectacular view of East Sussex with a British Airways i360 flight or visit the iconic ArcelorMittal Orbit at the London 2012 Olympic Stadium.
Fine Print
What's included?
This voucher includes a selection of fun, exciting, and relaxing adventures for two people at a choice of venues across the UK
Any restrictions?
This voucher is valid for 24 months for two people
Your voucher is exchangeable
You will be able to select your chosen experience after purchasing
Exclusion dates may apply
What do I need to know?
All dates are subject to availability
Restrictions may vary depending on the chosen experience
Pre-booking is essential to avoid disappointment
Experiences available within this choice voucher
Filter Products:
Scuba Diving Experience for Two in East Anglia

Suffolk - Ipswich

more info »

Tour of Silverstone for Two

Northamptonshire - Towcester

(149)

more info »

Segway Rally Thrill for Two with Photo

Multiple Locations

(16)

more info »

Aqua Zorbing for Two

Multiple Locations

(6)

more info »

Afternoon Tea for Two at Ballathie House Hotel

Tayside - Perthshire

(15)

more info »

Traditional Tea for two at Cringletie House

Scottish Borders - Peebles

(12)

more info »

Harness Zorbing for Two

Multiple Locations

(4)

more info »

60 Minute Fast Rib Taster Experience for Two

Hampshire - Southampton

(13)

more info »

Afternoon Tea for Two at Thoresby Hall

Nottinghamshire - Newark

(228)

more info »

Afternoon Tea for Two at The Linthwaite Hotel

Cumbria - Windermere

(105)

more info »

Deluxe Afternoon Tea for Two at Langshott Manor

Surrey - Nr. Gatwick

(131)

more info »

Introductory Segway for Two in Kent

Kent - Maidstone

more info »

Afternoon Tea for Two at Thornbury Castle Hotel

Gloucestershire - Thornbury

(58)

more info »

Afternoon Tea for Two at The Ickworth

Suffolk - Bury St Edmunds

(107)

more info »

Extended Segway Rally Weekday for Two in Teeside

County Durham - Stockton-on-Tees

more info »

Extended Segway Rally Weekday for Two in Huntingdon

Cambridgeshire - Huntingdon

more info »

Afternoon Tea for Two at Fowey Hall Hotel

Cornwall - Fowey

(63)

more info »

Afternoon Tea for Two at Tylney Hall

Hampshire - Hook

(71)

more info »

Afternoon tea for two at 5* Radisson Manchester

Greater Manchester - Manchester

(181)

more info »

Traditional Afternoon Tea for Two at Penmaenuchaf Hall

Gwynedd - Dolgellau

(15)

more info »

Three Course Meal and a Glass of Prosecco for Two at Zizzi, Bexleyheath

Kent - Bexley

more info »

Express Facial at Vibro Suite for Two

West Midlands - Birmingham

more info »

Indulgent Pampering for One at the Natural Spa

Greater Manchester - Ashton Under Lyne

more info »

Indulgent Pampering for One at Marrakech Spa

Essex - Redbridge

more info »

Indulgent Pampering for One at B Paul Leicester

Leicestershire - Leicester

more info »

Deluxe Makeover, Haircut and Photoshoot for Two in London - Weekdays

Greater London - Westminster

more info »

Afternoon Tea for Two at Nidd Hall Hotel

North Yorkshire - Harrogate

(37)

more info »

Afternoon Tea for Two at Holme Lacy House Hotel

Herefordshire - Holme Lacy

(15)

more info »

Deluxe Makeover, Haircut and Photoshoot for Two in Birmingham - Weekdays

West Midlands - Birmingham

more info »

Afternoon Tea for Two at Cricket St Thomas Hotel

Somerset - Chard

(25)

more info »

Spa Retreat with Afternoon Tea for Two at Hallmark Hotel Gloucester

Gloucestershire - Gloucester

(1)

more info »

Afternoon Tea for Two at Fishmore Hall

Shropshire - Ludlow

(49)

more info »

Spa Retreat with Afternoon Tea for Two at Hallmark Hotel Manchester

Cheshire - WILMSLOW

more info »

Spa Day with Afternoon Tea for Two at Holiday Inn Reading

Berkshire - Wokingham - Near Reading

(1)

more info »

Afternoon Tea for Two at Rowhill Grange

Kent - Dartford

(180)

more info »

Afternoon Tea for Two at The White Swan Hotel

Northumberland - Alnwick

more info »

Manicure and Pedicure at B-Beauty Professional Ltd

Greater London - Harrow

more info »

Photoshoot with Bubbles for One at Fotkaplus Limited

Greater London - Barnet

more info »

Self-Guided Cycle Tour for Two

Cumbria - Windermere

(4)

more info »

Adult Wimbledon Tennis Tour for Two

Greater London - Merton

(109)

more info »

Relaxation Treat for Two at Ashbrooke Therapies

Tyne & Wear - Sunderland

more info »

Tour of Twickenham for Two

Greater London - Hounslow

(56)

more info »

Adult Tour of Stamford Bridge for Two

Greater London - Hammersmith & Fulham

(70)

more info »

Two Indulgent Treatments at Pembury Beauty Salon

Kent - Tunbridge Wells

more info »

Moisturising Treatment with Blowdry Relaxation for Two at Charles M'Biro

Greater London - Greenwich

more info »

Jet Viper Powerboat Blast for Two

Hampshire - Southampton

(6)

more info »

Deluxe Afternoon Tea for Two at the Best Western Grosvenor

Warwickshire - Stratford upon Avon

(17)

more info »

Afternoon Tea for Two at Bowood Hotel

Wiltshire - Derry Hill

(25)

more info »

Deluxe Afternoon Tea for Two at Best Western Tiverton Hotel

Devon - Tiverton

(8)

more info »

Afternoon Tea for Two at Classic Lodges Hotels UK Wide

Multiple Locations

(105)

more info »

Afternoon Tea for Two at Lewtrenchard Manor

Devon - Okehampton

(12)

more info »

Scuba Diving Experience for Two in Lancashire

Lancashire - Preston

more info »

Deluxe Afternoon Tea for Two at Pinewood Hotel

Buckinghamshire - Slough

(7)

more info »

Holmfirth Afternoon Tea Vineyard Tour and Tasting for Two in Yorkshire

West Yorkshire - Holmfirth

(93)

more info »

Scuba Diving Experience for Two in Buckinghamshire

Buckinghamshire - Amersham

more info »

Twilight Retreat for Two at The Club and Spa Cheshire

Cheshire - Hoole

(1)

more info »

Champagne Afternoon Tea for Two at the Hilton London Angel Islington

Greater London - Hackney

(20)

more info »

Exotic Mud and Scrub Hammam at Portland Hall Spa for Two

Merseyside - Southport

(9)

more info »

Two Course Dinner with Champagne Cocktail at Shaka Zulu

Greater London - Camden

(38)

more info »

Three Course Dinner with Wine for Two at Prezzo, Barnet

Hertfordshire - Barnet

more info »

Three Course Dinner with Wine for Two at Prezzo, Amersham

Buckinghamshire - Amersham

more info »

Spa Retreat with Afternoon Tea for Two at Hallmark Hotel Bournemouth West Cliff

Dorset - Bournemouth

more info »

Afternoon Tea for Two at Coombe Abbey

Warwickshire - Coventry

(597)

more info »

Three Course Dinner with Wine for Two at Prezzo, Beaconsfield

Buckinghamshire - Beaconsfield

more info »

Thermal Spa Day for Two at Your Spa

Kent - Ramsgate

(2)

more info »

Three Course Dinner with Wine for Two at Prezzo, Brighton

East Sussex - Brighton

(4)

more info »

Spa Gift Day for Two at Marriott Bournemouth

Dorset - Bournemouth

(30)

more info »

Midweek Spa Experience for Two

East Riding of Yorkshire - Hull

more info »

Three Course Dinner with Wine for Two at Prezzo, Chislehurst

Kent - Bromley

(2)

more info »

Taster Spa Day for Two at Bannatyne Health Club Bristol

Avon - Bristol

more info »

Three Course Dinner with Wine for Two at Prezzo, Broadstairs

Kent - Broadstairs

(1)

more info »

Taster Spa Day for Two at Bannatyne Health Club Luton

Bedfordshire - Luton

more info »

Three Course Dinner with Wine for Two at Prezzo, Buckingham

Buckinghamshire - Buckingham

more info »

Taster Spa Day for Two at Bannatyne Health Club Falkirk

Central Scotland - Falkirk

more info »

Taster Spa Day for Two at Bannatyne Health Club Perth

Central Scotland - Perth

more info »

Three Course Dinner with Wine for Two at Prezzo, Edinburgh

Lothian - Edinburgh

(1)

more info »

Taster Spa Day for Two at Bannatyne Health Club Westminster

Greater London - Westminster

more info »

Taster Spa Day for Two at Bannatyne Health Club Darlington

County Durham - Darlington

more info »

Three Course Dinner with Wine for Two at Prezzo, Ely

Cambridgeshire - Ely

(3)

more info »

Taster Spa Day for Two at Bannatyne Health Club Carlisle

Cumbria - Carlisle

more info »

Three Course Dinner with Wine for Two at Prezzo, Enfield

Greater London - Enfield

more info »

Three Course Dinner with Wine for Two at Prezzo, Euston

Greater London - Camden

(2)

more info »

Taster Spa Day for Two at Bannatyne Health Club Dunfermline

Fife - Dunfermline

more info »

Three Course Dinner with Wine for Two at Prezzo, Exeter

Devon - Exeter

(1)

more info »

Taster Spa Day for Two at Bannatyne Health Club Inverness

Scottish Highlands - Inverness

more info »

Taster Spa Day for Two at Bannatyne Health Club Banbury

Oxfordshire - Banbury

more info »

Three Course Dinner with Wine for Two at Prezzo, Glasshouse Street

Greater London - Westminster

(3)

more info »

Taster Spa Day for Two at Bannatyne Health Club Norwich

Norfolk - Norwich

more info »

Taster Spa Day for Two at Bannatyne Health Club Broadstairs

Kent - Broadstairs

more info »

Scuba Diving Experience for Two in Barnsley

South Yorkshire - Barnsley

more info »

Three Course Dinner with Wine for Two at Prezzo, Harpenden

Hertfordshire - Harpenden

more info »

Taster Spa Day for Two at Bannatyne's Health Club Leicester

Leicestershire - Leicester

more info »

Taster Spa Day for Two at Bannatyne Health Club Queen Street

Lothian - Edinburgh

more info »

Three Course Dinner with Wine for Two at Prezzo, Hertford

Hertfordshire - Hertford

(3)

more info »

Taster Spa Day for Two at Bannatyne Health Club Priory Queensway

more info »

Macdonald Spa and Health Club Day Pass for Two in Ascot

Berkshire - Ascot

more info »

Three Course Dinner with Wine for Two at Prezzo, Hitchin

Hertfordshire - Hitchin

(1)

more info »

Three Course Dinner with Wine for Two at Prezzo, Kensington

Greater London - Kensington & Chelsea

more info »

Relaxing Spa Day at a Village Hotel for Two in Chester

Cheshire - Flintshire

more info »

Pure Spa Mini Beauty Treatment for Two in Aberdeen

Aberdeenshire - Aberdeen

more info »

Three Course Dinner with Wine for Two at Prezzo, King's Cross

Greater London - Kings Cross

more info »

Three Course Dinner with Wine for Two at Prezzo, Kingston

Kent - Kingston Upon Thames

(1)

more info »

Deluxe Makeover and Photo Shoot Experience for Two in London

Greater London - Westminster

more info »

Afternoon Tea for Two at Hallmark Hotel Gloucester

Gloucestershire - Gloucester

more info »

Three Course Dinner with Wine for Two at Prezzo, Lymington

Hampshire - Lymington

more info »

Three Course Dinner with Wine for Two at Prezzo, Lyndhurst

Hampshire - Lyndhurst

more info »

Shepherd Neame Brewery Tour for Two

Kent - Faversham

(26)

more info »

Afternoon Tea for Two at Stoke Rochford Hall

Lincolnshire - Grantham

(96)

more info »

Three Course Dinner with Wine for Two at Prezzo, Maidenhead

Berkshire - Maidenhead

more info »

Afternoon Tea for Two at Langtry Manor Hotel

Dorset - Bournemouth

(52)

more info »

Deluxe Afternoon Tea for Two at Ambassadors Bloomsbury

Greater London - Westminster

(67)

more info »

Three Course Dinner with Wine for Two at Prezzo, Manchester Printworks

Greater Manchester - Manchester

(6)

more info »

Champagne Vintage Afternoon Tea for two

Derbyshire - Derby

(8)

more info »

Three Course Dinner with Wine for Two at Prezzo, Marble Arch

Greater London - Westminster

more info »

Three Course Dinner with Wine for Two at Prezzo, Marlow

Buckinghamshire - Marlow

more info »

Afternoon Tea for Two at the Polurrian Bay Hotel

Cornwall - Mullion

(1)

more info »

Bishopstrow House Afternoon Tea for Two

Wiltshire - Warminster

(1)

more info »

Three Course Dinner with Wine for Two at Prezzo, Mill Hill

Greater London - Barnet

more info »

Three Course Lunch for Two at Gaylord Restaurant

Greater London - Westminster

(1)

more info »

Afternoon Tea for Two at Brook Kingston Lodge

Surrey - Kingston Upon Thames

(19)

more info »

Three Course Dinner with Wine for Two at Prezzo, New Brighton

Merseyside - Wirral

(1)

more info »

Three Course Dinner with Wine for Two at Prezzo, New Oxford Street

Greater London - Westminster

(2)

more info »

Sedlescombe Organic Afternoon Tea Vineyard Tour and Tasting for Two in East Sussex

East Sussex - Robertsbridge

(64)

more info »

Scuba Diving Experience for Two in Derbyshire

Derbyshire - Ilkeston

more info »

Two Course Meal for Two with Drinks at Planet Hollywood

Greater London - Westminster

(70)

more info »

Three Course Dinner with Wine for Two at Prezzo, Newbury

Berkshire - Newbury

(0)

more info »

Three Course Dinner with Wine for Two at Prezzo, North Audley Street

Greater London - Westminster

more info »

Chilford Hall Afternoon Tea Vineyard Tour and Tasting for Two in Cambridgeshire

Cambridgeshire - Cambridge

(112)

more info »

Three Course Dinner and Wine For Two at Yamal Alsham

Greater London - Hammersmith & Fulham

more info »

Three Course Dinner with Wine for Two at Prezzo, Northwood

Middlesex - Hillingdon

more info »

Three Course Dinner with Wine for Two at Prezzo, Oxford

Oxfordshire - Oxford

(2)

more info »

Three Course Dinner with Wine for Two at Prezzo, Plymouth

Devon - Plymouth

(3)

more info »

Three Course Dinner with Wine for Two at Prezzo, Port Solent

Hampshire - Portsmouth

(5)

more info »

Drink London Walking Tour For Two

Central London - City of London

(15)

more info »

Afternoon Tea For Two at Mercure Letchworth Hall

Hertfordshire - Letchworth Garden City

(41)

more info »

Three Course Dinner with Wine for Two at Prezzo, Radlett

Hertfordshire - Radlett

more info »

Three Course Dinner with Wine for Two at Prezzo, Maidstone

Kent - Maidstone

(6)

more info »

Three Course Dinner with Wine for Two at Prezzo, Sevenoaks

Kent - Sevenoaks

(2)

more info »

Wine Tasting and Two Course Lunch For Two at Cairn o Mohr Winery

Central Scotland - Errol

(5)

more info »

Three Course Dinner with Wine for Two at Prezzo, Sheffield

South Yorkshire - Sheffield

(4)

more info »

Three Course Dinner with Wine for Two at Prezzo, Sheffield Ecclesall Road

South Yorkshire - Sheffield

(3)

more info »

Traditional Afternoon Tea for Two at The Roxburghe

Lothian - Edinburgh

(15)

more info »

Two Course African Meal with a Bottle of Wine for Two

Greater London - Hackney

more info »

Three Course Dinner with Wine for Two at Prezzo, Southampton

Hampshire - Southampton

more info »

Three Course Dinner with Wine for Two at Prezzo, Southport

Merseyside - Southport

(3)

more info »

Three Course Meal with a glass of Wine at Prezzo, Arundel

West Sussex - Arundel

(7)

more info »

Three Course Meal with a glass of Wine for Two at Prezzo, Aylesbury

Buckinghamshire - Aylesbury

(7)

more info »

Three Course Dinner with Wine for Two at Prezzo, St Albans

Hertfordshire - St. Albans

more info »

Three Course Dinner with Wine for Two at Prezzo, St Martins Lane

Greater London - Westminster

(5)

more info »

Three Course Meal with a glass of Wine at Prezzo, Bath

Somerset - Bath

(12)

more info »

Three Course Meal and glass of Wine for Two, Beaconsfield Prezzo

Buckinghamshire - Beaconsfield

(6)

more info »

Three Course Dinner with Wine for Two at Prezzo, Stevenage

Hertfordshire - Stevenage

(1)

more info »

Scuba Diving Experience for Two in Berkshire

Berkshire - Crowthorne

more info »

Three Course Dinner with Wine for Two at Prezzo, Stevenage Leisure Park

Hertfordshire - Stevenage

more info »

Three Course Meal with a glass of Wine for Two at Prezzo, Belfast

County Antrim - Belfast

(11)

more info »

Three Course Meal with glass of Wine for Two at Prezzo, Beverley

East Riding of Yorkshire - Beverley

(6)

more info »

Three Course Dinner with Wine for Two at Prezzo, Tring

Hertfordshire - Tring

(2)

more info »

Three Course Dinner with Wine for Two at Prezzo, Victoria Place

Greater London - Westminster

more info »

Three Course Meal with Wine for Two at Prezzo, Canterbury

Kent - Canterbury

(15)

more info »

Three Course Meal with Wine at Prezzo, Cardiff St Mary Street

Glamorganshire - Cardiff

(17)

more info »

Three Course Dinner with Wine for Two at Prezzo, Wandsworth

Greater London - Wandsworth

(1)

more info »

Three Course Dinner with Wine for Two at Prezzo, Whitstable

Kent - Whitstable

(1)

more info »

Three Course Meal with Wine at Prezzo, Chichester

West Sussex - Chichester

(10)

more info »

Three Course Meal with Wine at Prezzo, Chingford

Greater London - Enfield

(9)

more info »

Three Course Dinner with Wine for Two at Prezzo, Winchester

Hampshire - Winchester

more info »

Three Course Dinner with Wine for Two at Prezzo, Wokingham Broad Street

Berkshire - Wokingham

more info »

Three Course Meal with Wine at Prezzo, Colchester

Essex - Colchester

(12)

more info »

Three Course Meal with Wine at Prezzo, Cramlington

Northumberland - Cramlington

(9)

more info »

Three Course Dinner with Wine for Two at Prezzo, Woodford Green

Greater London - Waltham Forest

more info »

Three Course Dinner with Wine for Two at Prezzo, York

North Yorkshire - York

(2)

more info »

Three Course Meal with Wine for Two at Prezzo, Ely

Cambridgeshire - Ely

(11)

more info »

Three Course Meal with Wine for Two at Prezzo, York Vangarde Way

North Yorkshire - York

(1)

more info »

Three Course Dinner with Wine for Two at Prezzo, Epping

Essex - Epping

more info »

Three Course Dinner with Wine for Two at Prezzo, Guildford

Surrey - Guildford

(1)

more info »

Three Course Meal with Wine for Two at Prezzo, Exeter

Devon - Exeter

(12)

more info »

Three Course Meal with Wine for Two at Prezzo, Windsor

Berkshire - Windsor

(13)

more info »

Three Course Dinner with Wine for Two at Prezzo, Hornchurch

Essex - Barking & Dagenham

(3)

more info »

Three Course Dinner with Wine for Two at Prezzo, Maldon

Essex - Maldon

(0)

more info »

Three Course Meal with Wine for Two at Prezzo, Winchester

Hampshire - Winchester

(10)

more info »

Three Course Meal with Wine for Two at Prezzo, Gainsborough

Lincolnshire - Gainsborough

(13)

more info »

Three Course Dinner with Wine for Two at Prezzo, Marlborough

Wiltshire - Marlborough

(1)

more info »

Three Course Dinner with Wine for Two at Prezzo, Norwich Tombland

Norfolk - Norwich

(2)

more info »

Three Course Meal with Wine for Two at Prezzo, Glasgow Silverburn

Strathclyde - Glasgow

(8)

more info »

Three Course Meal with Wine for Two at Prezzo, Wimborne

Dorset - Wimborne

(10)

more info »

Three Course Dinner with Wine for Two at Prezzo, Reading

Berkshire - Reading

(1)

more info »

Three Course Dinner with Wine for Two at Prezzo, Reigate

Surrey - Reigate

more info »

Three Course Meal with Wine for Two at Prezzo, Glasgow Braehead

Strathclyde - Glasgow

(4)

more info »

Three Course Meal with Wine for Two at Prezzo, Glasgow Fort

Lothian - Glasgow

(9)

more info »

Three Course Dinner with Wine for Two at Prezzo, Ringwood

Hampshire - Ringwood

(1)

more info »

Three Course Dinner with Wine for Two at Prezzo, Romsey

Hampshire - Romsey

more info »

Three Course Meal with Wine for Two at Prezzo, Weybridge

Surrey - Weybridge

(6)

more info »

Three Course Meal with Wine for Two at Prezzo, Uxbridge

Greater London - Hillingdon

(11)

more info »

Three Course Dinner with Wine for Two at Prezzo, Haymarket

Greater London - Westminster

(1)

more info »

Three Course Dinner with Wine for Two at Prezzo, Rugby

Northamptonshire - Rugby

(2)

more info »

Three Course Dinner with Wine for Two at Prezzo, South Woodford

Essex - Redbridge

more info »

Three Course Meal with Wine for Two at Prezzo, Tring

Hertfordshire - Tring

(4)

more info »

Three Course Meal with Wine for Two at Prezzo, Thame

Oxfordshire - Thame

(2)

more info »

Three Course Dinner with Wine for Two at Prezzo, Swadlincote

Derbyshire - Swadlincote

(2)

more info »

Three Course Dinner with Wine for Two at Prezzo, Upminster

Essex - Barking & Dagenham

more info »

Three Course Meal with Wine for Two at Prezzo, Hatfield

Hertfordshire - Hatfield

(4)

more info »

Three Course Meal with Wine for Two at Prezzo, Hertford

Hertfordshire - Hertford

(7)

more info »

Three Course Dinner with Wine for Two at Prezzo, Uxbridge

Greater London - Hillingdon

(1)

more info »

Three Course Dinner with Wine for Two at Prezzo, Welwyn Garden City

Hertfordshire - Welwyn Garden City

(1)

more info »

Three Course Meal with Wine for Two at Prezzo, Stratford-upon-Avon

Warwickshire - Stratford-upon-Avon

(4)

more info »

Three Course Meal with Wine for Two at Prezzo, Stanmore

Middlesex - Harrow

(4)

more info »

Three Course Dinner with Wine for Two at Prezzo, Didcot

Oxfordshire - Didcot

(3)

more info »

Three Course Meal with Wine for Two at Prezzo, Hull

East Riding of Yorkshire - Hull

(6)

more info »

Three Course Meal with Wine for Two at Prezzo, St Austell

Cornwall - St Austell

(4)

more info »

Three Course Dinner with Wine for Two at Prezzo, East Grinstead

West Sussex - East Grinstead

(1)

more info »

Three Course Dinner with Wine for Two at Prezzo, Eastbourne

East Sussex - Eastbourne

(1)

more info »

Three Course Meal with Wine for Two at Prezzo, Southport

Merseyside - Southport

(19)

more info »

Three Course Meal with Wine for Two at Prezzo, Sheffield Ecclesall Road

South Yorkshire - Sheffield

(11)

more info »

Three Course Dinner with Wine for Two at Prezzo, Exmouth

Devon - Exmouth

more info »

Three Course Dinner with Wine for Two at Prezzo, Fareham

Surrey - Fareham

more info »

Three Course Meal with Wine for Two at Prezzo, Sheffield

South Yorkshire - Sheffield

(22)

more info »

Three Course Dinner with Wine for Two at Prezzo, Canterbury

Kent - Canterbury

more info »

Three Course Meal with Wine for Two at Prezzo, Rugby

Northamptonshire - Rugby

(5)

more info »

Three Course Dinner with Wine for Two at Prezzo, Farnham

Surrey - Farnham

(1)

more info »

Three Course Dinner with Wine for Two at Prezzo, Felixstowe

Suffolk - Felixtowe

(1)

more info »

Three Course Meal with Wine for Two at Prezzo, Leeds White Rose

West Yorkshire - Leeds

(26)

more info »

Three Course Meal with Wine for Two at Prezzo, Leicester

Leicestershire - Leicester

(21)

more info »

Three Course Dinner with Wine for Two at Prezzo, Gainsborough

Lincolnshire - Gainsborough

more info »

Taster Spa Day for Two at Bannatyne Health Club Hastings

East Sussex - Hastings

more info »

Three Course Dinner with Wine for Two at Prezzo, Gloucester

Gloucestershire - Gloucester

(2)

more info »

Three Course Meal with Wine for Two at Prezzo, Reading

Berkshire - Reading

(8)

more info »

Three Course Meal with Wine for Two at Prezzo, Oxford

Oxfordshire - Oxford

(9)

more info »

Three Course Dinner with Wine for Two at Prezzo, Godalming

Surrey - Godalming

more info »

Three Course Dinner with Wine for Two at Prezzo, Hailsham

East Sussex - Hailsham

(2)

more info »

Three Course Meal with Wine for Two at Prezzo, Lyndhurst

Hampshire - Lyndhurst

(5)

more info »

Three Course Meal with Wine for Two at Prezzo, Nottingham

Nottinghamshire - Nottingham

(12)

more info »

Three Course Dinner with Wine for Two at Prezzo, Harrow

Greater London - Harrow

more info »

Three Course Dinner with Wine for Two at Prezzo, Haverhill

Suffolk - Haverhill

more info »

Three Course Meal with Wine for Two at Prezzo, Manchester

Greater Manchester - Manchester

(24)

more info »

Three Course Meal with Wine for Two at Prezzo, Norwich

Norfolk - Norwich

(16)

more info »

Three Course Dinner with Wine for Two at Prezzo, Lincoln

Lincolnshire - Lincoln

(2)

more info »

Three Course Dinner with Wine for Two at Prezzo, Midhurst

West Sussex - Midhurst

more info »

Three Course Meal with Wine for Two at Prezzo, Northwood

Middlesex - Hillingdon

(3)

more info »

Three Course Meal with Wine for Two at Prezzo, Northampton

Northamptonshire - Northampton

(17)

more info »

Three Course Dinner with Wine for Two at Prezzo, Newmarket

Suffolk - Newmarket

(2)

more info »

Three Course Dinner with Wine for Two at Prezzo, Northampton

Northamptonshire - Northampton

(2)

more info »

Three Course Meal with Wine for Two at Prezzo, Marlborough

Wiltshire - Marlborough

(15)

more info »

Two Course Set Lunch for Two at Corrigan's Mayfair

Greater London - Westminster

more info »

Three Course Dinner with Wine for Two at Prezzo, Nottingham

Nottinghamshire - Nottingham

(1)

more info »

Three Course Dinner with Wine for Two at Prezzo, Nottingham - Low Pavement

Nottinghamshire - Nottingham

(4)

more info »

Champagne Afternoon Tea for Two at Tudor Farmhouse Hotel

Gloucestershire - Royal Forest of Dean

(1)

more info »

Three Course Dinner with Wine for Two at Prezzo, Oswestry

Shropshire - Oswestry

more info »

Three Course Dinner with Wine for Two at Prezzo, Lewes

East Sussex - Lewes

more info »

Greek Meze Banquet for Two at Bouzouki by Night

Greater Manchester - Manchester

more info »

Three Course Dinner with Wine for Two at Prezzo, Leeds The Light

West Yorkshire - Leeds

(7)

more info »

Three Course Dinner with Wine for Two at Prezzo, Leamington Spa

Warwickshire - Leamington Spa

more info »

Two Course Meal with a Glass of Wine for Two at Palmyra

Greater London - Richmond Upon Thames

more info »

Extended Segway Rally Weekday for Two in London

Greater London - Enfield

more info »

Three Course Dinner with Wine for Two at Prezzo, Aylesbury

Buckinghamshire - Aylesbury

(4)

more info »

Three Course Dinner with Wine for Two at Prezzo, Leicester

Leicestershire - Leicester

(3)

more info »

Three Course Dinner with Wine for Two at Prezzo, Cockfosters

Greater London - Barnet

(1)

more info »

Three Course Dinner with Wine for Two at Prezzo, King's Lynn

Norfolk - King's Lynn

more info »

Three Course Meal with Wine for Two at Prezzo

Fife - St Andrews

(5)

more info »

Three Course Meal with Wine for Two at Prezzo

Carmarthenshire - Carmarthen

(3)

more info »

Three Course Dinner with Wine for Two at Prezzo, Kettering

Northamptonshire - Kettering

(2)

more info »

Three Course Dinner with Wine for Two at Prezzo, Hull

East Riding of Yorkshire - Hull

(1)

more info »

Three Course Meal with Wine for Two at Prezzo

Derbyshire - Derby

more info »

Three Course Meal with Wine for Two at Prezzo

Tyne & Wear - Newcastle upon Tyne

(14)

more info »

Three Course Dinner with Wine for Two at Prezzo, Horsham

West Sussex - Horsham

more info »

Three Course Dinner with Wine for Two at Prezzo, Haywards Heath

West Sussex - Haywards Heath

more info »

Three Course Meal with Fizz at Hilton London Paddington

Greater London - Westminster

(2)

more info »

Harrods Tea and Scones Experience for Two

Greater London - Westminster

(14)

more info »

Three Course Dinner with Wine for Two at Prezzo, Saffron Walden

Suffolk - Saffron Walden

more info »

Three Course Dinner with Wine for Two at Prezzo, Shepperton

Surrey - Shepperton

(1)

more info »

Two Course Meal for Two at The Farmhouse

Lincolnshire - Grimsby

more info »

Three Course Dinner with Wine for Two at Prezzo, Spalding

Lincolnshire - Spalding

more info »

Three Course Dinner with Wine for Two at Prezzo, Beverley

East Riding of Yorkshire - Beverley

more info »

Three Course Dinner with Wine for Two at Prezzo, Stamford

Lincolnshire - Stamford

(5)

more info »

Two Course Meal for Two at The Ferry Boat Inn Sinah Beach

Hampshire - Hayling Island

more info »

Two Course Meal for Two at The Fox Inn in Tamworth

West Midlands - Tamworth

more info »

Three Course Dinner with Wine for Two at Prezzo, Stanmore

Middlesex - Harrow

more info »

Three Course Dinner with Wine for Two at Prezzo, Street

Somerset - Street

more info »

Two Course Meal for Two at The Blacksmiths Arms

Hertfordshire - St Albans

more info »

Two Course Meal for Two at The Blind Busker

West Sussex - Hove

more info »

Three Course Dinner with Wine for Two at Prezzo, Sudbury

Suffolk - Sudbury

more info »

Three Course Dinner with Wine for Two at Prezzo, Taunton

Somerset - Taunton

(0)

more info »

Two Course Meal for Two at The Brasshouse

West Midlands - Birmingham

more info »

Two Course Meal for Two at The Brunel

Wiltshire - Chippenham

more info »

Three Course Dinner with Wine for Two at Prezzo, Tenterden

Kent - Tenterden

(4)

more info »

Three Course Dinner with Wine for Two at Prezzo, Thame

Oxfordshire - Thame

more info »

Two Course Meal for Two at The Crown, Egham

Surrey - Egham

more info »

Two Course Meal for Two at Ketton Ox

Cleveland - Yarm

more info »

Three Course Dinner with Wine for Two at Prezzo, Weymouth

Dorset - Weymouth

(1)

more info »

Three Course Dinner with Wine for Two at Prezzo, Wimborne

Dorset - Wimborne

(3)

more info »

Two Course Meal for Two at Home, Glasgow

Strathclyde - Glasgow

more info »

Two Course Meal for Two at The Kiln

Staffordshire - Newcastle under Lyme

more info »

Three Course Dinner with Wine for Two at Prezzo, Woodbridge

Suffolk - Woodbridge

(1)

more info »

Three Course Dinner with Wine for Two at Prezzo, Yeovil

Somerset - Yeovil

more info »

Two Course Meal for Two at The Lancer

Bedfordshire - Leighton Buzzard

more info »

Three Course Dinner with Wine for Two at Prezzo, Glasgow Fort

Lothian - Glasgow

(1)

more info »

Two Course Meal for Two at Lobster Smack

Essex - Canvey Island

more info »

Three Course Dinner with Wine for Two at Prezzo, Peterborough

Cambridgeshire - Peterborough

more info »

Three Course Dinner with Wine for Two at Prezzo, Pinner

Greater London - Harrow

more info »

Two Course Meal for Two at The Ogilvy

Surrey - Woking

more info »

Two Course Meal for Two at The Owain Glyndwr

Glamorganshire - Cardiff

more info »

Three Course Dinner with Wine for Two at Prezzo, Rayleigh

Essex - Rayleigh

(3)

more info »

Three Course Dinner with Wine for Two at Prezzo, Torquay

Devon - Torquay

(1)

more info »

Two Course Meal for Two at Old Halfway House

West Yorkshire - Wakefield

more info »

Two Course Meal for Two at The Pigot Arms

West Midlands - Wolverhampton

more info »

Three Course Dinner with Wine for Two at Prezzo, Tunbridge Wells

Kent - Tunbridge Wells

more info »

Three Course Dinner with Wine for Two at Prezzo, West Bromwich

West Midlands - West Bromwich

(2)

more info »

Two Course Meal for Two at The Merchant, Exmouth

Devon - Exmouth

more info »

Two Course Meal for Two at The Waterside Inn

Hertfordshire - Ware

more info »

Three Course Dinner with Wine for Two at Prezzo, Weybridge

Surrey - Weybridge

more info »

Three Course Dinner with Wine for Two at Prezzo, Dorchester

Dorset - Dorchester

more info »

Two Course Meal for Two at The Wellington

County Durham - Billingham

more info »

Three Course Dinner with Wine for Two at Prezzo, Egham

Surrey - Egham

(2)

more info »

Three Course Dinner with Wine for Two at Prezzo Edinburgh - North Bridge

Lothian - Edinburgh

(3)

more info »

Three Course Dinner with Wine for Two at Prezzo, Falmouth

Cornwall - Falmouth

more info »

Three Course Dinner with Wine for Two at Prezzo, Mayfair

Greater London - Westminster

(4)

more info »

Two Course Meal for Two at The Woodman

Surrey - Sutton

more info »

30 Minute Cookery Lesson for Two at L'atelier des Chefs

Greater London - City of London

more info »

Three Course Dinner with Wine for Two at Prezzo, Halstead

Essex - Halstead

(1)

more info »

Three Course Dinner with Wine for Two at Prezzo, Leatherhead

Surrey - Leatherhead

(1)

more info »

Dining Experience for Two at The Loop Bar

Greater London - Westminster

more info »

Three Course Dinner with Wine for Two at Prezzo, Norwich

Norfolk - Norwich

(1)

more info »

Three Course Dinner with Wine for Two at Prezzo, Redhill

Surrey - Redhill

more info »

Old Walls Vineyard Tour and Tasting in Devon with Lunch for Two

Devon - Teignmouth

(29)

more info »

Dedham Vale Vineyard Tour and Tasting in Essex with Lunch for Two

Essex - Colchester

(2)

more info »

Three Course Dinner with Wine for Two at Prezzo, Salisbury

Wiltshire - Salisbury

more info »

Three Course Dinner with Wine for Two at Prezzo, Stratford-upon-Avon

Warwickshire - Stratford-upon-Avon

more info »

Champagne Afternoon Tea at The Mill Hotel for Two

Suffolk - Sudbury

more info »

Sparkling Afternoon Tea For Two at Hotel Chocolat's Roast and Conch in Leeds

West Yorkshire - Leeds

(23)

more info »

Three Course Dinner with Wine for Two at Prezzo, Glasgow

Strathclyde - Glasgow

(1)

more info »

Three Course Dinner with Wine for Two at Prezzo, Glasgow Braehead

Strathclyde - Glasgow

more info »

Traditional Afternoon Tea at the Beechwood Hotel for Two

Norfolk - North Walsham

(5)

more info »

Three Course Meal with Glass of Wine for Two at Prezzo, Penarth

Glamorganshire - Penarth

(2)

more info »

Afternoon Tea for Two at Doubletree by Hilton Westminster

Greater London - Westminster

(19)

more info »

Three-Course Meal with Glass of Wine for Two at Prezzo, Stowmarket

Suffolk - Stowmarket

(3)

more info »

Afternoon Tea for Two at Classic Lodges Hotel in Slough

Buckinghamshire - Slough

more info »

Afternoon Tea for Two at Woolley Grange

Wiltshire - Bradford-On-Avon

(10)

more info »

Afternoon Tea for Two at The Slaughters Country Inn

Gloucestershire - Lower Slaughter

(17)

more info »

Laithwaites Wine Tasting Evening for Two in Belfast

County Antrim - Belfast

more info »

Afternoon Tea for Two at The Mount Hotel

Somerset - Lower Henlade

(83)

more info »

Two Course Lunch for Two at Milano

Greater London - Westminster

more info »

Tour of Brighton Royal Pavilion with Cream Tea for Two

East Sussex - Brighton

(73)

more info »

Afternoon Tea for Two at New Park Manor

Hampshire - Brockenhurst

(32)

more info »

Afternoon Tea for Two at Homewood Park

Somerset - Bath

(3)

more info »

30 Minute PGA Professional Golf Lesson in Bristol

East Sussex - Hellingly

more info »

Afternoon Tea for Two at Congham Hall

Norfolk - King's Lynn

(74)

more info »

Afternoon Tea for Two at The Greenway

Gloucestershire - Shurdington

(21)

more info »

Winning Raceday Package in Wrexham

Clwyd - Nr Wrexham

more info »

Wroxeter Roman Afternoon Tea Vineyard Tour and Tasting for Two in Shropshire

Shropshire - Shrewsbury

(64)

more info »

Afternoon Tea for Two at Moonfleet Manor

Dorset - Weymouth

(13)

more info »

Tapas Lunch with Desserts and Aperitifs for Two at La Farola

Greater London - Hackney

more info »

Three Course Dinner with Wine for Two at Prezzo, Bicester

Oxfordshire - Bicester

more info »

Taster Spa Day for Two at Bannatyne Health Club Peterborough

Cambridgeshire - Peterborough

more info »

Three Course Dinner with Wine for Two at Prezzo, Formby

Merseyside - Formby

more info »

Three Course Dinner with Wine for Two at Prezzo, Harbourne

West Midlands - Birmingham

more info »

Three Course Dinner with Wine for Two at Prezzo, Hatfield

Hertfordshire - Hatfield

more info »

Three Course Dinner with Wine for Two at Prezzo, Hereford

Herefordshire - Hereford

more info »

Three Course Dinner with Wine for Two at Prezzo, Leeds White Rose

West Yorkshire - Leeds

(1)

more info »

Three Course Dinner with Wine for Two at Prezzo, Milton Keynes

Buckinghamshire - Milton Keynes

(3)

more info »

Three Course Dinner with Wine for Two at Prezzo, Preston

Lancashire - Preston

more info »

Three Course Dinner with Wine for Two at Prezzo, Ripon

North Yorkshire - Ripon

(1)

more info »

Three Course Dinner with Wine for Two at Prezzo, St Austell

Cornwall - St Austell

more info »

Three Course Dinner with Wine for Two at Prezzo, St Neots

Cambridgeshire - St Neots

more info »

Three Course Dinner with Wine for Two at Prezzo, Trowbridge

Wiltshire - Trowbridge

(2)

more info »

Three Course Dinner with Wine for Two at Prezzo, Wembley

Greater London - Brent

more info »

Three Course Dinner with Wine for Two at Prezzo, Windsor

Berkshire - Windsor

(0)

more info »

Three Course Dinner with Wine for Two at Prezzo, Witham

Essex - Witham

(1)

more info »

Three Course Dinner with Wine for Two at Prezzo, York Vangarde Way

North Yorkshire - York

(1)

more info »

Three Course Dinner with Wine for Two at Prezzo, Glasgow St Vincent Place

Strathclyde - Glasgow

(5)

more info »

Three Course Meal for Two at Tentazioni Restaurant

Greater London - Lambeth

more info »

2 Course Meal and a Glass of Wine for Two at The Galleria

Greater London - Westminster

more info »

3 Course Dinner and Wine For Two at Hilton Park Lane Podium Restaurant

Greater London - Westminster

(19)

more info »

Three Course Dinner with a Glass of Wine each at Anar Persian Kitchen

Greater London - Hammersmith & Fulham

more info »

Three Course Meal with Prosecco for Two at Pizzeria Oregano

Greater London - Hackney

(6)

more info »

Two Course Lunch with a Glass of Wine for Two at Elena's L'Etoile

Greater London - Westminster

(2)

more info »

Three Course Pre-Theatre Meal with a Glass of Wine for Two at Elena's L'Etoile

Greater London - Westminster

(1)

more info »

Champagne Afternoon Tea for Two at DoubleTree by Hilton London Ealing

Greater London - Ealing

more info »

Three Course A La Carte Lunch with a Glass of Wine Each at Bar Salento

Greater London - Tower Hamlets

more info »

Two Course Set Meal for Two with a Glass of Wine Each at Locanda 311

Greater London - Brent

more info »

Two Course Meal for Two at The Plough and Harrow

East Sussex - Litlington

(2)

more info »

Two Course Lunch with Prosecco for Two at Little Persia

Greater London - Westminster

more info »

Deluxe Thali for Two at Massala Hut

Greater London - Camden

more info »

Three Course Meal with Wine for Two at Prezzo

Hertfordshire - Letchworth Garden City

more info »

Three Course Meal with Wine for Two at Prezzo

Fife - St Andrews

more info »

Three Course Meal with Wine for Two at Prezzo

Kent - Bexley

more info »

Three Course Meal with Wine for Two at Prezzo

Lancashire - Lytham St Anne's

(1)

more info »

Three Course Meal with Wine for Two at Prezzo

Cheshire - Broughton

more info »

Three Course Meal with Wine for Two at Prezzo

West Midlands - Solihull

(0)

more info »

Three Course Meal with Wine for Two at Prezzo

Carmarthenshire - Carmarthen

(1)

more info »

Three Course Meal with Wine for Two at Prezzo

Cambridgeshire - Wisbech

more info »

Three Course Meal with Wine for Two at Prezzo

Tyne & Wear - Newcastle upon Tyne

(2)

more info »

Two Course Meal with Bubbles at Hilton London Paddington

Greater London - Westminster

more info »

Three Course Meal and Champagne Cocktail for Two at Gilgamesh

Greater London - Camden

(109)

more info »

Three Course Meal with Bottle of Wine for Two at Prezzo, Fleet

Hampshire - Fleet

(1)

more info »

Two Course Meal for Two at Bell Harborne

West Midlands - Birmingham

more info »

Two Course Meal for Two at The Brewery Inn

Surrey - Ashtead

more info »

Two Course Meal for Two at The Buck Inn

Greater Manchester - Manchester

more info »

Two Course Meal for Two at The Coach and Horses

Greater London - Hillingdon

more info »

Taster Spa Day for Two at Bannatyne's Health Club Cardiff

Cardiff - Cardiff

more info »

Two Course Meal for Two at The Cricketers Inn

Surrey - Epsom

more info »

Two Course Meal for Two at The Crown and Crooked Billet

Greater London - Waltham Forest

more info »

Two Course Meal for Two at The Danson Stables

Greater London - Bexley

more info »

Two Course Meal for Two at The Feathers Hotel

Surrey - Redhill

more info »

Two Course Meal for Two at The Ferry Boat Inn Tottenham

Greater London - Haringey

more info »

Two Course Meal for Two at The Fox and Grapes

West Yorkshire - Leeds

more info »

Two Course Meal for Two at The Argyle

Greater London - City of London

more info »

Two Course Meal for Two at The Goddard Arms

Wiltshire - Swindon

more info »

Two Course Meal for Two at Bear, Twickenham

Greater London - Hounslow

more info »

Two Course Meal for Two at The Green Man

Hertfordshire - Hemel Hempstead

more info »

Two Course Meal for Two at Bonds, Mayfair

Greater London - Westminster

more info »

Two Course Meal for Two at The Greyhound

Hampshire - Aldershot

more info »

Two Course Meal for Two at The Crown Hotel, Birmingham

West Midlands - Birmingham

more info »

Two Course Meal for Two at The Crutched Friar

Greater London - City of London

more info »

Two Course Meal for Two at The Earl of Camden

Greater London - Camden

more info »

Two Course Meal for Two at The Horns Inn

Dorset - Ferndown

more info »

Two Course Meal for Two at The Elmbridge Arms

Surrey - Weybridge

more info »

Two Course Meal for Two at The Famous Cock Tavern

Greater London - Hackney

more info »

Two Course Meal for Two at The George, Woodford

Greater London - Redbridge

more info »

Two Course Meal for Two at The Green Dragon

Greater London - Croydon

more info »

Two Course Meal for Two at The Green, Shepherds Bush

Greater London - Ealing

more info »

Two Course Meal for Two at The Kings Head

Greater London - Enfield

more info »

Two Course Meal for Two at The Minories

Greater London - City of London

more info »

Two Course Meal for Two at Molloys, Watford

Hertfordshire - Watford

more info »

Two Course Meal for Two at The Nags Head, Islington

Greater London - Hackney

more info »

Two Course Meal for Two at The Pembroke, Primrose Hill

Greater London - Camden

more info »

Two Course Meal for Two at The Pen & Wig

Glamorganshire - Cardiff

more info »

Two Course Meal for Two at Station, Birmingham

West Midlands - Birmingham

more info »

Two Course Meal for Two at The Surrey Arms

Surrey - Camberley

more info »

Two Course Meal for Two at Temperance

Greater London - Hammersmith & Fulham

more info »

Two Course Meal for Two at The Merchant, Brentwood

Essex - Brentwood

more info »

Two Course Meal for Two at The Prince of Wales

Hertfordshire - Barnet

more info »

Two Course Meal for Two at The Three Pigeons

Surrey - Guildford

more info »

Two Course Meal for Two at The Quart Pot

Essex - Wickford

more info »

Two Course Meal for Two at The Trader, Whitecross St

Greater London - City of London

more info »

Two Course Meal for Two at The Two Willows

Hertfordshire - Welwyn Garden City

more info »

Two Course Meal for Two at The Vineyard, Islington

Greater London - Hackney

more info »

Two Course Meal for Two at The Queens Head

Cheshire - Frodsham

more info »

Two Course Meal for Two at The Wattenden Arms

Greater London - Croydon

more info »

Two Course Meal for Two at The William Blake

Greater London - City of London

more info »

Two Course Meal for Two at The Ram

Lancashire - Burnley

more info »

Two Course Meal for Two at Ye Olde Red Lion

Surrey - Sutton

more info »

Two Course Meal for Two at The Squirrel

Hampshire - Farnborough

more info »

Two Course Meal for Two at Waterside Inn

Warwickshire - Leamington Spa

more info »

Champagne Afternoon Tea for Two at Searcys Champagne Bar Westfield

Greater London - London

more info »

Dining Experience for Two at Ruby Blue

Greater London - Westminster

more info »

Afternoon Tea for Two at The Elms

Worcestershire - Abberley

(41)

more info »

Sparkling Afternoon Tea for Two at Hotel Chocolat's Rabot 1745 in Borough Market

Greater London - Lambeth

(65)

more info »

Burger Afternoon Tea for Two at BRGR.CO in Soho London

Greater London - Westminster

(28)

more info »

Burger Afternoon Tea for Two at BRGR.CO in Kings Road London

Greater London - Kensington & Chelsea

(8)

more info »

Afternoon Tea for Two at Hotel Chocolat's Rabot 1745 in Borough Market

Greater London - Lambeth

more info »

Bellini Afternoon Tea for Two at Searcys Champagne Bars

Multiple Locations

more info »

Traditional Afternoon Tea for Two at the Hilton London Islington

Greater London - Hackney

(1)

more info »

Sparkling Afternoon Tea for Two

Multiple Locations

more info »

Sparkling Cocktail Afternoon Tea for Two at Hilton London Canary Wharf

Greater London - Tower Hamlets

(89)

more info »

Three Course Dinner with Bottle of Wine for Two at Prezzo, Ashton-Under-Lyne

Greater Manchester - Ashton-Under-Lyne

more info »

Three-Course Meal with Bottle of Wine for Two at Prezzo, Corby

Northamptonshire - George Street Corby

more info »

Three-Course Meal with Bottle of Wine for Two at Prezzo, Deansgate

Greater Manchester - Manchester

more info »

Three-Course Meal with Bottle of Wine for Two at Prezzo, Harrogate

North Yorkshire - Harrogate

more info »

Three-Course Meal with Bottle of Wine for Two at Prezzo, Milton Keynes Stadium

Buckinghamshire - Milton Keynes

more info »

Three-Course Meal with Bottle of Wine for Two at Prezzo, Milton Keynes

Buckinghamshire - Milton Keynes

more info »

Three-Course Meal with Bottle of Wine for Two at Prezzo, Penarth

Glamorganshire - Penarth

more info »

Three-Course Meal with Bottle of Wine for Two at Prezzo, Rickmansworth

Hertfordshire - Rickmansworth

(1)

more info »

Three-Course Meal with Bottle of Wine for Two at Prezzo, Stowmarket

Suffolk - Stowmarket

more info »

Three-Course Meal with Bottle of Wine for Two at Prezzo, Swindon

Wiltshire - Swindon

more info »

Afternoon Tea for Two at Hallmark Hotel Bournemouth West Cliff

Dorset - Bournemouth

more info »

Afternoon Tea for Two at Hallmark Hotel in Cambridge

Cambridgeshire - Cambridge

(0)

more info »

Afternoon Tea for Two at Hallmark Hotel in Carlisle

Cumbria - Carlisle

more info »

Afternoon Tea for Two at Hallmark Hotel in Croydon

Greater London - Croydon

more info »

Afternoon Tea for Two at Hallmark Hotel in Derby Mickleover Court

Derbyshire - Mickleover

more info »

Afternoon Tea for Two at Hallmark Hotel Derby Midland

Derbyshire - Derby

(1)

more info »

Afternoon Tea for Two at Hallmark Hotel Gloucester

Gloucestershire - Gloucester

more info »

Afternoon Tea for Two at Hallmark Hotel Hull

East Riding of Yorkshire - Hull

(1)

more info »

Afternoon Tea for Two at Hallmark Hotel Stourport Manor

Worcestershire - Stourport on Severn

(2)

more info »

Afternoon Tea for Two at Hallmark Hotel Irvine

Renfrewshire - Ayrshire

more info »

Afternoon Tea for Two at Hallmark Hotel Glasgow

Strathclyde - Glasgow

more info »

Afternoon Tea for Two at Hallmark Hotel Bournemouth Eastcliff

Dorset - Bournemouth

more info »

Afternoon Tea for Two at Hallmark Hotel Bournemouth Carlton

Dorset - Bournemouth

more info »

Afternoon Tea for Two at Hallmark Hotel Chigwell

Essex - Waltham Forest

(0)

more info »

Afternoon Tea for Two at Bagden Hall Hotel

West Yorkshire - Denby Dale

more info »

Afternoon Tea for Two at The White Swan Hotel

Northumberland - Alnwick

more info »

Afternoon Tea for Two at The Pheasant Inn

Cumbria - Kirkby Lonsdale

more info »

Two Course Meal at Killin Hotel for Two

Stirling - Killin

more info »

Afternoon Tea for Two at Killin House

Stirling - Killin

more info »

Two Course Dinner for Two at Best Western Royal Clifton Hotel

Merseyside - Southport

more info »

Traditional Afternoon Tea for Two at The Grange Hotel

Suffolk - Bury St. Edmunds

more info »

Traditional Afternoon Tea for Two at the Cedar Court Hotel Bradford

West Yorkshire - Bradford

more info »

Traditional Afternoon Tea for Two at the Cedar Court Hotel Wakefield

West Yorkshire - Wakefield

more info »

Traditional Afternoon Tea for Two at the Cedar Court Hotel Huddersfield

West Yorkshire - Huddersfield

more info »

Afternoon Tea for Two at The Royal Hotel in Dockray

Cumbria - Penrith

more info »

Afternoon Tea for Two at Tremarne Hotel

Cornwall - Mevagissey

more info »

Afternoon Tea for Two at Wheal Tor Hotel

Cornwall - Liskeard

more info »

Deluxe Afternoon Tea for Two at the Haughton Hall Hotel and Spa

Shropshire - Shifnal

(4)

more info »

Afternoon Tea for Two at Briery Wood Country House Hotel

Cumbria - Windermere

more info »

Afternoon Tea for Two at Urr Valley Country House Hotel

Dumfries and Galloway - Castle Douglas

more info »

Dining Experience for Two at Urr Valley Country House Hotel

Dumfries and Galloway - Castle Douglas

more info »

Afternoon Tea for Two at The Vermont Hotel

Tyne & Wear - Newcastle upon Tyne

(1)

more info »

Afternoon Tea for Two at King Robert Hotel

Stirling - Bannockburn

more info »

Two Course Dinner for Two at King Robert Hotel

Stirling - Bannockburn

more info »

Afternoon Tea for Two at Mercure Peebles Barony House Hotel

Midlothian - Eddleston by Peebles

more info »

Afternoon Tea for Two at The Westcliff Hotel

Essex - Westcliff on Sea

more info »

Two Course Meal and Drinks for Two at The Westcliff Hotel

Essex - Westcliff on Sea

more info »

Afternoon Tea for Two at The Bridge Hotel

Surrey - Chertsey

more info »

Afternoon Tea for Two at Three Horseshoes Country Inn and Spa

Staffordshire - Leek

(1)

more info »

Afternoon Tea for Two at Park Broom Lodge

Cumbria - Carlisle

more info »

Afternoon Tea for Two at The Dabbling Duck

Norfolk - Great Massingham

more info »

Champagne Afternoon Tea for Two at Searcys Champagne Bar in St Pauls

Greater London - London

more info »

Afternoon Tea for Two at Lifton Hall Hotel

Devon - Lifton

more info »

Sparkling Afternoon Tea for Two in Islington

Greater London - Hackney

more info »

Afternoon Tea for Two at Brook Chimney House Hotel

Cheshire - Sandbach

(0)

more info »

Afternoon Tea for Two at The Green House Hotel

Dorset - Bournemouth

more info »

Luxury Afternoon Tea for Two at Healey Dell Tea Rooms

Lancashire - Rochdale

(1)

more info »

Afternoon Tea for Two at The Old Swan Hotel

North Yorkshire - Harrogate

more info »

Champagne Tasting and Afternoon Tea for Two at Searcys in Westfield Stratford

Greater London - Stratford

(1)

more info »

Champagne Tasting and Afternoon Tea for Two at Searcys in St Pauls

Greater London - London

(6)

more info »

Champagne Tasting and Afternoon Tea for Two at Searcys Westfield London

Greater London - Ealing

more info »

Afternoon Tea for Two at Charingworth Manor

Gloucestershire - Chipping Campden

more info »

Afternoon Tea for Two at Bower House

Cumbria - Eskdale

more info »

Three Course Meal and a Glass of Prosecco for Two at Zizzi, Aberdeen

Aberdeenshire - Aberdeen

(1)

more info »

Afternoon Tea for Two at Horton Grange

Tyne & Wear - Newcastle upon Tyne

more info »

Three Course Meal and a Glass of Prosecco for Two at Zizzi, Bankside

Central London - Lambeth

more info »

Three Course Meal and a Glass of Prosecco for Two at Zizzi, Banstead

Surrey - Sutton

more info »

Three Course Meal and a Glass of Prosecco for Two at Zizzi, Basingstoke

Hampshire - Basingstoke

more info »

Three Course Meal and a Glass of Prosecco for Two at Zizzi, Beaconsfield

Buckinghamshire - Beaconsfield

more info »

Three Course Meal and a Glass of Prosecco for Two at Zizzi, Beckenham

Kent - Bromley

more info »

Three Course Meal and a Glass of Prosecco for Two at Zizzi, Birmingham

West Midlands - Birmingham

(1)

more info »

Three Course Meal and a Glass of Prosecco for Two at Zizzi, Birmingham Brindley Place

West Midlands - Birmingham

(1)

more info »

Three Course Meal and a Glass of Prosecco for Two at Zizzi, Bishops Stortford

Hertfordshire - Bishop's Stortford

more info »

Three Course Meal and a Glass of Prosecco for Two at Zizzi, Bluewater

Kent - Greenhithe

more info »

Three Course Meal and a Glass of Prosecco for Two at Zizzi, Bournemouth

Hampshire - Bournemouth

(1)

more info »

Three Course Dinner with Wine for Two at Prezzo, Belfast

County Antrim - Belfast

more info »

Three Course Dinner with Wine for Two at Prezzo, Eltham

Greater London - Bexley

(1)

more info »

Three Course Meal and a Glass of Prosecco for Two at Zizzi, Bow Street

Greater London - Westminster

(1)

more info »

Three Course Dinner with Wine for Two at Prezzo, Manchester

Greater Manchester - Manchester

(0)

more info »

Three Course Meal and a Glass of Prosecco for Two at Zizzi, Bradford

West Yorkshire - Bradford

more info »

Three Course Meal and a Glass of Prosecco for Two at Zizzi, Brentwood

Essex - Brentwood

more info »

Three Course Meal and a Glass of Prosecco for Two at Zizzi, Brighton

East Sussex - Brighton

more info »

Three Course Meal and a Glass of Prosecco for Two at Zizzi, Brighton Marina

East Sussex - Brighton

more info »

Three Course Meal and a Glass of Prosecco for Two at Zizzi, Bristol Cabot Circus

Avon - Bristol

more info »

Three Course Meal and a Glass of Prosecco for Two at Zizzi, Bristol Clifton Village

Avon - Bristol

more info »

Three Course Meal and a Glass of Prosecco for Two at Zizzi, Bromley

Kent - Bromley

(1)

more info »

Three Course Meal and a Glass of Prosecco for Two at Zizzi, Camberley

Surrey - Camberley

more info »

Three Course Meal and a Glass of Prosecco for Two at Zizzi, Cambridge

Cambridgeshire - Cambridge

more info »

Three Course Meal and a Glass of Prosecco for Two at Zizzi, Cambridge Bene't Street

Cambridgeshire - Cambridge

(1)

more info »

Three Course Meal and a Glass of Prosecco for Two at Zizzi, Canary Wharf

Greater London - Tower Hamlets

(0)

more info »

Three Course Meal and a Glass of Prosecco for Two at Zizzi, Canterbury

Kent - Canterbury

more info »

Three Course Meal and a Glass of Prosecco for Two at Zizzi, Cardiff

Glamorganshire - Cardiff

more info »

Three Course Meal and a Glass of Prosecco for Two at Zizzi, Cardiff Bay

Glamorganshire - Cardiff

(0)

more info »

Three Course Meal and a Glass of Prosecco for Two at Zizzi, Central St Giles

Greater London - Westminster

(0)

more info »

Three Course Meal and a Glass of Prosecco for Two at Zizzi, Charlotte Street

Greater London - Westminster

more info »

Three Course Meal and a Glass of Prosecco for Two at Zizzi, Chelmsford

Essex - Chelmsford

more info »

Three Course Meal and a Glass of Prosecco for Two at Zizzi, Cheltenham

Gloucestershire - Cheltenham

more info »

Three Course Meal and a Glass of Prosecco for Two at Zizzi, Cheshire Oaks

Cheshire - Ellesmere Port

(2)

more info »

Three Course Meal and a Glass of Prosecco for Two at Zizzi, Chichester

West Sussex - Chichester

more info »

Three Course Meal and a Glass of Prosecco for Two at Zizzi, Chislehurst

Kent - Bromley

more info »

Three Course Meal and a Glass of Prosecco for Two at Zizzi, Chiswick

Greater London - Ealing

more info »

Three Course Meal and a Glass of Prosecco for Two at Zizzi, Colchester

Essex - Colchester

more info »

Three Course Meal and a Glass of Prosecco for Two at Zizzi, Croydon

Surrey - Croydon

more info »

Three Course Meal and a Glass of Prosecco for Two at Zizzi, Cutty Sark Gardens

Greater London - Greenwich

more info »

Three Course Meal and a Glass of Prosecco for Two at Zizzi, Derby

Derbyshire - Derby

more info »

Three Course Meal and a Glass of Prosecco for Two at Zizzi, Derby Intu

Derbyshire - Derby

more info »

Three Course Meal and a Glass of Prosecco for Two at Zizzi, Dorchester

Dorset - Dorchester

more info »

Three Course Meal and a Glass of Prosecco for Two at Zizzi, Durham

County Durham - Durham

more info »

Three Course Meal and a Glass of Prosecco for Two at Zizzi, Earls Court Road

Greater London - Kensington & Chelsea

more info »

Three Course Meal and a Glass of Prosecco for Two at Zizzi, Eastbourne

East Sussex - Eastbourne

more info »

Three Course Meal and a Glass of Prosecco for Two at Zizzi, Edinburgh Quay

Midlothian - Edinburgh

more info »

Three Course Meal and a Glass of Prosecco for Two at Zizzi, Edinburgh Queensferry

Midlothian - Edinburgh

more info »

Three Course Meal and a Glass of Prosecco for Two at Zizzi, Edinburgh Roxburgh

Midlothian - Edinburgh

(1)

more info »

Three Course Meal and a Glass of Prosecco for Two at Zizzi, Esher

Surrey - Esher

more info »

Three Course Meal and a Glass of Prosecco for Two at Zizzi, Exeter

Devon - Exeter

more info »

Three Course Meal and a Glass of Prosecco for Two at Zizzi, Falmouth

Cornwall - Falmouth

more info »

Three Course Meal and a Glass of Prosecco for Two at Zizzi, Farnham

Surrey - Farnham

more info »

Three Course Meal and a Glass of Prosecco for Two at Zizzi, Finchley

Greater London - Barnet

more info »

Three Course Meal and a Glass of Prosecco for Two at Zizzi, Finchley Road O2 Centre

Central London - Camden

(1)

more info »

Three Course Meal and a Glass of Prosecco for Two at Zizzi, Glasgow Princes Square

Lanarkshire - Glasgow

more info »

Three Course Meal and a Glass of Prosecco for Two at Zizzi, Glasgow Royal Exchange

Lanarkshire - Glasgow

more info »

Three Course Meal and a Glass of Prosecco for Two at Zizzi, Glasgow Silverburn

Strathclyde - Glasgow

(1)

more info »

Three Course Meal and a Glass of Prosecco for Two at Zizzi, Glasgow West End

Lanarkshire - Glasgow

more info »

Three Course Meal and a Glass of Prosecco for Two at Zizzi, Gloucester Quays

Gloucestershire - Gloucester

more info »

Three Course Meal and a Glass of Prosecco for Two at Zizzi, Guildford

Surrey - Guildford

more info »

Three Course Meal and a Glass of Prosecco for Two at Zizzi, Hampton Court

Surrey - Richmond Upon Thames

more info »

Three Course Meal and a Glass of Prosecco for Two at Zizzi, Harborne

West Midlands - Birmingham

(1)

more info »

Three Course Meal and a Glass of Prosecco for Two at Zizzi, Harrogate

North Yorkshire - Harrogate

more info »

Three Course Meal and a Glass of Prosecco for Two at Zizzi, Haywards Heath

West Sussex - Haywards Heath

(1)

more info »

Three Course Dinner with Wine for Two at Prezzo, Greenwich

Greater London - Greenwich

more info »

Three Course Meal and a Glass of Prosecco for Two at Zizzi, Henley

Oxfordshire - Henley

more info »

Three Course Meal and a Glass of Prosecco for Two at Zizzi, Hereford

Herefordshire - Hereford

more info »

Three Course Meal and a Glass of Prosecco for Two at Zizzi, High Wycombe

Buckinghamshire - High Wycombe

more info »

Three Course Meal and a Glass of Prosecco for Two at Zizzi, Hitchin

Hertfordshire - Hitchin

more info »

Three Course Meal and a Glass of Prosecco for Two at Zizzi, Hornchurch

Essex - Barking & Dagenham

more info »

Three Course Meal and a Glass of Prosecco for Two at Zizzi, Inverness

Inverness-shire - Inverness

more info »

Three Course Meal and a Glass of Prosecco for Two at Zizzi, Ipswich

Suffolk - Ipswich

more info »

Three Course Meal and a Glass of Prosecco for Two at Zizzi, Kenilworth

Warwickshire - Kenilworth

(1)

more info »

Three Course Meal and a Glass of Prosecco for Two at Zizzi, Kingston

Surrey - Kingston Upon Thames

more info »

Three Course Meal and a Glass of Prosecco for Two at Zizzi, Leamington Spa

Warwickshire - Leamington Spa

more info »

Three Course Meal and a Glass of Prosecco for Two at Zizzi, Leeds Birstall

West Yorkshire - Batley

(1)

more info »

Three Course Meal and a Glass of Prosecco for Two at Zizzi, Leeds the Light

West Yorkshire - Leeds

more info »

Three Course Meal and a Glass of Prosecco for Two at Zizzi, Leicester

Leicestershire - Leicester

more info »

Three Course Meal and a Glass of Prosecco for Two at Zizzi, Leicester Highcross

Leicestershire - Leicester

more info »

Three Course Meal and a Glass of Prosecco for Two at Zizzi, Leith

Midlothian - Edinburgh

more info »

Three Course Meal and a Glass of Prosecco for Two at Zizzi, Lincoln

Lincolnshire - Lincoln

more info »

Three Course Meal and a Glass of Prosecco for Two at Zizzi, Liverpool One

Merseyside - Liverpool

more info »

Three Course Meal and a Glass of Prosecco for Two at Zizzi, Loughton

Essex - Barking & Dagenham

(1)

more info »

Three Course Meal and a Glass of Prosecco for Two at Zizzi, Maidstone

Kent - Maidstone

(1)

more info »

Three Course Meal and a Glass of Prosecco for Two at Zizzi, Manchester

Greater Manchester - Manchester

more info »

Three Course Meal and a Glass of Prosecco for Two at Zizzi, Manchester Corn Exchange

Greater Manchester - Manchester

(1)

more info »

Three Course Meal and a Glass of Prosecco for Two at Zizzi, Manchester King Street

Greater Manchester - Manchester

more info »

Three Course Meal and a Glass of Prosecco for Two at Zizzi, Manchester Piccadilly

Greater Manchester - Manchester

more info »

Three Course Meal and a Glass of Prosecco for Two at Zizzi, Market Harborough

Leicestershire - Market Harborough

more info »

Three Course Meal and a Glass of Prosecco for Two at Zizzi, Marlow

Buckinghamshire - Marlow

more info »

Three Course Meal and a Glass of Prosecco for Two at Zizzi, Milton Keynes The Hub

Buckinghamshire - Milton Keynes

more info »

Three Course Meal and a Glass of Prosecco for Two at Zizzi, Milton Keynes Theatre

Buckinghamshire - Milton Keynes

(1)

more info »

Three Course Meal and a Glass of Prosecco for Two at Zizzi, Newark

Nottinghamshire - Newark-On-Trent

more info »

Three Course Meal and a Glass of Prosecco for Two at Zizzi, Newcastle

Tyne & Wear - Newcastle

more info »

Three Course Meal and a Glass of Prosecco for Two at Zizzi, Newport

Gwenton - Newport

more info »

Three Course Meal and a Glass of Prosecco for Two at Zizzi, Norwich

Norfolk - Norwich

more info »

Three Course Meal and a Glass of Prosecco for Two at Zizzi, Notting Hill Gate

Greater London - Hammersmith & Fulham

more info »

Three Course Meal and a Glass of Prosecco for Two at Zizzi, Nottingham

Nottinghamshire - Nottingham

more info »

Three Course Meal and a Glass of Prosecco for Two at Zizzi, One New Change

Greater London - St Paul's

more info »

Three Course Meal and a Glass of Prosecco for Two at Zizzi, Oxford

Oxfordshire - Oxford

more info »

Three Course Meal and a Glass of Prosecco for Two at Zizzi, Paddington Central

Greater London - Westminster

more info »

Three Course Meal and a Glass of Prosecco for Two at Zizzi, Paddington Street

Greater London - Westminster

more info »

Three Course Meal and a Glass of Prosecco for Two at Zizzi, Pinner

Greater London - Harrow

more info »

Three Course Meal and a Glass of Prosecco for Two at Zizzi, Port Solent

Hampshire - Portsmouth

(2)

more info »

Three Course Meal and a Glass of Prosecco for Two at Zizzi, Portsmouth

Hampshire - Portsmouth

more info »

Three Course Meal and a Glass of Prosecco for Two at Zizzi, Reading

Berkshire - Reading

more info »

Three Course Meal and a Glass of Prosecco for Two at Zizzi, Richmond

Surrey - Richmond Upon Thames

more info »

Three Course Meal and a Glass of Prosecco for Two at Zizzi, Romford

Essex - Havering

more info »

Three Course Meal and a Glass of Prosecco for Two at Zizzi, Sevenoaks

Kent - Sevenoaks

more info »

Three Course Meal and a Glass of Prosecco for Two at Zizzi, Sheffield

South Yorkshire - Sheffield

(1)

more info »

Three Course Meal and a Glass of Prosecco for Two at Zizzi, Shrewsbury

Shropshire - Shrewsbury

more info »

Three Course Meal and a Glass of Prosecco for Two at Zizzi, Solihull

West Midlands - Solihull

more info »

Three Course Meal and a Glass of Prosecco for Two at Zizzi, South Woodford

Greater London - Redbridge

more info »

Three Course Meal and a Glass of Prosecco for Two at Zizzi, St Albans

Hertfordshire - St Albans

more info »

Three Course Meal and a Glass of Prosecco for Two at Zizzi, St Andrews

Fife - St Andrews

more info »

Three Course Meal and a Glass of Prosecco for Two at Zizzi, St Katharine Docks

Greater London - Tower Hamlets

more info »

Three Course Meal and a Glass of Prosecco for Two at Zizzi, Stratford upon Avon

Warwickshire - Stratford upon Avon

more info »

Three Course Meal and a Glass of Prosecco for Two at Zizzi, Surbiton

Surrey - Kingston Upon Thames

more info »

Three Course Meal and a Glass of Prosecco for Two at Zizzi, Sutton

Surrey - Sutton

more info »

Three Course Meal and a Glass of Prosecco for Two at Zizzi, Taunton

Somerset - Taunton

more info »

Three Course Meal and a Glass of Prosecco for Two at Zizzi, Telford

Shropshire - Telford

more info »

Three Course Meal and a Glass of Prosecco for Two at Zizzi, The Strand

Greater London - Westminster

(3)

more info »

Three Course Meal and a Glass of Prosecco for Two at Zizzi, Tower Hill

Greater London - City of London

more info »

Three Course Meal and a Glass of Prosecco for Two at Zizzi, Tunbridge Wells

Kent - Tunbridge Wells

more info »

Three Course Meal and a Glass of Prosecco for Two at Zizzi, Twickenham

Middlesex - Hounslow

(1)

more info »

Three Course Meal and a Glass of Prosecco for Two at Zizzi, Uxbridge

Middlesex - Hillingdon

more info »

Three Course Meal and a Glass of Prosecco for Two at Zizzi, Victoria

Greater London - Westminster

more info »

Three Course Meal and a Glass of Prosecco for Two at Zizzi, Watford

Hertfordshire - Watford

more info »

Three Course Meal and a Glass of Prosecco for Two at Zizzi, Welwyn Garden City

Hertfordshire - Welwyn Garden City

more info »

Three Course Meal and a Glass of Prosecco for Two at Zizzi, Wembley

Greater London - Brent

more info »

Three Course Meal and a Glass of Prosecco for Two at Zizzi, Westfield

Greater London - Ealing

more info »

Three Course Meal and a Glass of Prosecco for Two at Zizzi, Whitstable

Kent - Whitstable

more info »

Three Course Meal and a Glass of Prosecco for Two at Zizzi, Wigmore Street

Greater London - Westminster

(1)

more info »

Three Course Meal and a Glass of Prosecco for Two at Zizzi, Winchester

Hampshire - Winchester

more info »

Three Course Meal and a Glass of Prosecco for Two at Zizzi, Windsor

Berkshire - Windsor

more info »

Three Course Meal and a Glass of Prosecco for Two at Zizzi, Woking

Surrey - Woking

more info »

Three Course Meal and a Glass of Prosecco for Two at Zizzi, Wokingham

Berkshire - Wokingham

more info »

Three Course Meal and a Glass of Prosecco for Two at Zizzi, Worcester

Worcestershire - Worcester

(1)

more info »

Three Course Meal and a Glass of Prosecco for Two at Zizzi, York

North Yorkshire - York

more info »

Two Course Meal for Two at Bishopsgate House

Isle of Anglesey - Beaumaris

more info »

Afternoon Tea for Two at Orestone Manor

Devon - Maidencombe

more info »

Afternoon Tea for Two at Blue Swan

Lancashire - Halsall

more info »

Afternoon Tea for Two at The Royal Oak Inn

Cornwall - Lostwithiel

more info »

Afternoon Tea for Two at Cedar Court Hotel Harrogate

North Yorkshire - Harrogate

more info »

Afternoon Tea for Two at The Melody Restaurant

Greater London - Hammersmith & Fulham

more info »

Afternoon Tea for Two at Raglan House

Herefordshire - Ross on Wye

more info »

Two Course Lunch with a Drink for Two at Raglan House

Herefordshire - Ross on Wye

more info »

Two Course Dinner for Two at The George Inn

Devon - Blackawton

more info »

Afternoon Tea for Two at Esseborne Manor

Hampshire - Andover

more info »

Afternoon Tea with Brewing Experience for Two at Himalayas

Cheshire - Stockport

more info »

Afternoon Tea for Two at Hallmark Hotel Llyndir Hall

Cheshire - Chester

more info »

Afternoon Tea for Two at Hallmark Hotel Preston Leyland

Lancashire - Leyland

(1)

more info »

Afternoon Tea for Two at Hallmark Hotel Liverpool South

Merseyside - Liverpool

more info »

Afternoon Tea for Two at Hallmark Inn Manchester South

Lancashire - Manchester

more info »

Afternoon Tea for Two at Hallmark Hotel, The Queen

Cheshire - Chester

more info »

Afternoon Tea for Two at Hallmark Hotel Warrington

Lancashire - Warrington

more info »

Dining for Two at Shap Wells Hotel

Cumbria - Penrith

more info »

Afternoon Tea for Two at Trimstone Manor Country House

Devon - Ilfracombe

more info »

Afternoon Tea for Two at The Manor at Weston on The Green Country House Hotel

Oxfordshire - Oxford

more info »

Afternoon Tea for Two at London Elizabeth Hotel

Greater London - Westminster

more info »

Afternoon Tea for Two at Saltmarshe Hall

East Riding of Yorkshire - Howden

more info »

Afternoon Tea for for two at Hilton Garden Inn

Fife - Aberdeen

more info »

Afternoon Tea for Two at The Red Lion Whittlesford Bridge

Cambridgeshire - Cambridge

more info »

Afternoon Tea for Two at Jack's Restaurant

Surrey - Kingston Upon Thames

more info »

Afternoon Tea for Two at Newton House Hotel

Derbyshire - Ashbourne

more info »

Afternoon Tea for Two at the Royal Beacon Hotel

Devon - Exmouth

more info »

Afternoon Tea for Two at Hilton Dartford Bridge Hotel

Kent - Dartford

more info »

Afternoon Tea for Two at Frasers Restaurant

Kent - Egerton Nr Ashford

(1)

more info »

Champagne Afternoon Tea for Two at The Beech Hill Hotel

Cumbria - Windermere

more info »

Afternoon Tea for Two at Madhatter's Tearoom

Nottinghamshire - Kimberley

more info »

Afternoon Tea for Two at Falcondale Hotel

Dyfed - Ceredigion

more info »

Afternoon Tea for Two at The Keys Restaurant

West Yorkshire - Huddersfield

more info »

Afternoon Tea with Wine for Two at Wroxeter Roman Vineyard

Shropshire - Shrewsbury

more info »

Afternoon Tea for Two at The Lugger Inn

Cornwall - Penzance

more info »

Afternoon Tea for Two at Park Grand, Lancaster Gate

Greater London - Westminster

(1)

more info »

Afternoon Tea for Two at Brook Meadow Hotel

Cheshire - Childer Thornton

more info »

Afternoon Tea with Vineyard Tour for Two at Carr Taylor Wines

East Sussex - Hastings

(1)

more info »

Afternoon Tea for Two at Mad as a Hatter

West Midlands - Birmingham

more info »

Afternoon Tea for Two at Jacqueline's Tea Room

Essex - Colchester

more info »

Afternoon Tea for Two at The Temple Cafe

Essex - Southend-on-Sea

more info »

Afternoon Tea for Two with Sparkling Wine at Hilton Croydon Hotel

Greater London - Croydon

more info »

Afternoon Tea for Two at Hilton Bath City

Somerset - Bath

more info »

Afternoon Tea for Two at The Empress Hotel

Isle of Man - Douglas

more info »

Afternoon Tea for Two at Jubilee Vintage Tea Room

East Riding of Yorkshire - Hessle

more info »

Afternoon Tea for Two at Kandy Factory

Staffordshire - Burton Upon Trent

more info »

Afternoon Tea for Two at The Oldbarn Tearoom

Northamptonshire - Wadenhoe

more info »

Afternoon Tea for Two at St Agnes Hotel

Cornwall - St Agnes

more info »

Afternoon Tea for Two at Lastingham Grange

North Yorkshire - Lastingham

more info »

Afternoon Tea for Two at Jameson's Tea Room

West Yorkshire - Leeds

more info »

Sparkling Afternoon Tea for Two at Jameson's Tea Room Sheffield

South Yorkshire - Sheffield

more info »

Afternoon Tea for Two at Mom and Co

West Midlands - Stourbridge

more info »

Afternoon Tea for Two at Little Underbank Tea Room

Cheshire - Stockport

more info »

Two Course Meal with Wine for Two at The Keys Restaurant

West Yorkshire - Huddersfield

more info »

Afternoon Tea for Two at Croft Tea Rooms

Kent - Bromley

more info »

Afternoon Tea for Two at Tonia's Cafe

County Durham - Seaham

more info »

Afternoon Tea for Two at Cafe Cross The Mersey

Merseyside - Wirral

more info »

Afternoon Tea for Two at Sofia's Italian

West Midlands - Walsall

more info »

Afternoon Tea for Two at Lakeside Cafe

South Yorkshire - Wakefield

more info »

Afternoon Tea for Two at Lion Rock Tea Rooms

Somerset - Cheddar

more info »

Two Course Meal for Two at The Hilton Bath City

Somerset - Bath

more info »

Gentleman's Afternoon Tea at the Hillthwaite Hotel

Cumbria - Windermere

(1)

more info »

Afternoon Tea for Two at Hilton Southampton

Hampshire - Southampton

more info »

Afternoon Tea for Two at Sheldrakes Restaurant

Merseyside - Wirral

more info »

Afternoon Tea for Two at the Smart School of Cookery, Chelmsford

Essex - Chelmsford

more info »

Afternoon Tea for Two at The Smart School of Cookery, London

Greater London - Tower Hamlets

more info »

Afternoon Tea for Two at Stanneylands Hotel

Cheshire - Wilmslow

more info »

Two Course Meal with Wine for Two at The Colonnade Hotel

Greater London - Camden

more info »

Afternoon Tea for Two at The Colonnade Hotel

Greater London - Camden

more info »

Afternoon Tea for Two at The East Hotel

Buckinghamshire - Newport Pagnell

more info »

Afternoon Tea for Two at The Spotted Duck

East Riding of Yorkshire - Hull

more info »

Afternoon Tea for Two at The Plough and Harrow Hotel

West Midlands - Birmingham

more info »

Afternoon Tea for Two at Orchard House Hotel

Devon - Lynmouth

more info »

Two Course Meal with a Drink for Two at The Snooty Fox

Cornwall - Looe

more info »

Three Course Meal with Wine at The Black Bull Inn and Hotel

Cumbria - Kirkby Stephen

more info »

Afternoon Tea for Two at Patisserie Valerie with Cake Gift Box, Aberdeen

Aberdeenshire - Aberdeen

(8)

more info »

Two Course Dinner with Drink at The Lugger Inn

Cornwall - Penzance

more info »

Afternoon Tea for Two at Patisserie Valerie with Cake Gift Box, Bath

Avon - Bath

(2)

more info »

Afternoon Tea for Two at Patisserie Valerie with Cake Gift Box, Bournemouth

Dorset - Bournemouth

(1)

more info »

Afternoon Tea for Two at Patisserie Valerie with Cake Gift Box, Bradford

West Yorkshire - Bradford

(1)

more info »

Afternoon Tea for Two at Patisserie Valerie with Cake Gift Box, Bury St Edmunds

Suffolk - Bury St Edmunds

more info »

Afternoon Tea for Two at Patisserie Valerie with Cake Gift Box, Bristol

Avon - Bristol

more info »

Afternoon Tea for Two at Patisserie Valerie with Cake Gift Box, Cambridge

Cambridgeshire - Cambridge

(1)

more info »

Afternoon Tea for Two at Patisserie Valerie with Cake Gift Box, Cambridge Fitzroy St

Cambridgeshire - Cambridge

more info »

Afternoon Tea for Two at Patisserie Valerie with Cake Gift Box, Cheltenham

Gloucestershire - Cheltenham

more info »

Afternoon Tea for Two at Patisserie Valerie with Cake Gift Box, Chester

Merseyside - Chester

more info »

Afternoon Tea for Two at Patisserie Valerie with Cake Gift Box, Chichester

West Sussex - Chichester

(3)

more info »

Afternoon Tea for Two at Patisserie Valerie with Cake Gift Box, Cribbs

Avon - Bristol

(2)

more info »

Afternoon Tea for Two at Patisserie Valerie with Cake Gift Box, Manchester

Cheshire - Manchester

more info »

Afternoon Tea for Two at Patisserie Valerie with Cake Gift Box, Derby

Derbyshire - Derby

more info »

Afternoon Tea for Two at Patisserie Valerie with Cake Gift Box, Eastbourne

East Sussex - Eastbourne

(2)

more info »

Afternoon Tea for Two at Patisserie Valerie with Cake Gift Box, Edinburgh George IV Bridge

Lothian - Edinburgh

(1)

more info »

Afternoon Tea for Two at Patisserie Valerie with Cake Gift Box, Edinburgh North Bridge

Lothian - Edinburgh

more info »

Afternoon Tea for Two at Patisserie Valerie with Cake Gift Box, Edinburgh Rose Street

Lothian - Edinburgh

more info »

Afternoon Tea for Two at Patisserie Valerie with Cake Gift Box, Exeter

Devon - Exeter

(1)

more info »

Afternoon Tea for Two at Patisserie Valerie with Cake Gift Box, Glasgow Royal Exchange

Lanarkshire - Glasgow

more info »

Afternoon Tea for Two at Patisserie Valerie with Cake Gift Box, Glasgow West Nile

Lanarkshire - Glasgow

more info »

Afternoon Tea for Two at Patisserie Valerie with Cake Gift Box, Gloucester

Gloucestershire - Gloucester

more info »

Afternoon Tea for Two at Patisserie Valerie with Cake Gift Box, Henley On Thames

Oxfordshire - Henley On Thames

(2)

more info »

Afternoon Tea for Two at Patisserie Valerie with Cake Gift Box, High Wycombe

Buckinghamshire - High Wycombe

more info »

Afternoon Tea for Two at Patisserie Valerie with Cake Gift Box, Hove

East Sussex - Hove

more info »

Afternoon Tea for Two at Patisserie Valerie with Cake Gift Box, Ipswich

Suffolk - Ipswich

more info »

Afternoon Tea for Two at Patisserie Valerie with Cake Gift Box, Leeds - Albion St

West Yorkshire - Leeds

(3)

more info »

Afternoon Tea for Two at Patisserie Valerie with Cake Gift Box, Leeds St Pauls

West Yorkshire - Leeds

more info »

Afternoon Tea for Two at Patisserie Valerie with Cake Gift Box, Leicester

Leicestershire - Leicester

(1)

more info »

Afternoon Tea for Two at Patisserie Valerie with Cake Gift Box, Lincoln

Lincolnshire - Lincoln

(2)

more info »

Afternoon Tea for Two at Patisserie Valerie with Cake Gift Box, Liverpool

Merseyside - Liverpool

(4)

more info »

Afternoon Tea for Two at Patisserie Valerie with Cake Gift Box, Norwich

Norfolk - Norwich

(1)

more info »

Afternoon Tea for Two at Patisserie Valerie with Cake Gift Box, Nottingham Royal Exchange

Nottinghamshire - Nottingham

more info »

Afternoon Tea for Two at Patisserie Valerie with Cake Gift Box, Oxford

Oxfordshire - Oxford

more info »

Afternoon Tea for Two at Patisserie Valerie with Cake Gift Box, Peterborough

Buckinghamshire - Peterborough

more info »

Afternoon Tea for Two at Patisserie Valerie with Cake Gift Box, Preston

Lancashire - Preston

(1)

more info »

Afternoon Tea for Two at Patisserie Valerie with Cake Gift Box, Reading

Berkshire - Reading

more info »

Afternoon Tea for Two at Patisserie Valerie with Cake Gift Box, Resorts World Birmingham

West Midlands - Birmingham

(2)

more info »

Afternoon Tea for Two at Patisserie Valerie with Cake Gift Box, Salisbury

West Midlands - Birmingham

more info »

Afternoon Tea for Two at Patisserie Valerie with Cake Gift Box, Sheffield

South Yorkshire - Sheffield

(1)

more info »

Afternoon Tea for Two at Patisserie Valerie with Cake Gift Box, Shrewsbury

Shropshire - Shrewsbury

more info »

Afternoon Tea for Two at Patisserie Valerie with Cake Gift Box, Windsor

Berkshire - Windsor

(1)

more info »

Afternoon Tea for Two at Patisserie Valerie with Cake Gift Box, Woking

Surrey - Woking

more info »

Afternoon Tea for Two at Patisserie Valerie with Cake Gift Box, Worcester

Worcestershire - Worcester

more info »

Afternoon Tea for Two at Patisserie Valerie with Cake Gift Box, York

North Yorkshire - York

(1)

more info »

Afternoon Tea for Two at Patisserie Valerie with Cake Gift Box, York Coppergate

North Yorkshire - York

more info »

Afternoon Tea for Two at The Queens Head Inn

Cambridgeshire - Peterborough

more info »

Two Course Meal with Wine for Two at Cafe Nucleus

Kent - Chatham

more info »

Afternoon Tea for Two at Cafe Nucleus

Kent - Chatham

more info »

Two Course Meal with a Glass of Bubbles for Two at Bistro Provence

Midlothian - Edinburgh

more info »

Afternoon Tea for Two at Blackwell Grange Hotel

County Durham - Darlington

more info »

Afternoon Tea for Two at Heywood Spa Hotel

Pembrokeshire - Tenby

more info »

Afternoon Tea for Two at The Toffee Nosed Cake Company

West Midlands - Wolverhampton

more info »

Afternoon Tea For Two at Lazy Lounge

West Yorkshire - Leeds

more info »

Afternoon Tea for Two at Hengist Restaurant

Kent - Aylesford

more info »

Afternoon Tea for Two at Cae Mor Hotel

Conwy - Llandudno

more info »

Afternoon Tea for Two at Little Cottage Tea Room

East Sussex - Glynde

more info »

Afternoon Tea for Two at Sandringham Hotel

Cardiff - Cardiff

more info »

Sparkling Afternoon Tea for Two at The George Hotel

Warwickshire - Shipston on Stour

more info »

Sparkling Afternoon Tea for Two at Best Western Royal Clifton Hotel

Merseyside - Southport

more info »

Afternoon Tea for Two at Holdsworth House Hotel

West Yorkshire - Halifax

more info »

Sparkling Afternoon Tea for Two at Hilton Canary Wharf Hotel

Multiple Locations

more info »

Afternoon Tea for Two at Badgers Mount Hotel

Leicestershire - Elmsthorpe

more info »

Afternoon Tea for Two at Very Fairy Land

Greater London - Hammersmith & Fulham

more info »

Afternoon Tea for Two at Flambards Hotel and Tea Room

Ceredigion - Cardigan

more info »

Afternoon Tea for Two at The Fox and Hounds Country Hotel

Devon - Chulmleigh

more info »

Afternoon Tea for Two at The Waiting Room

Greater London - Barnet

more info »

Two Course Meal with Drink for Two at Massala Hut

Greater London - Camden

more info »

Afternoon Tea for Two at Le Méridien Piccadilly

Greater London - Westminster

more info »

Afternoon Tea for Two at Mantovani 1946

Greater London - Westminster

more info »

Afternoon Tea for Two at Oak Café

Tyne & Wear - Newcastle

more info »

Afternoon Tea for Two at The Crafty Teacup Café

Somerset - Burnham-On-Sea

more info »

Afternoon Tea for Two at The Rose and Crown

Somerset - Bath

more info »

Afternoon Tea with Glass of Bubbles for Two at The Tavern Bar and Restaurant

Cheshire - Widnes

more info »

Afternoon Tea for Two at Cedars Park Cafe

Hertfordshire - Enfield

more info »

Afternoon Tea for Two at Littlecote House Hotel

Berkshire - Hungerford

(30)

more info »

Afternoon Tea for Two at Sinah Warren Hotel

Hampshire - Hayling Island

(18)

more info »

London Dining Experience for Two

Multiple Locations

(8)

more info »

Afternoon Tea for Two at Hallmark Hotel Birmingham Strathallan

West Midlands - Birmingham

(1)

more info »

Afternoon Tea for Two at The Old Vicarage Hotel

Somerset - Bridgwater

more info »

Afternoon Tea for Two at Burnham Beeches

Buckinghamshire - Burnham

more info »

Adult Tour for Two of Manchester City Stadium

Greater Manchester - Manchester

(48)

more info »

30 Minute PGA Professional Golf Lesson for Two and includes a £5 voucher

Multiple Locations

(27)

more info »

Thames Evening Cruise with Bubbly and Canapés for Two

Central London - Westminster

(126)

more info »

Portsmouth Historic Dockyard Annual Pass for Two

Hampshire - Portsmouth

(399)

more info »

Adult Emirates Stadium Tour for Two, Includes Branded Earphones

Greater London - Islington

(91)

more info »

Harry Potter Bus Tour of London for Adult and Child

Greater London - Westminster

(1)

more info »

Guinea Pig Groomer Mini Experience for One Child

Greater London - Bexley

more info »

Hampton Court Palace Entry for Two Adults

Surrey - Richmond Upon Thames

(8)

more info »

River Cruise & Bellini Afternoon Tea at Searcy's 1847 Champagne Bar

Multiple Locations

(1)

more info »

See London By Night Tour for Two

Greater London - Westminster

(2)

more info »

Winning Raceday Package For Two

Multiple Locations

(116)

more info »

St Paul's Cathedral Visit for Two

Greater London - St Paul's

more info »

Hampton Court Palace Bike Tour for Two

Greater London - Richmond Upon Thames

more info »

Windsor Castle Bike Tour for Two

Berkshire - Windsor

more info »

30 Minute PGA Professional Golf Lesson - Take a Friend for Free

Cumbria - Barrow In Furness

more info »

British Airways i360 Flight in Brighton for Two

East Sussex - Brighton

more info »

Winning Raceday Package for Two at Fontwell Park Racecourse

West Sussex - Fontwell

more info »

Winning Raceday Package for Two at Bath Racecourse

Somerset - Bath

more info »

Winning Raceday Package for Two at Royal Windsor Racecourse

Berkshire - Windsor

more info »

Winning Raceday Package for Two at Brighton Racecourse

East Sussex - Brighton

more info »

Winning Raceday Package for Two at Worcester Racecourse

Worcestershire - Worcester

more info »

Winning Raceday Package for Two at Southwell Racecourse

Nottinghamshire - Near Newark

more info »

Entry for ArcelorMittal Orbit and Bellini Afternoon Tea for Two

Multiple Locations

more info »

Afternoon Tea for Two at Classic Lodges Hotel

Buckinghamshire - Slough

more info »

Entry for Adult and Child to The London Bridge Experience

Greater London - Cannon Street

more info »

Three Course Meal and Sparkling Wine for Two at Café Rouge, Bath

Somerset - Bath

(1)

more info »

Three Course Meal and Sparkling Wine for Two at Café Rouge, Blackheath

Greater London - Lewisham

more info »

Three Course Meal and Sparkling Wine for Two at Café Rouge, Bluewater

Kent - Dartford

(1)

more info »

Three Course Meal and Sparkling Wine for Two at Café Rouge, Bournemouth

Dorset - Bournemouth

more info »

Three Course Meal and Sparkling Wine for Two at Café Rouge, Brighton

East Sussex - Brighton

(1)

more info »

Three Course Meal and Sparkling Wine for Two at Café Rouge, Brighton Marina

East Sussex - Brighton Marina

more info »

Three Course Meal and Sparkling Wine for Two at Café Rouge, Brindley Place

West Midlands - Birmingham

(1)

more info »

Three Course Meal and Sparkling Wine for Two at Café Rouge, Bristol Cribbs

Avon - Bristol

more info »

Three Course Meal and Sparkling Wine for Two at Café Rouge, Bromley

Greater London - Bromley

(1)

more info »

Three Course Meal and Sparkling Wine for Two at Café Rouge, Birmingham Bullring

West Midlands - Birmingham

more info »

Three Course Meal and Sparkling Wine for Two at Café Rouge, Bury St Edmunds

Suffolk - Bury St Edmunds

(2)

more info »

Three Course Meal and Sparkling Wine for Two at Café Rouge, Cambridge

Cambridgeshire - Cambridge

(1)

more info »

Three Course Meal and Sparkling Wine for Two at Café Rouge, Canary Wharf

Greater London - Tower Hamlets

(2)

more info »

Three Course Meal and Sparkling Wine for Two at Café Rouge, Canterbury

Kent - Canterbury

more info »

Three Course Meal and Sparkling Wine for Two at Café Rouge, Cardiff St Davids

Cardiff - Wales

more info »

Three Course Meal and Sparkling Wine for Two at Café Rouge, Chelmsford

Essex - Chelmsford

(1)

more info »

Three Course Meal and Sparkling Wine for Two at Café Rouge, Cheltenham

Gloucestershire - Cheltenham

more info »

Three Course Meal and Sparkling Wine for Two at Café Rouge, Cheshire Oaks

Cheshire - Ellesmere Port

more info »

Three Course Meal and Sparkling Wine for Two at Café Rouge, Coventry

West Midlands - Coventry

more info »

Three Course Meal and Sparkling Wine for Two at Café Rouge, Dorking

Surrey - Dorking

more info »

Three Course Meal and Sparkling Wine for Two at Café Rouge, Dulwich

Greater London - Southwark

more info »

Three Course Meal and Sparkling Wine for Two at Café Rouge, Dulwich Village

Greater London - Southwark

more info »

Three Course Meal and Sparkling Wine for Two at Café Rouge, Durham

County Durham - Durham

more info »

Three Course Meal and Sparkling Wine for Two at Café Rouge, Edinburgh

Midlothian - Edinburgh

(1)

more info »

Three Course Meal and Sparkling Wine for Two at Café Rouge, Epsom

Surrey - Epsom

more info »

Three Course Meal and Sparkling Wine for Two at Café Rouge, Esher

Surrey - Esher

more info »

Three Course Meal and Sparkling Wine for Two at Café Rouge, Exeter

Devon - Exeter

(0)

more info »

Three Course Meal and Sparkling Wine for Two at Café Rouge, Gerrards Cross

Buckinghamshire - Gerrards Cross

more info »

Three Course Meal and Sparkling Wine for Two at Café Rouge, Greenwich

Greater London - Greenwich

more info »

Three Course Meal and Sparkling Wine for Two at Café Rouge, Greenwich O2

Greater London - Greenwich

more info »

Three Course Meal and Sparkling Wine for Two at Café Rouge, Hampstead

Greater London - Camden

more info »

Three Course Meal and Sparkling Wine for Two at Café Rouge, Harborne

West Midlands - Birmingham

more info »

Three Course Meal and Sparkling Wine for Two at Café Rouge, Hays Galleria

Greater London - Lambeth

(1)

more info »

Three Course Meal and Sparkling Wine for Two at Café Rouge, Haywards Heath

West Sussex - Haywards Heath

more info »

Three Course Meal and Sparkling Wine for Two at Café Rouge, Henley

Oxfordshire - Henley

more info »

Three Course Meal and Sparkling Wine for Two at Café Rouge, Hertford

Hertfordshire - Hertford

more info »

Three Course Meal and Sparkling Wine for Two at Café Rouge, Highgate

Greater London - Camden

more info »

Three Course Meal and Sparkling Wine for Two at Café Rouge, Hitchin

Hertfordshire - Hitchin

(0)

more info »

Three Course Meal and Sparkling Wine for Two at Café Rouge, Kew Bridge

Greater London - Ealing

(1)

more info »

Three Course Meal and Sparkling Wine for Two at Café Rouge, Kingsway

Greater London - Westminster

more info »

Three Course Meal and Sparkling Wine for Two at Café Rouge, Lakeside

Essex - Barking & Dagenham

more info »

Three Course Meal and Sparkling Wine for Two at Café Rouge, Leamington Spa

Warwickshire - Leamington Spa

more info »

Three Course Meal and Sparkling Wine for Two at Café Rouge, Leicester

Leicestershire - Leicester

(1)

more info »

Three Course Meal and Sparkling Wine for Two at Café Rouge, Loughton

Essex - Barking & Dagenham

more info »

Three Course Meal and Sparkling Wine for Two at Café Rouge, Maidstone

Kent - Maidstone

(1)

more info »

Three Course Meal and Sparkling Wine for Two at Café Rouge, Birmingham Mailbox

West Midlands - Birmingham

more info »

Three Course Meal and Sparkling Wine for Two at Café Rouge, Manchester

Greater Manchester - Manchester

more info »

Three Course Meal and Sparkling Wine for Two at Café Rouge, Milton Keynes Hub

Buckinghamshire - Milton Keynes

more info »

Three Course Meal and Sparkling Wine for Two at Café Rouge, Milton Keynes

Buckinghamshire - Milton Keynes

more info »

Three Course Meal and Sparkling Wine for Two at Café Rouge, Newcastle

Tyne & Wear - Newcastle upon Tyne

more info »

Three Course Meal and Sparkling Wine for Two at Café Rouge, Norwich

Norfolk - Norwich

more info »

Three Course Meal and Sparkling Wine for Two at Café Rouge, Oxford

Oxfordshire - Oxford

more info »

Three Course Meal and Sparkling Wine for Two at Café Rouge, Pinner

Greater London - Harrow

more info »

Three Course Meal and Sparkling Wine for Two at Café Rouge, Portsmouth

Hampshire - Portsmouth

(1)

more info »

Three Course Meal and Sparkling Wine for Two at Café Rouge, Reading

Berkshire - Reading

more info »

Three Course Meal and Sparkling Wine for Two at Café Rouge, Reigate

Surrey - Reigate

(2)

more info »

Three Course Meal and Sparkling Wine for Two at Café Rouge, Ruislip

Greater London - Harrow

(1)

more info »

Three Course Meal and Sparkling Wine for Two at Café Rouge, Salford

Greater Manchester - Salford

more info »

Three Course Meal and Sparkling Wine for Two at Café Rouge, Salisbury

Wiltshire - Salisbury

more info »

Three Course Meal and Sparkling Wine for Two at Café Rouge, Sheffield

South Yorkshire - Sheffield

more info »

Three Course Meal and Sparkling Wine for Two at Café Rouge, Solihull

West Midlands - Solihull

(0)

more info »

Three Course Meal and Sparkling Wine for Two at Café Rouge, Southgate

Greater London - Barnet

(1)

more info »

Three Course Meal and Sparkling Wine for Two at Café Rouge, St Katherine Dock

Greater London - Tower Hamlets

more info »

Three Course Meal and Sparkling Wine for Two at Café Rouge, St Pauls

Greater London - City of London

(1)

more info »

Three Course Meal and Sparkling Wine for Two at Café Rouge, St Albans

Hertfordshire - St Albans

more info »

Three Course Meal and Sparkling Wine for Two at Café Rouge, Stratford upon Avon

West Midlands - Stratford upon Avon

(1)

more info »

Three Course Meal and Sparkling Wine for Two at Café Rouge, Tenterden

Kent - Tenterden

more info »

Three Course Meal and Sparkling Wine for Two at Café Rouge, Thanet

Kent - Broadstairs

more info »

Three Course Meal and Sparkling Wine for Two at Café Rouge, Victoria

Greater London - Westminster

more info »

Three Course Meal and Sparkling Wine for Two at Café Rouge, Wellington Street

Greater London - Westminster

(5)

more info »

Three Course Meal and Sparkling Wine for Two at Café Rouge, Weybridge

Surrey - Weybridge

more info »

Three Course Meal and Sparkling Wine for Two at Café Rouge, Windsor

Berkshire - Windsor

more info »

Three Course Meal and Sparkling Wine for Two at Café Rouge, Witney

Oxfordshire - Witney

more info »

Three Course Meal and Sparkling Wine for Two at Café Rouge, Woking

Surrey - Woking

more info »

Three Course Meal and Sparkling Wine for Two at Café Rouge, Wokingham

Greater London - Wokingham

more info »

Three Course Meal and Sparkling Wine for Two at Café Rouge, Worcester

Worcestershire - Worcester

(1)

more info »

Three Course Meal and Sparkling Wine for Two at Café Rouge, York

North Yorkshire - York

(2)

more info »

Couples Photoshoot at Southbank Studios

Greater London - Lambeth

more info »

MAC Makeover and Photoshoot for Two

Greater London - Lambeth

more info »

Relaxation Gift Day for Two at a Marriott Hotel

Multiple Locations

(9)

more info »
Fun Together - Smartbox by Buyagift -

£39.99
Fun Together - Smartbox by Buyagift -

£39.99